Scuba Diving Tahiti - French Polynesia
Humpback Whales Migration, Schooling Sharks, Manta Rays, The GREAT Hammerhead and much more...
Tahiti and her islands are breathtakingly beautiful and the scuba diving is WORLD CLASS! It is a great destination for divers and non-divers alike, as the romance and seduction of the islands beckons to our adventurous character!
From the more well-known islands of Tahiti, Moorea and Bora Bora, to our Hidden Paradise gems of Taha'a, Raiatea, Huahine, Tikehau, Rangiroa, Fakarava, to the Marquesas and Rurutu in the Austral archipelagoes, the country covers more than two million square miles of the South Pacific Ocean. This territory is comprised of 118 islands within five great archipelagos.
The Polynesian waters contain attractive colonies of fish with multiple colors and forms which play in sumptuous coral gardens. Nearly a thousand fish species in our Polynesian waters populate the lagoon, reef and open sea. Almost all of the islands are protected from the ocean by coral reefs, which often have one or more fish filled passes leading into a sheltered, multicolored lagoon.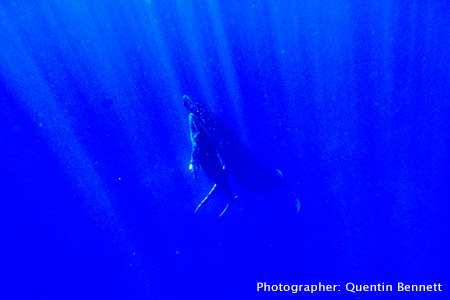 The most special attraction and most important to divers are the arrival of the Humpback whales from July through October! Manta rays, hammerhead sharks and dolphins also frequent these waters which are renowned for their big animal encounters. Including the magnificent Great Hammerhead, they will thrill divers with heart stopping joy if you are lucky enough to have an encounter with one of these elusive shy sharks!
Since May 2002, Tahiti and Her Islands have been classed as "sanctuary for the protection and safeguard of whales and other marine mammals". You will be delighted in a multitude of excellent diving spots in Tahiti. More than 12 islands have diving centers of international standards. Two live aboard boats are also available in the archipelago of the Tuamotus.
Snorkeling Tahiti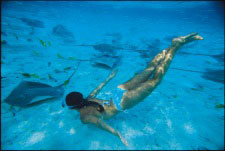 Tahiti is a beautiful paradise for snorkeling as well as scuba diving. The warm waters of the South Pacific and their turquoise lagoons host hundreds of species of fish, shellfish, and sea turtles.
Below are some recommended places in which the snorkeling is genuinely magical in Tahiti.
Moorea - the coral garden facing the Hilton Moorea Lagoon Resort& Spa
Bora Bora - in the back of the Private Motu of the Sofitel Marara Beach & Private Island, and the coral garden near the Motu Tane
Taha'a - close to the Taha'a Private Island & Spa
The Blue Lagoon in Rangiroa.
Tahitian Wedding, Honeymoon & Romance
Discover why the seclusion and setting rank the Islands as one of the world's most desirable honeymoon destinations. You could explore the idea of a traditional Tahitian wedding, meaningful yet not legally binding. This is a great ceremony for couples wishing to wed or renew your vows. Couples are bedecked in pareus, flowers and shells. The groom is brought to the beachside location in a canoe while the bride is carried on a rattan throne. Music and dancers enhance the ceremony while a Tahitian priest performs the rites and graces the couple with their Tahitian names!
Romance…. Celebrate a new romance or share a special anniversary accompanied by the glow of a South Pacific sunset.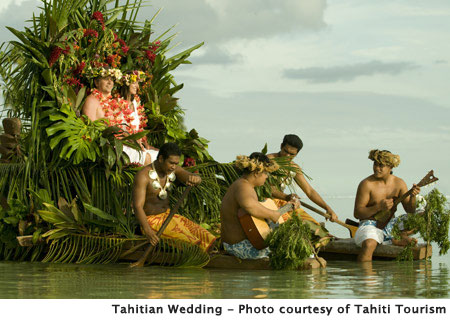 And much more
Many areas of French Polynesia are still relatively undeveloped and undiscovered and offer adventurous travelers exciting excursions on land and by sea. Hiking, surfing, 4-wheel drive safaris, historical sites, dolphin and stingray encounters and trips to black pearl farms are all must-do excursions. Contact us for more information.