Home > Diving Tahiti > Tahiti Dive Sites
Rangiroa Diving
An Undersea Safari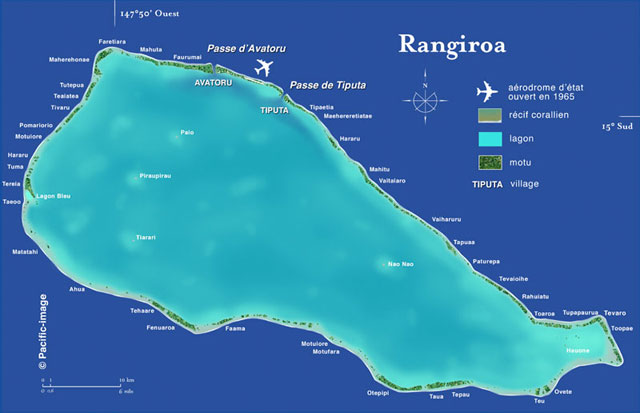 Rangiroa is the biggest atoll in French Polynesia! Our drift dives are the best underwater safari in French Polynesia. It is during these dives that pelagic encounters present unforgettable moments of wonder.
Dives in Rangiroa are an action packed thrill of adventure diving, with sightings of dolphins, marlin, grey and hammerhead sharks and manta rays. A MUST DO for divers.
Rangiroa Dive sites
The Avatoru Pass
Coming out from the right side of the Avatoru pass, you will find the reef teeming with life. The main dive site is situated on a coral plateau of an area of 50 - 65 feet stretched out in the direction of the pass. This site is ideally situated to favour unforgettable sightings of the majestic "tapete" or Silvertip shark and countless other species of fish, like enormous schools of Bigeye and African Pompano jackfish.
The Tiputa Pass
Exiting the Tiputa pass from the left, you'll discover a magnificent coral plateau at a depth of 50 feet. From 65 feet, the drop-off comes rather abruptly, offering a direct view into the big blue.
This site opens up into an abundant display of marine life: a magnificent coral garden with multitudes of fish species. By chance, you'll see a turtle feeding on succulent sea sponges, a few Whitetip sharks wandering the reef, some Grey sharks hidden by a huge school of barracudas, a napoleon wrasse or a school of blue jackfish. Other exceptional encounters may be leopard rays and manta rays.
The Tiputa Canyons
Located on the inside of the Tiputa pass, this site is accessible by way of the incoming current on a drift dive. The canyons are, in fact, faults through the pass. Many fish find refuge in the currents passing through these faults: schools of surgeonfish, whitetip sharks, napoleon wrasses, and schools of soldierfish.

Rangiroa Dive Resorts
The selected dive resorts in Rangiroa are represented here.
TOPDIVE Rangiroa - Dive Center
The 2 TOPDIVE Rangiroa divecenters are strategically located, close to the Tiputa pass for easy access to the most beautiful dives Rangiroa has to offer. One is on the Reporepo beach at the edge of the lagoon and the second one is in the Kia Ora Resort and Spa complex.
Superior service
Open 7 days a week, all year round
Diveshop for purchase of equipment and merchandise
Latest Aqualung brand gear used for all dives
Dive boats: semi-rigid zodiac dive boats fit for diving safety and fast paced dives
Multi-lingual staff with instructors and dive masters versed in English, French, Italian, Spanish and Japanese.
Safety
5 Star PADI dive facility
Professionally trained divemasters, instructors (PADI, ANMP, FFESSM, CMAS)
Free Nitrox - enriched air tanks
Dive gauges with integrated computers
Dive schedule
8:00am - Fun dive
10:00am - Fun dive
2:00pm - Introductory and certification dive
4:00 pm - Sunset fun dive