Home > Diving Tahiti > Tahiti Dive Sites
Bora Bora Diving
Pearl Of The Pacific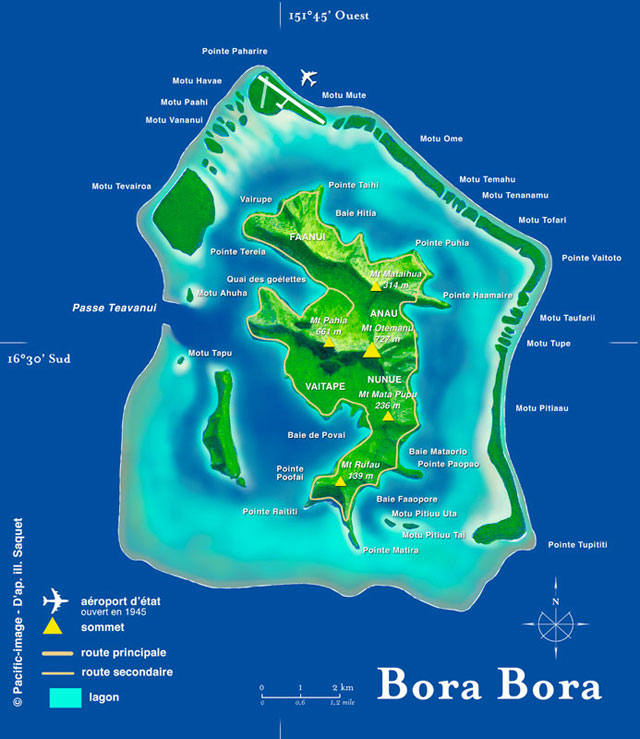 The dramatic peak of Otemanu rises majestically out of the pristine lagoon surrounding the island of Bora Bora. The waters of the lagoon are home to a variety of rays, including mantas and spotted eagle rays which are often seen in large groups of one hundred or more. While out in the open water, sharks, schools of jack fish, barracuda by the hundreds, tuna, marlin and occasionally dolphins and even whales can be seen in this area.
Bora Bora Dive sites
Tapu
From the coral drop-off, you will meet lemon sharks, black tip sharks, humphead maori wrasses, moray eels, lion fishes.
Muri Muri -The White Valley
A divesite in the exceptional deep blue of Bora Bora's famous lagoon. Accompanied by grey sharks, you encounter a sandbank inhabited by a colony of gardener morayslarge leading to a coral plateau . In deep open water, you may sight schools of jacks, Heller barracudas, a playful sea turtle, who is a regular at this site and sometimes giant barracudas. Anchor or drift dive depending on weather conditions.
Toopua
Many tropical fish gather along the wall, among others, enormous anemones with their clown fish. At the bottom, you find a large sand bank where eagle rays and sting rays wander searching for food. Anchor or drift dive depending upon weather conditions.
Anau
Well known for it to be a Manta ray site, you will follow a slope where rose corals grow and with luck, you'll find a manta swoop over you. This site is well protected by the local tour operators and dive companies. Visits to this site are prohibited in the afternoons as not to upset the fragile habitat of the manta rays.

Bora Bora Dive Resorts
The selected dive resorts in Bora Bora are represented here.
TOPDIVE Bora Bora - Dive Center
This mythical island offers some of the most spectacular diving in Polynesia. Our 2 main dive centers are strategically located to cater to our divers' needs.
TOPDIVE Bora Bora in Vaitape, facing the only pass called Te Ava Nui, the diving center is perfectly situated for easy access to the ocean's exceptional sites around Bora Bora island.
TOPDIVE Bora Bora in the InterContinental Resort & Thalasso Spa, this brand new and luxurious dive center offers comfort worthy of this 5 star hotel. This location is perfect for lagoon and Manta ray diving.
The last location in the Bora Bora Pearl Beach Resort & Spa offers a quality service for every type of diving.
Superior service
Open 7 days a week, all year round
Diveshop for purchase of equipment and merchandise
Latest Aqualung brand gear used for all dives
Dive boats: customize aluminium hulled dive boats fit for diving comfort and safety
Multi-lingual staff with instructors and dive masters versed in English, French, Japanese, and Spanish.
Safety
5 Star PADI dive facility
Professionally trained divemasters, instructors (PADI, ANMP, FFESSM, CMAS)
Free Nitrox - enriched air tanks
Dive gauges with integrated computers