Home > Diving Tahiti > Tahiti Dive Sites
Fakarava Diving
Unparalleled Drift Diving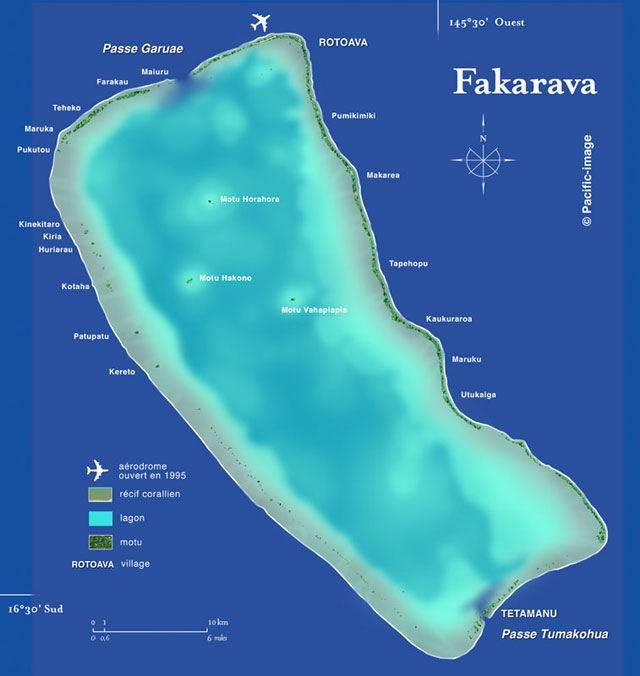 The Garuae pass on the north end of the Tuamotu atoll of Fakarava is French Polynesia's largest pass at nearly a kilometer wide. It is said that seven different currents run through this pass which provide a multitude of encounters with the prolific marine life that inhabits these rich clear waters. During incoming tides, divers will pass through an amazing spectacle – a virtual "wall of sharks" at the mouth of the pass. On the south end divers will find the Tumakohua Pass in an area that has been designated by UNESCO as a nature reserve for the pristine quality of its reefs and ecosystems.
Fakarava Dive sites
The Garuae Pass
The widest in Polynesia - about a mile long. World renowned for its biodiversity, it is famous for drift diving. A dive in this north pass will be an unforgettable adventure. Giant specimens can appear at any moment from beyond the fore-reef. In the pass entrance, you will likely run into the famous "raira", Grey reef shark, cruising by the dozen in a haze of fish and color. Be prepared for the Ali Baba canyon where the fish gather to shelter from the currents! This dive is from around a 50-70 foot depth. It requires significant experience with strong currents and divers in full command of their buoyancy and ease of movement.
The Tumakohua Pass
Situated in the south, it takes a little more than an hour's boat ride to get from the north to Tetamanu. Trips there are planned to take the whole day. Much narrower than Garuae, this pass is just as interesting as its larger counterpart, with currents much calmer and depths shallower. This pass is appropriate for all levels of experience in both inflowing and out flowing currents. Like its counterpart in the north, this pass is extraordinarily diverse in animal and plant life. You'll see the famous grey shark wall and the shark grotto; immense schools of yellowfin goatfish; turtles and manta rays.

Fakarava - Dive Center
TOPDIVE
Our main dive center is situated on the northern side in the village of Rotoava. A main meeting point for divers before and after dives. Our second base, also located in the northern side is located in the hotel White Sand Beach Resort.
On the south side of the atoll, a third dive center is located on the Motu Penu.
Superior service
Open 7 days a week, all year round
Diveshop for purchase of equipment and merchandise
Latest Aqualung brand gear used for all dives
Dive boats: customize aluminium hulled dive boats fit for diving comfort and safety
Multi-lingual staff with instructors and dive masters versed in English, French, Japanese, and Spanish.
Safety
5 Star PADI dive facility
Professionally trained divemasters, instructors (PADI, ANMP, FFESSM, CMAS)
Free Nitrox - enriched air tanks
Dive gauges with integrated computers
Dive schedule
2 fun dives in the morning and 2 fun dives in the afternoon depending on the slack tide