Scuba Diving South Africa
Sardine Run, Flying Great Whites, Great White Shark Cage Diving, Shark Diving ...
Sardine Run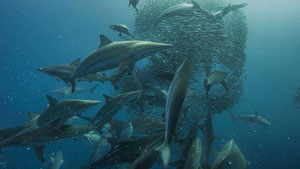 'National Geographic Calls Sardine Run Most Exciting Dive In The World'
Every year the world's greatest marine migration takes place off the South African Wild Cost. Millions of sardines follow the cold winter currents moving north toward the warm Indian Ocean, bringing with them thousands of predators: dolphins, sharks, whales, seals and marine birds.
Location : Transkei, Wild Coast South Africa
Great White Shark Breaching
The great whites of Seal Island are now world famous for their highly athletic breaches that they make in pursuit of Cape fur seals which they hunt in the area. We can take you to Seal Island's world famous flying great whites. This is the most talked about natural phenomena worldwide. This is not just for film crews but can also be witnessed by you.
Location : Simons Town, Western Cape
Dates : High season May - Sept (95%) | Intermediate season April & Oct (65%) | Low season Nov - March (55%)
Great White Shark Cage Diving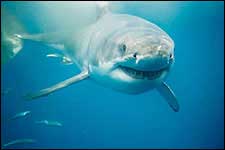 Gansbaai is the sleepy fishing town north east of Cape Town where the worlds greatest abundance of the much maligned marine predator the great white shark has been given a reprieve by being proclaimed a protected species. This has proven a remarkable environment for those of us who seek an adrenaline high adventure. Only 3 miles out to sea is a narrow channel between Geyser Rock, home to some 60,000 Cape Fur Seals, and Dyer Island forms the natural feeding ground to these powerful hunting machines-The Great White Shark.
South Africa is best known for big action, shark diving and it's the most popular place to encounter the enormous, elusive and intimidating Great White Shark. We recommend cage diving with this fellow, but they have been known to make an occasional presence here and there while free diving. Yikes!
Best Time: Great White Cage Diving is seasonal. The best time for great white shark cage diving is from June thru September.
Ragged Tooth Sharks And Tiger Sharks
The South Coast of KZN is blessed with two vast offshore reef systems. Aliwal Shoal and Protea Banks (5 and 8km offshore respectively). These reefs attract sharks of all shapes and sizes so if you are looking for the big stuff outside of the cage - this is where it's at. These are both scuba diving locations, so no cages at all.
Aliwal Shoal: With its many caves, gullies and pinnacles, this dive spot provides a seasonal residence for hundreds of ragged-tooth sharks. From June to October it is not unusual to find yourself in the presence of several, large and fully mature specimens, with many of them circling a sandy Amphitheatre shaped depression known as The Cathedral. 40 minutes from Durban, accommodation near here is limited but can easily be reached from Durban hotels. Diving depth is about 25 metres and manageable for Open Water 1 divers.
Protea Banks: known for its Zambezi sharks and recent baited dives on Protea have seen as many as twelve Zambezi (Bull) sharks mixing freely with divers. Hammerhead, ragged-tooth, black tip and tiger shark sightings are also a highlight. Due to its depth and current, divers must hold Advanced certifications with a minimum of 20 logged dives to dive safely on Protea Banks. About 90 minutes from Durban, there are some accommodation options near to the dive site.

Information about ragged tooth & tiger sharks and dive seasons courtesy of New Frontiers