Home > Diving South Africa > South Africa Dive Tours
Flying Great White Sharks - One Day Tour
Seal Island - False Bay, Cape Town, South Africa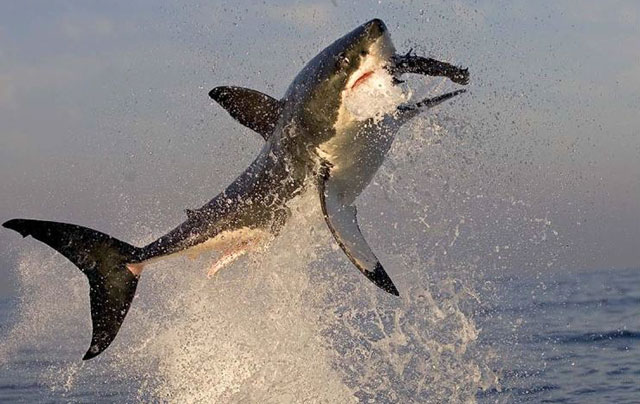 False Bay - Cage Diving and Great White Shark Breaching
False Bay is unique in that it is one of the very few places in the world where shark breaching takes place - that is when Great White Sharks hunt seals and launch themselves clean out of the water in their pursuit of their prey. It is spectacular to witness and happens frequently in a morning, but only during a short and very defined season, between June and end August/early September.
False Bay has the following shark activity seasons:
Intermediate Season: February - 14 April
Cage Diving and Surface Viewing only
High Season: 15 April - end May
Shark Cage Diving plus possibility of breaching and natural predation
Peak Season: June - end August
Shark Cage Diving plus breaching and natural predation
Intermediate Season: 01 September - 15 September
Cage Diving and Surface Viewing
Closed: 16 September - 31 January
All tours depart 07h00 and return at 12h45
Afternoon tours run between April and September for cage diving and surface viewing only (13h15 - 16h45)
Advantages of False Bay Great White Shark experience:
Only 40 minutes from Cape Town hotels
Later pick up times, between 5 am and 6 am
Location means that the shark experience can be combined with a half day Peninsula Tour
Only two boat licenses issued, so a more exclusive experience
Scuba gear is used - no qualification is necessary. The scuba equipment remains on the board and only the scuba hose enters the cage allowing the guests to enjoy the dive without the cumbersome, heavy tanks and gear.
The only area to experience breaching (when the Great White Shark launches itself out of the water in pursuit of seals). This is at its peak between June and August, and doesn't occur much out of these months.
Disadvantages of False Bay Great White Shark Experience:
No shark experience in summer, between September and January
More expensive than the Gansbaai experience
Limited availability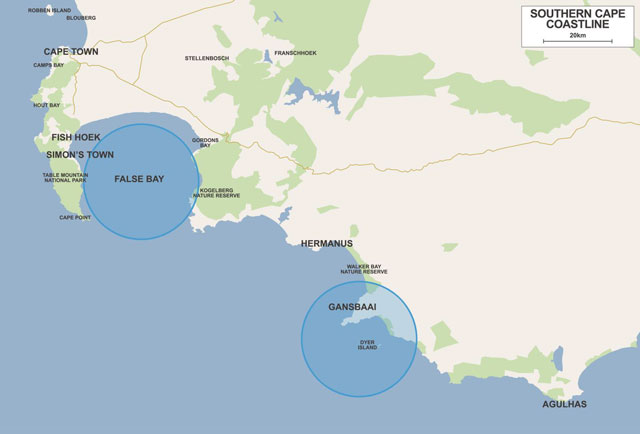 GREAT WHITE SHARK BREACHING IN FALSE BAY - ITINERARY
Only operates June to beginning September
| | |
| --- | --- |
| Duration | 8 hours |
| Availability | Daily June to Sept |
| Pick-up Time | 06h00 - time confirmed the night before |
You will be picked up this morning from your hotel and transferred to the launch site in False Bay. Collection is at 06:00 with launch at 07:00. You will join your skipper, a qualified shark expert for a briefing before setting off for Seal Island. Scientists have acknowledged that great white sharks behave differently in False Bay at Seal Island to anywhere else along the South African coastline. This is mostly due to the ideal topographical structure around the island, allowing for stealth and attack and therefore "flying" out of the water after their prey.
On arrival at the island around sunrise you will spend the first 1 - 1.5 hours watching the natural predation activity and trying to get the sharks to breach on the decoy seal. Breaching is spectacular and involves the Great White Shark launching its body clear out of the water to attack fleeing Cape Fur Seals. From around half 9 to 12:00 we will anchor the boat at the island and you will have the opportunity to cage dive should you so wish. You will return to the harbour around 2pm. Refreshments are served on board the boat. You will be transferred back to your hotel in Cape Town.
For more information
Contact:
Dive Discovery
@
1 800 886-7321
(415) 444-5100
or
Request Info