Home > Diving South Africa > South Africa Dive Tours
AIRJAWS Shark Breaching Trip
False Bay, Cape Town, South Africa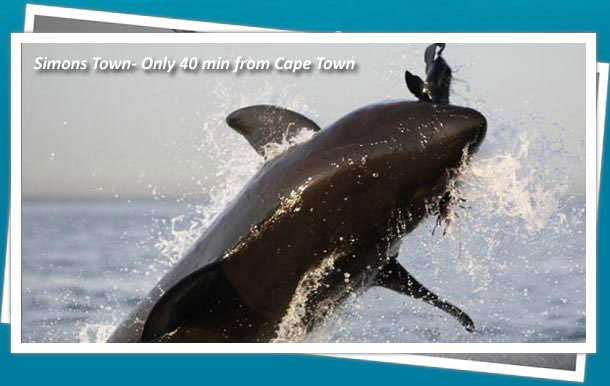 The "AIRJAWS" shark breaching trip is the most popular. It is a combination trip of shark breaching and shark cage diving. The season for AIRJAWS starts in May.
Shark Breaching is one of the hunting techniques that great white sharks use to surprise and kill its prey. They breach with such force and explosive energy that it propels the shark right out of the water. The best time is just before and at sunrise and mainly at certain area's around the island and only for a few months of the year.
This behaviour is absolutely awesome to witness in person, and if you are in Cape Town during shark season, then this trip is a "must do". It is seen nowhere on the planet as regularly as in False Bay and by joining us on one of our AIRJAWS trips you may be lucky enough to witness a breaching great white shark "AIRJAWS" for yourself.
We depart early in the morning as this is when the great white's natural predatory interaction with the Cape Fur seal is the most intense. The activity lasts for around an hour and a half.
We are respectful that we are entering the territory of the great white and even though we try to get as close to a predatory event as possible, every effort is made to avoid blocking a seal's escape path to the Island. This is a natural event we are witnessing and so we make sure our environmental impact is as little as possible.
When the predation activity has quieted down we try for a decoy tow using a fake soft cushion cut out "dummy" seal, in which we attempt to get the great white shark to breach. This soft decoy will not harm the shark in any way and making sure that we only do this for a limited period only, it allows for the best photographic opportunity.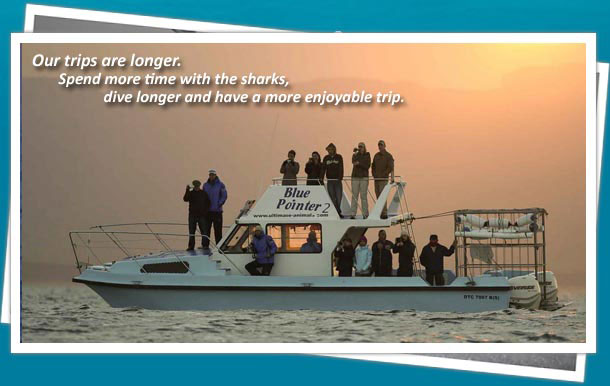 What's best time of the year for shark breaching?
Shark Breaching starts to be seen around mid-April and the best months for the predation and breaching activity is during June, July and August. September is in between high and intermediate season. February and March is too early for breaching. Here our trips focus on the shark cage diving and surface viewing. The trip departs from Simon's town at 7am sharp and returns at 12h30.
How many passengers on your boat?
12. We focus on smaller groups to ensure that everyone has a personal experience with the great white sharks.
How many divers in the shark cage?
2 maximum. Many operators take 5-8 guests at a time.
Do you offer scuba?
Yes. All diving equipment is supplied. No diving experience is necessary however you are welcome to snorkel as well.
How long is the trip?
It is 5.5hrs long.
What to bring
Rain/wind jacket
Sun block and Hat
Camera (we sell disposable underwater camera's)
Take sea sick tablets
For more information
Contact:
Dive Discovery
@
1 800 886-7321
(415) 444-5100
or
Request Info