Scuba Diving and Shark Diving in Fiji
Diving Fiji Islands: The Soft Coral Capital of the World
Scuba Diving
Fiji is considered "The Soft Coral Capital of the World". Dive Discovery considers Fiji to be "The Gateway to the Pacific". This soft coral wonderland offers idyllic tropical islands, beautiful tropical resorts & World Class live-aboard diving. Scuba diving the Fiji Islands is the ultimate introduction to clown fish and anemones, abundant, prolific soft coral gardens in a rainbow of colors, giant sea fans and playful tropical reef fish!
Infinite clouds of brilliant orange and purple anthias will delight your senses, bouncing off the colorful coral heads in a most hypnotizing way. Fiji Island live-aboard diving will allow you to visit the more remote sites that will delight you with some pelagic marine life. Silvery schools of jacks, snappers and barracuda swim by while bronze whaler and black tip sharks lurk in the distance. Occasionally mantas and a giant great hammerhead shark will thrill your senses!
Fiji's culture is still intact; a local chief governs each village. Divers will be honored to visit a village and drink kava (the local drink) with the chief, dance with the locals. You will lose your heart to these loving and friendly people.
Fiji has been home now to some fantastic shark diving! We all know sharks are our friends and there is no greater thrill than to watch these gorgeous perfect creatures in motion!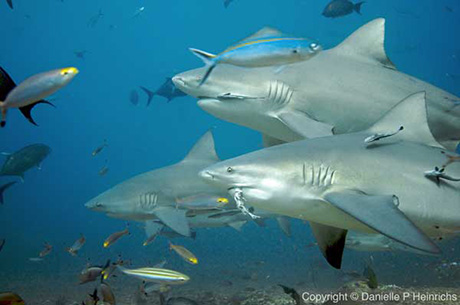 Fiji Island Areas to Scuba Dive:
• Beqa Lagoon
The rim of an ancient volcano, Beqa is a chain of islets surrounding a lagoon more than 17 miles across. Soft corals are abundant, along with large purple, tan, and green sea fans. Nutrient rich water rushes daily through breaks in the walls of this underwater mountain, supporting the rich diversity of soft and hard corals.
• Kadavu/Astrolabe Reef
Here you will find stunning soft coral displays, dramatic drop-offs and rich variety of marine life. Excellent visibility and a kaleidoscope of luminous fish life (including clown fish and lion fish) makes the diving here some of the best in the South Pacific.
• Namena
Many believe this area offers some of the best diving in Fiji. Clear water, prolific schooling fish, bottomless wall, pelagic potential, and beautiful coral gardens to finish the dive in. Because this area is only accessible when the weather is calm, the diving is truly pristine, and world-class and marine sanctuary.
• Gau
Gau has no resorts and is inaccessible except by live-aboard. It offers two distinct types of diving. In the North a large area of coral heads offers protection for a variety of soft corals and associated marine life. Toward the southern tip of Gau is Nigali Passage, a narrow cut in the reef through which clean ocean water is sucked into the lagoon. Schools of jacks and barracuda, several resident gray reef sharks, eels, and a supporting cast of thousands can be found in the passage. A drift dive here starts along the edge of the outside wall and follows the deep channel into the lagoon where it ends in a rich garden in 15 feet of water.
• The Northern Region
The northern islands are often grouped together but in actuality, each island in the region offers it's own unique twist on what many consider the region with the most prolific soft corals. The Great White Wall in the SomoSomo Strait is one of the sites in this region that is world famous, almost defining and transcending the region all by itself. The current here can be strong, but this rush of water feeds the abundance of soft corals that define this site. From 75 feet down, the wall is covered with pale, almost white, soft corals that seem to glow as they reflect the sunlight from above.
Rainbow's End, another SomoSomo Strait site, offers phenomenal gardens of multi-hued soft corals as the current here runs perpendicular to the reef. This is a site known for a propensity of Fairly Basslets. Noel's Wall is a cliff face that acts as magnet for big fish. Dogtooth tuna, sharks, and even Manta Rays can be seen here, along with the abundant soft corals. Purple Wall (in the channel between Taveuni and Qamea begins in about 30 feet and drops vertically to 80 feet, the slides are a forest of purple soft coral.
Fiji Shark Diving
THE WORLD'S #1 SHARK DIVE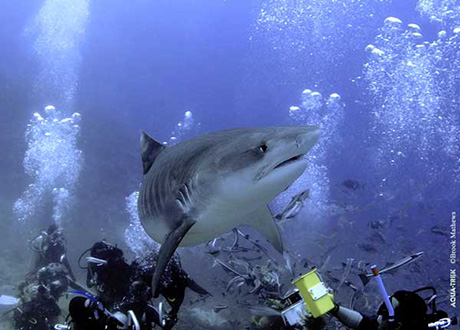 Divers come from around the world to experience the only Fiji shark diving with 8 Species of Shark. Aqua-Trek's Ultimate Shark Encounter features multiple bull sharks (largest in the world), whitetip reef sharks, blacktip reef sharks, nurse sharks, lemon sharks, grey reef sharks, silvertip sharks and over 300 species of fish. As if that isn't enough, 16 + foot tiger sharks come in regularly, making this a 'shark lovers' dream dive.
The Ultimate Shark Encounter is a dive you will never forget. Those lucky enough to be graced by the presence of each species of shark that arrives at the dive have witnessed something that is special and may not always be there. We hope it will move you to join us in our efforts in the conservation of these beautiful creatures that are so vital to the marine ecosystem and our planet.
Romance/ Honeymoon Destination
Dive Discovery recommends the beautiful and breathtaking Fiji for a romantic intimate honeymoon, with a plethora of dive resorts and live-aboard dive boats to suit all budgets and dive experience. This is the perfect dive destination for all level of divers and non-divers alike.