Home > Diving Fiji Islands > Fiji Dive Resorts
Papageno Resort
Kadavu Island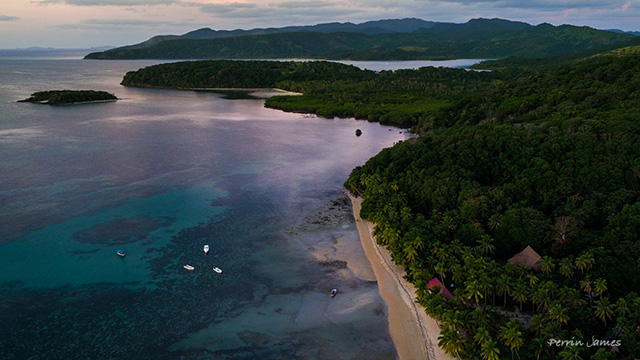 Papageno Resort is settled oceanfront on its vast and intriguing 320+ acre freehold property on the calm and protected Malawai Bay. The land and sea surrounding Papageno offer so much to explore, and, at the same time, so many places to relax in a tranquil paradise around the South Pacific Ocean. Our property hosts an extensive organic farm, an aquaponics system, two local waterfalls, a coconut oil production factory, and so much more.
The environment and staff of Papageno Resort have a genuine knack for creating the feeling that you're staying in your home away from home. Fijians are known to be some of the most warm-hearted people in the world and Kadavu Island is especially true to that claim with the tagline of Fiji's 'Traditional Isle'.
For stays three nights or more, all of our accommodation rates do include three full meals per day, unlimited use of ocean adventure equipment (kayaks, snorkeling gear, stand-up-paddleboarding, beach volleyball, and more), as well as roundtrip airport boat transfers from and to Kadvau Island's Vunisea Airport.
Fresh coffee and tea, tea time pastries, water, and organically sourced lemonade (sweetened & unsweetened) are available all-day and are complimentary for our guests. All bures, rooms, and suites include their own private bathroom with hot water. Thanks to our large solar system, we are able to keep the power on 24 hours for your convenience. We do have generator power in case of emergencies.
Accommodation
Royal Oceanfront Bure
The Royal Oceanfront Bure is our most elite of accommodations. Certainly a master-piece structure inside and out. The Royal Bure is the largest accommodation on Kadavu Island with three double bedrooms, one master bedroom, each bedroom with an en-suite bathroom, large living space, unique dinning room table set and space, a large full-kitchen, three outdoor decks with lounge chairs, and a tranquil, screened-in and jungle-encompassed veranda room with lounge chairs and table. This entire four-bedroom bure does host hot water and 24-hour power. Get lost in the endemic sounds of the virgin rainforest out back, or run out 20 steps and take a dip into the calm and protected Malawai Bay of the South Pacific Ocean. The possibilities are endless with this accommodation. Can host up to ten guests. Ideal for weddings, family reunions, yoga retreats, group getaways, corporate functions, and more. Experience a stay with those close to you in the Royal Oceanfront Bure.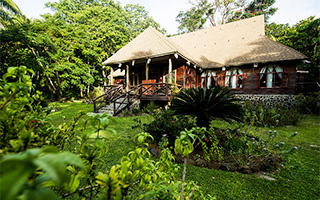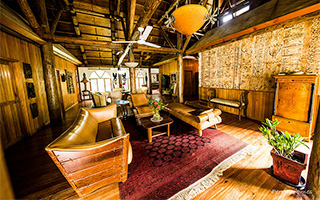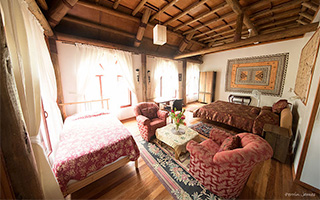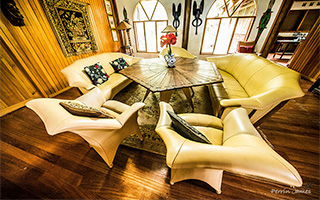 Deluxe Oceanfront Bure
The Deluxe Oceanfront Bure is known for its timeless excellence. Rich with unique highlights of worldly culture throughout its interior decor, private in its free-standing structural design, and relaxing within its surrounding nature and supreme proximity to the shoreline. These bures feature their own en-suite bathrooms with 24 hour power and hot water, one queen sized bed with up to two single beds, large screened-in oceanfront veranda rooms with lounge chairs, and convenient mini-kitchens. These bures are ideal for the honeymoon (honeymooners), couples, small families, friends, and can host up to four guests. Kick back and enjoy your front row seat to the South Pacific in the comfort of your own unique deluxe oceanfront bure.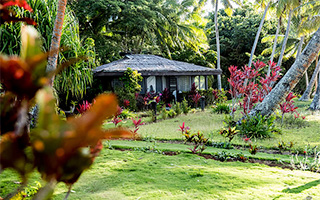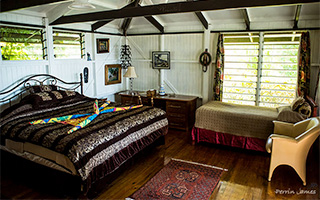 Oceanfront Bure
The Oceanfront Bure was built after the original three Deluxe Oceanfront Bures and offers a free-standing, split-bure configuration. Each side of the bure is private and separate from the other. Both sides feature one queen-size bed and one double-size bed, an en-suite bathroom, worldly decor, a private screened-in veranda room with lounge chairs, hot water and 24-hour power. The Oceanfront Bure celebrates extremely close proximity to the calm and protected Malawai Bay and offers a superb sunset view.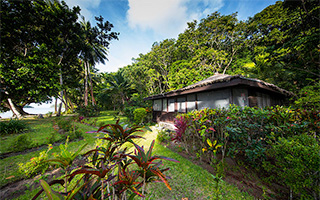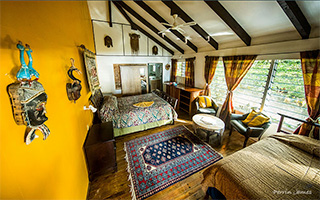 Oceanfront 2-Bedroom Suite
The Oceanfront 2-Bedroom Suite is a modern style suite decorated with the same authentic and cultural charm that rings throughout Papageno. The suite is equipped with a mini kitchen, living area, dinning area, 2 full-size bedrooms with their own bathrooms, and a spacious, oceanfront veranda room with day bed and lounge chairs. This is an ideal accommodation for couples, families, or friends traveling together. Enjoy your own space or gather in the entertainment areas. The setting of the oceanfront suite certainly gives off the 'home away from home' feel—just steps away from the South Pacific Ocean.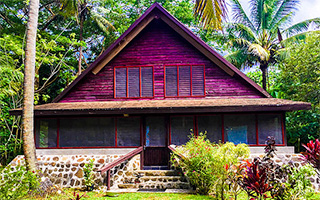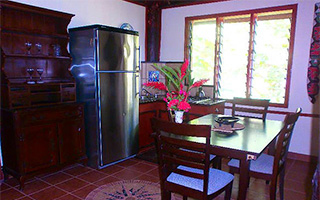 Organic Garden Villa
As expressed within its name the Organic Garden Villa is nestled among our beautiful organic gardens. A truly unique experience as you may very well find yourself wandering out your back door to snack on some of the fresh papaya, guavas, or oranges growing all around your Villa! The Organic Garden Villa's location is pristine not only for the close-access to fresh organic fruits and veggies, but also for the fact that there is a gorgeous ocean view from your screened-in veranda room. This accommodation features one queen-size bed, one single-size bed, a small lounge area, mini-kitchen, en-suite bathroom, hot water and 24-hour power.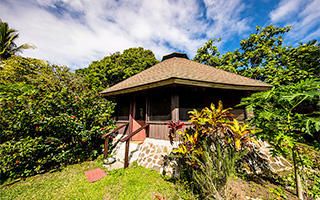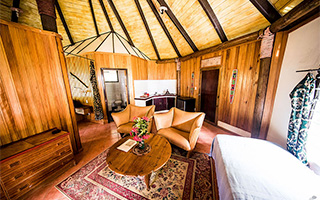 Garden Room
The Garden Rooms offer an experience of relaxation encompassed by only the beautiful sounds of the natural Kadavu wildlife from the surrounding rainforest. Our four Garden Rooms offer room configurations of one queen bed (2) or one queen & two doubles (2). They feature a large, shared, garden-lookout deck, their own en-suite bathrooms, hot water and 24-hour power. Even though the Garden Rooms are settled in Kadavu's rainforest, they're still no more than 50 steps to the South Pacific Ocean.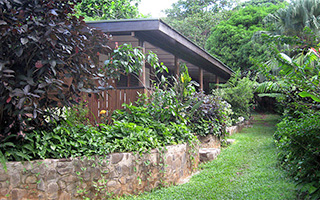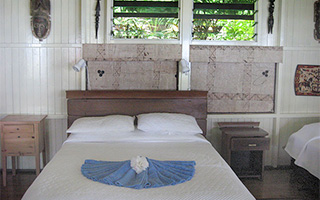 Diving
Papageno Resort is so lucky in the dive world in that there are over a dozen world-class dive sites within 20-minute boat ride from our shores. We invite you to take advantage of this location feat and jump in the water for a few tanks with our local dive masters. Our dive masters were born and raised in the villages surrounding these dive sites and know them extremely well. The home reef for Papageno Resort which is also a Marine Protected Area is called Rooper Reef. It hosts dive spots like Chambers, Crossroads, Group Tube and the one and only wreck dive on Kadavu Island: The Pacific Voyager. Sunk by some of our staff in 1994, a 63-meter long tanker, The Pacific Voyager, lays over 30 meters below the ocean's surface. All over our local dives sites are host to a wide variety of fish, invertebrates, and nudibranchs.
Depths at our local dive sites range from 10 meters (30 feet) to 35 meters (115 feet). Our dive masters will choose the dive sites best suited for the conditions of the day. If you have a particular request of a spot you'd like to dive while you're staying with us, please let us know ahead of time or upon arrival so that we may map out the best day and time to take you for the best experience possible. Don't worry if you didn't bring your dive gear, we have dive equipment available for rent for the length of your stay.