Home > Diving Fiji Islands > Fiji Dive Resorts
Taveuni Island Resort
Taveuni Island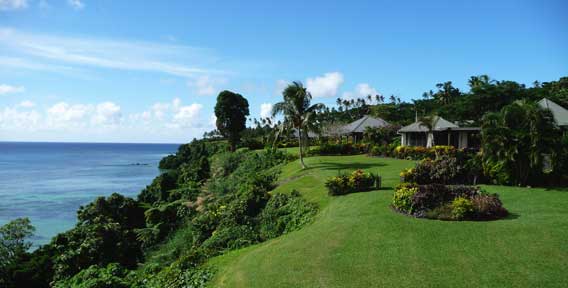 Taveuni Island Resort, located on Taveuni Island, is for people who seek the ultimate tropical island experience! Romantic luxurious accommodations, candlelit gourmet island dining, smiling friendly people, intimate and relaxed. Dive the spectacular reef and the world famous Great White Wall along with other SomoSomo sites...
Exclusive Luxury Accommodation
The resort has 12 luxury ocean view bures and one exclusive oceanfront villa. Each has spectacular views of the Somosomo Straits.
The luxury bures are over 100m2 in size and are built with native Taveuni timbers. There are floor to ceiling windows on all sides. The bures are open plan and the lounge opens into a spacious outdoor living area, which overlooks the ocean and surrounding islands. The décor is tropically inspired – cool tiles, native floral arrangements and watercolour paintings. The bures have king-sized beds and all feature private outdoor showers.
We also offer the exclusive Matalau private villa. This private and luxurious villa is complete with a private plunge pool and waterfall, your own personal chef and staff. There is also the option of a butler service. This is an all-inclusive villa, including alcoholic beverages.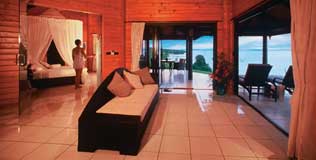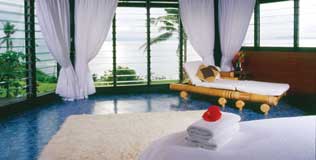 Diving
Taveuni Island has some of the best diving spots in the world and is known as "the soft coral capital of the world."
Explore the Somosomo Straits and see the amazing Rainbow Reef. This beautiful reef is 30km long and boasts magnificent multi-coloured soft corals, as well as stunning hard corals. Rainbow Reef is known for its marine life – manta rays, barracudas, white tip sharks, butterfly fish, stone fish, long nose hawk fish and leopard sharks have all been spotted around Rainbow Reef.
The resort was, for 25 years, the Top Dive Resort in the South Pacific. The owner of Taveuni Island Resort & Spa discovered all the sites on the Rainbow Reef and Great White Wall which are now legendary throughout the world.
We now rely on our former Dive Masters and Instructors to show visitors the wonders of this amazing underwater world. When Ric Cammick retired, his top staff members formed their own companies: Vunibokoi Divers and Jewel Bubble Divers.