Home > Diving Fiji Islands > Fiji Dive Resorts
Jean-Michel Cousteau Fiji Islands Resort
Vanua Levu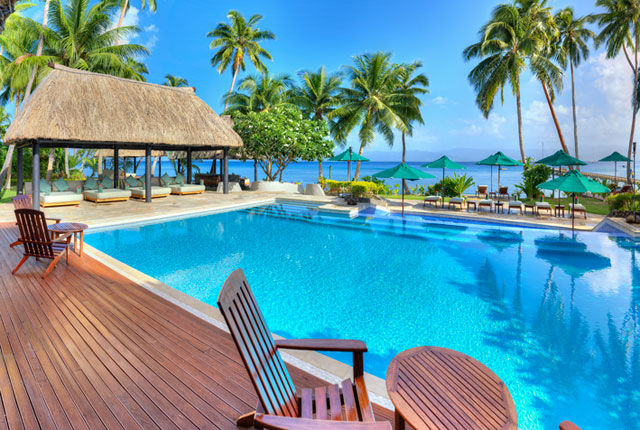 Located on 17 flourishing acres of a former coconut plantation, the Jean-Michel Cousteau Resort in Fiji is one of the South Pacific's most renowned vacation destinations. Come experience our award-winning, five-star Fiji resort and spa, where heavenly surroundings combine with an unsurpassed range of luxury hotel activities.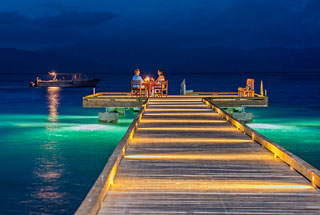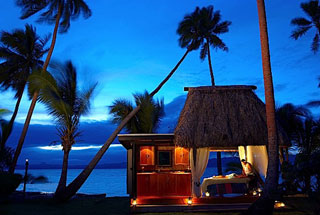 Accommodations
Built on the site of a former coconut plantation, the 17-acre Jean-Michel Cousteau Resort features just 25 bures (Fijian bungalows) delivering world-class lodging amidst quintessential Fiji island serenity. Slip into premier Fiji accommodations, with rattan furnishings, a plush king-size bed, oversized bathrooms, private deck, and bures with garden or ocean views. Our resort accommodations include all meals, bottled non-alcoholic beverages and round-trip transportation between the resort and Savusavu Airport. To enhance tranquility, our Fijian bures have no telephones or televisions, however there is complimentary Wi-Fi Internet access.
Gardenview Bures
These spacious garden bures are surrounded by tropical gardens with exotic flowers and include a large deck with outdoor table and chairs. Each Gardenview Bure comes with a king bed and a day bed, making these accommodations ideal for a couple or a family with up to 2 children, 12 years and under (rollaway bed for 2nd child).
maximum capacity 3 adults, or 2 adults/2 children
Oceanfront Bures
Our Oceanfront Bures offer blissful bay views and a spacious split-level deck with outdoor table and chairs, chaise lounges and an inviting hammock. The beachfront Bure comes with a king bed and a day bed, perfect for a couple or a family with up to 2 children, 12 years and under (rollaway bed for 2nd child).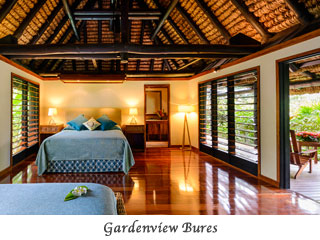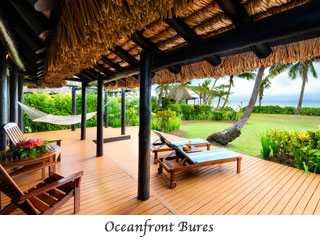 Oceanfront Suite Bures
Designed for honeymoon couples or a family of four or five, our Oceanfront Suite accommodations offer ultimate privacy and sublime views. Enjoy a deck and large stone mosaic patio outside. Each of our Oceanfront Suites includes one custom king bed and a single day bed, plus a king bed in a separate, smaller room.
Oceanfront Two-bedroom Bures
Slip away to the enchantment of Fiji with extra privacy and comfort. Our Oceanfront 2-Bedroom Bure makes the perfect family accommodation for four or five. The main bedroom features one king bed and one day bed plus a small sitting area, while the smaller second bedroom provides two twin beds. Step outside to uninterrupted breathtaking views from your spacious deck, and relax in the hammock or on the chaise lounges.
maximum capacity 5 adults, or 2 adults/3 children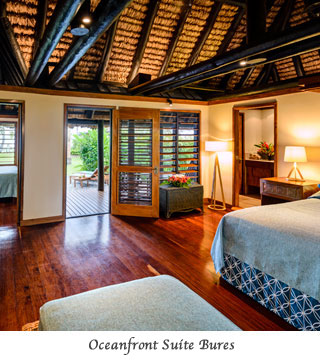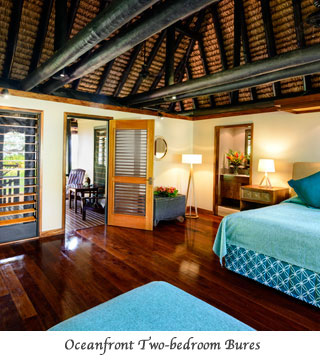 Point Reef Bures
These secluded, split-level ocean view bures are designed to provide one of the most romantic getaways Fiji has to offer. These ocean view bungalows include plenty of living space, a balcony with chaise lounges, and a spacious deck with outdoor table and chairs. Each Point Reef Bure offers a spectacular ocean view from the living room and bedroom. Children are welcome in these accommodations during specific designated periods over school holidays and summer vacation.
Honeymoon Point Reef Bure with Spa Tub
Celebrate your romance surrounded with the utmost in comfort, seclusion and luxury. This one-of-a-kind Honeymoon Bure is similar to our Point Reef Bures, with ample space to enjoy the unmatched Fijian lifestyle, but features its own private spa tub on the deck overlooking the ocean. Located on a secluded point among private gardens, it's an oasis of private indulgence – the perfect Fiji honeymoon accommodation for couples.
The Villa
Rivaling the most coveted accommodations in the South Pacific, and throughout the world, the luxury Villa at the Jean-Michel Cousteau Resort redefines indoor and outdoor living. Experience a sumptuous 'home away from home' in Fiji, with a walled garden, private infinity pool, day bed pavilion, king bed suite with sunken bathroom and Jacuzzi, outdoor shower and so much more.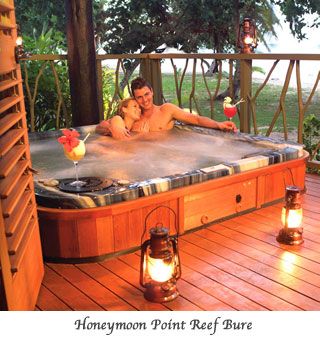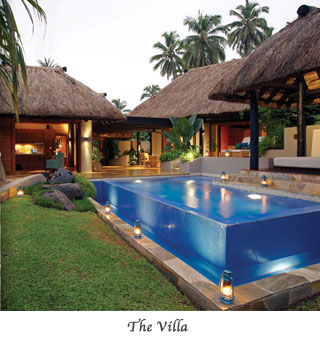 Diving
The "Soft Coral Capital of the World," Fiji offers the largest variety of fish and coral on the planet. Much of it can be found near the resort, known as the "World's Best for Diving" (Harpers Abroad). Dive at Namena, widely acclaimed to be one of the best dive sites in the world.
Experience the best scuba diving in the South Pacific with holiday packages featuring our award-winning SCUBA diving facilities. Our expert staff welcomes beginners into the underwater world; expert divers can do their own thing. We provide PADI certified courses.
Dive Sites
There are over 20 moored dive sites from 5 minutes to 1 hour away using the custom built dive vessel, "L'Adventure." The dive sites are located to the south and west in the Koro Sea, with some being:
Big Blue – a spectacular drop off with giant gorgonian fans covered with feather stars. A perfect place to watch turtles, mantas & large fish cruising by.
Hole in the Wall – A vertical drop off supporting huge gorgonian fans, large tuna, Spanish mackerel, barracuda with bronze whalers lurking in the depths below.
Na Sonissoni Passage – A drift dive along a wall covered with every variety of pristine hard & soft coral imaginable. Swim across the passage to the purple bommies, a mass of purple soft corals fed by the nutrient rich Koro Sea, large barracuda, circling gray reef shark and white tips cruise everywhere.