Home > Diving Fiji Islands > Fiji Dive Resorts
Coconut Grove
Taveuni Island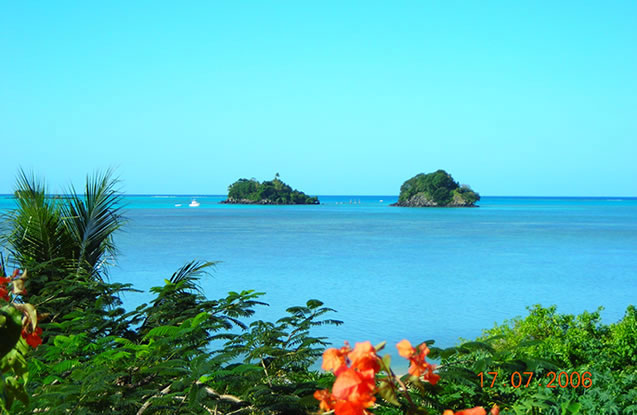 Coconut Grove Beachfront Cottages is a small, intimate resort located directly on the ocean and a private, white sand beach. Surrounded by mango trees and coconut palms, we have just three accommodations, thus assuring you a very private holiday. When we bought our slice of paradise we made a conscious decision to make sure we kept it just the way we would want it to be if we were here on vacation. It was important to us that we retain the solitude and simplicity of the island way of life, which is one reason why we have no disco and no cable t.v.
What we do have, however, is extraordinary diving and snorkeling, incredible nature walks, the greatest staff this side of the Pacific and sunrises that will take your breath away. We at Coconut Grove are devoted to this island, its people and its traditions. Come see why people say that Taveuni is one of the most magical places on our earth.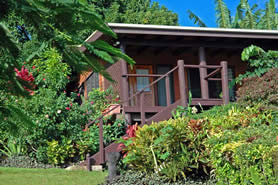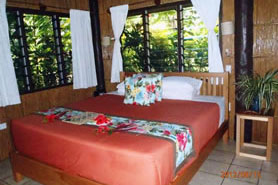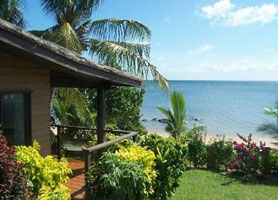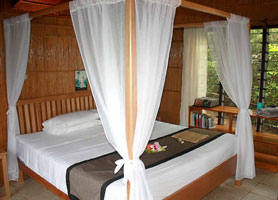 Diving and Activities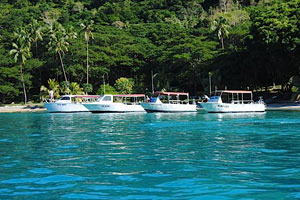 We are happy to organize a dive package with Taveuni Dive if you like. We can pre-book your dives, or you can arrange these once you arrive. And if you haven't tried a night dive before, this is the place for it.
With Taveuni Dive you will dive the legendary Rainbow Reef where beautiful colored fish swim in and out of the hard and soft corals. There are 20+ sites only 20 minutes away by boat. The Somosomo Strait (Fijian for "good water") has strong tidal currents which provide a constant flow of nutrients, idyllic for soft coral growth and fish life. Taveuni is world renowned among divers for this reason.
There are 4 boats allowing us to cater to a variety of group sizes. All of the dives include weights, belts, tanks, fills, boat, guide and refreshments. Generally it is a 2-tank morning dive, returning for lunch, but the shop can do afternoon or night dives if desired. This is a Gold Palm 5 Star IDC facility offering a full ranges of courses to suit all levels. All of the dive staff are PADI qualified instructors, Assistant Instructors or Divemasters - there to maximize your safety and enjoyment.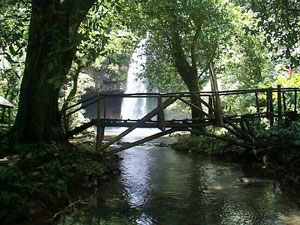 We can arrange any of the following for you:

• Nature hike to Bouma Waterfalls
• The Lavena Coastal Walk
• Birdwatching in Qeleni Village
• Vidawa Rainforest Walk
• Waitabu Village Visit
• Horseback Riding
• Great Fishing Trips around Taveuni with anything from local dinghy and guides, to top professional charters
• Kayaking on our beach or around Taveuni Island
• Village visits
• Full-day sails
• Snorkeling trips