Home > Diving Fiji Islands > Fiji Dive Resorts
Matana Beach Resort
Kadavu Island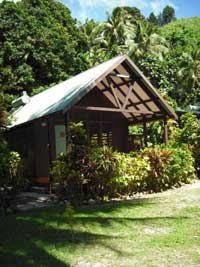 A real Fiji Island experience awaits you at Matana Beach Resort, Kadavu's longest established resort. We invite you to share the unspoilt beauty Kadavu Island has to offer.
Located only ten minutes by scenic boat ride from Vunisea airport, yet with no cars, no traffic, no shops, and a beautiful white sandy beach just steps away from your bure, this is just the place to chill out and enjoy the nature.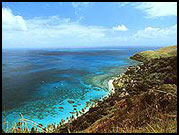 Kadavu Island is still untouched by major development, so you can experience the true Fijian lifestyle and culture along with the modern conveniences of the Resort. It's a South Pacific dream location, for divers and non-divers alike.
Our spacious and comfortable bures(bungalows) are set in lush tropical gardens, with decks facing the sea and the beach which has been rated one of the world's best.
Our PADI dive operation, Dive Kadavu, is run from the resort premises, providing world-class diving with over 40 exclusive dive sites close-by. You can expect an abundance of brilliantly-coloured soft and hard coral and tropical fish, endless swim-throughs and the chance to see Manta Rays, turtles, dolphins and sharks.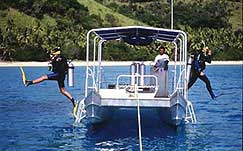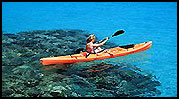 Swim, snorkel and kayak in clear pristine waters, go hiking, birdwatching, line fishing, visit the local village school, attend a church service, have a Fijian massage or just relax in a hammock with one of over 2000 books from our library.
After a full day in Pacific indulgence, have a drink from our beach bar and enjoy the always changing spectacular sunsets!
We will do everything to make this your best holiday ever.
Matana Beach Resort / Dive Kadavu is the Pacific dream where YOU would really want to be!
Accommodation
Matana Beach Resort has just 10 bures (Fijian Bungalows) and accommodates a maximum of only 24 guests at any one time. Built in a more modern - traditional style, they blend into the lush gardens and give you enough space for relaxing in your private time.
Each bure has its own ensuite (hot water), ceiling fan, bed-lamps, queen size bed, or 2 singles, lounge area, verandah, fly screening, external rinse shower, 24 hour power, etc.
Two of the bures have two bedrooms and can accommodate four to five people. They are ideal for families / friends. The remaining eight bures can each accommodate 1, 2, or 3 people.
All bures have direct access to the beach, dive shop, dining/lounge rooms, bars and activities toys. They are powered with 240V electricity which is generated by the resort's own power plant, and solar energy for hot water heating. An inverter system is used between 9.30pm & 7am, and powers fans & lights.