Home > Diving Fiji Islands > Fiji Dive Resorts
Oneta Resort
Kadavu Island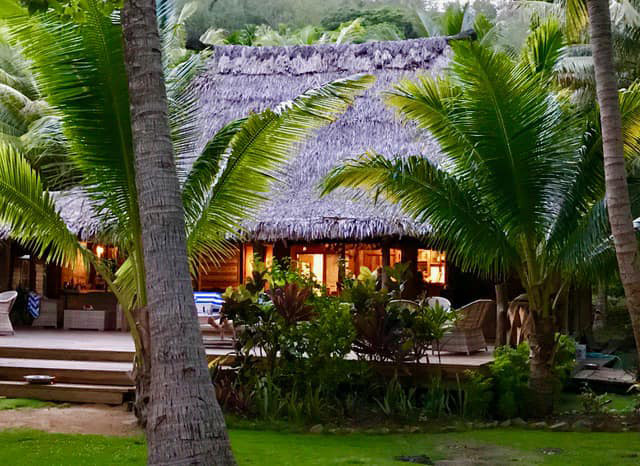 Oneta is a small family run eco-resort on one of the most untouched and beautiful islands in Fiji. It is very remote, it's a little wild, and it's somewhat hard to get to – but that's exactly the point. Hidden away on an island with no roads, Oneta Resort is one of the few places in the world where you can still find both quiet solitude and true adventure.
Accommodation
Oneta is built in an authentic Fijian style and sits on 50 acres of beautiful beachfront property. There are 6 bures (burr-rays) for guests and they are all named after local dive sites and are all a little different. They all have sago palm (thatched) roofs, king beds, en suite bathrooms, and a bamboo enclosed outdoor shower. The resort runs almost entirely on solar power and our water that comes from a spring on the hillside above Oneta is among the best in Fiji.
Turtle Lair
Turtle Lair sits on the ridge above the resort and from its private deck it has one of the best views in Fiji. It is the largest bure on the property and the most private but you have to earn your privacy by climbing up the steep staircase from the main lodge. A large Indonesian style bed stands in the middle of the room with an en suite bathroom behind it. A bamboo-enclosed outdoor shower with plenty of hot water is attached to the bure. Some guests have opted to stay inside the bure for most of their time at Oneta, only emerging when the sound of the conch shell or the lali drum calls them down for dinner.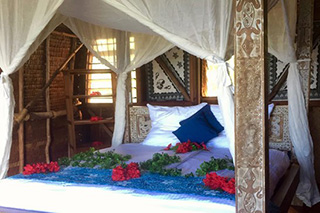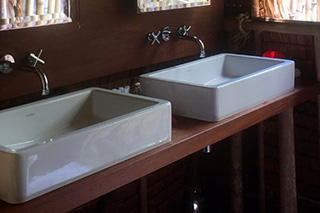 Beachfront Bures
Vesi and Shark Alley are the two beachfront bures and they are just short walk from the main lodge. Vesi (also a namesake of a native tree) is larger and has beautiful polished mahogany floors. Shark Alley is a bit smaller but lies closer to the water. Both have high-pitched soga palm roofs and small private decks that look towards the beach. They are shaded by greenery and fruit trees but have a clear view of the ocean that is only a short distance away. Each of these bures has an en suite bathroom and a bamboo-enclosed outdoor shower with plenty of hot water. Sit on your porch and enjoy an afternoon drink as you count the fish jumping in the ocean.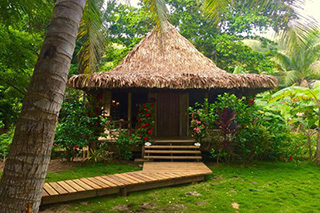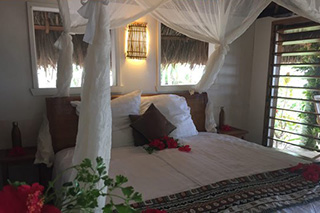 Garden Bures
Split Rock and Purple Wall, our two garden bures, are set back among the fruit trees and flowering shrubs of the garden. They are a little further back from the beach but certainly have their own charm and privacy. They also have king beds, en suite bathrooms and the outdoor bamboo-enclosed shower with hot and cold water. Take a couple of steps to the nearest mango or papaya tree (when they are in season) to pick your fresh snack. Or walk up to the main lodge where the staff will have your fresh coconut and sliced mango and papaya waiting for you.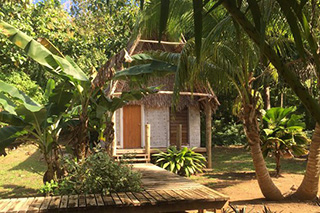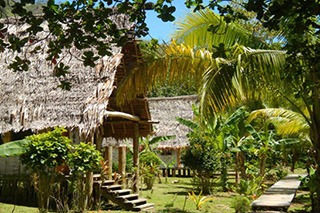 Archway
Archway is designed to accommodate larger groups that want to stay together in the same room. Larger families choose this bure or fishermen that prefer to stay together. It also may be a more cost-effective way to stay at Oneta for a group. The rates for this bure are per person with a minimum of three people needed to book it. Archway is quite spacious and features six single beds separated by hanging bamboo mats that give a little privacy to each person. It has a large en suite bathroom and two outdoor bamboo enclosed showers with lots of hot and cold water.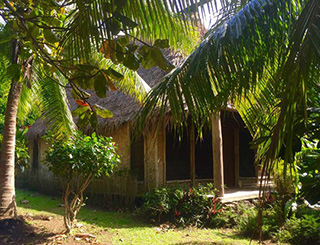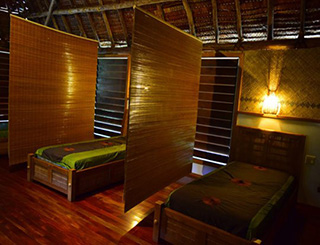 Please note: All bures are well appointed with quality European sheets, fine cotton Turkish peshtemel towels, and all natural bathroom products. All rooms have quiet three-speed ceiling fans, but please note there is no air conditioning anywhere on the island. Also please note that all electricity at the resort is 110 volt with U.S. style plugs and we have universal adapters for those that need them.
Dive Great Astrolabe Reef
The Great Astrolabe Reef is the largest reef in Fiji and the fourth largest in the world. It's known for its astounding coral gardens with a large variety of colorful soft corals - Dendronephthya, Alycyoniidae Xeniidae and Gorgonia to name a few. An abundance of fish of all sizes makes every dive an exciting event. There are plenty of colorful coral dwellers to look at as well as large schools of fish to swim through. Reef sharks are often present, turtles make frequent appearances and divers may occasionally be surprised by dolphins or whales.
Diving
The diving around Ono Island is world class and since it is not as well known as Australia's Great Barrier Reef, there is almost no damage here. It is still a pristine and untouched world and water clarity is usually more than 100m. It is also relatively unharmed so far by bleaching unlike so many reefs around the world.
We have a purposefully small diving operation here at Oneta Resort so we can really personalize each dive experience for our guests. Although we have our favorite dive sites we will always discuss with guests what they want to see. If you want to track down some giant humphead wrasse or schools of barracuda, we'll take you to the places they are often found. How about some beautiful swim-throughs with colorful Gorgonia fan corals, or caves? Or let's go someplace entirely new that nobody has ever seen before.