Home > Diving Fiji Islands > Fiji Dive Resorts
Barefoot Manta Island
Yasawa Islands

Barefoot Manta Island, known traditionally as Drawaqa Island, lies in the Southern Yasawa Islands of Fiji. The breath-taking coral gardens, situated just off the coastline, are among the finest in the Fijian isles. Barefoot Manta Island offers a tranquil environment, with the gentle sound of the waves lapping the shore. Our island lodge is the perfect destination for nature lovers in search of a one of the few Fijian islands unspoiled by man.
Find us in the heart of Fiji's stunning Yasawa Islands, an incredible place to gain a real life understanding of Fiji's proud culture and engaging heritage. Our Barefoot Manta Resort is a certified member of The International Ecotourism Society and is therefore a haven for travelers seeking to connect with nature in an unobtrusive manner.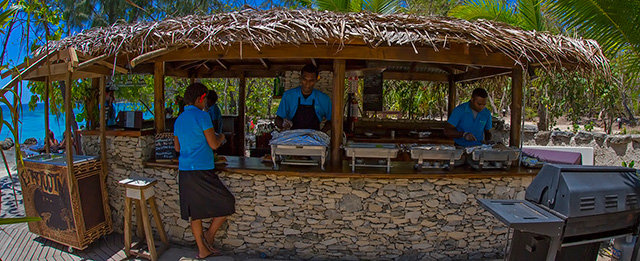 Highlighted Resort Features:
Private Island
WiFi
Restaurant / Bar
Resident Marine Biologists
Certified Dive Instructors
Easy Access
Breathtaking Scenery
Marine Sanctuary location
Remember that our Barefoot Manta resort offers world class snorkeling right off the beach. Just a hop, skip and a jump from your cosy bed and dive on into the picture perfect Pacific Ocean. We hope to meet you here soon.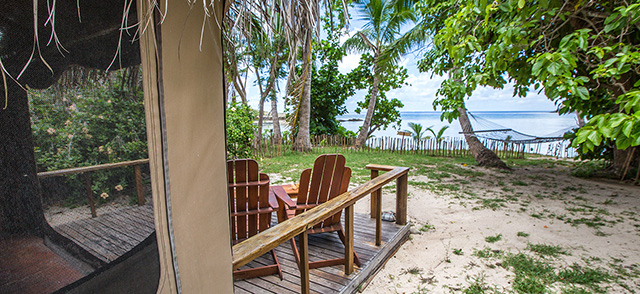 Accommodation
Welcome to paradise! Our charming resort will match most budgets. There's no doubt the sunrise ocean side dorms will surpass your expectations. Sunrise Beach Dorms have been recently upgraded and are superior value for money in comparison to other accommodation options in the Yasawa.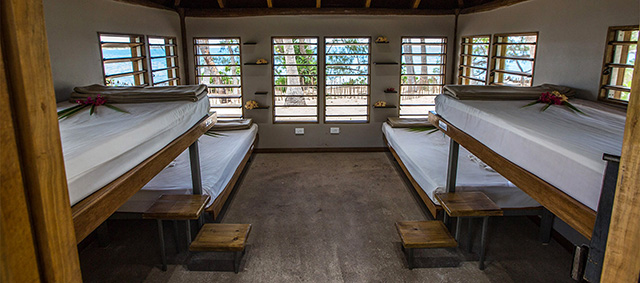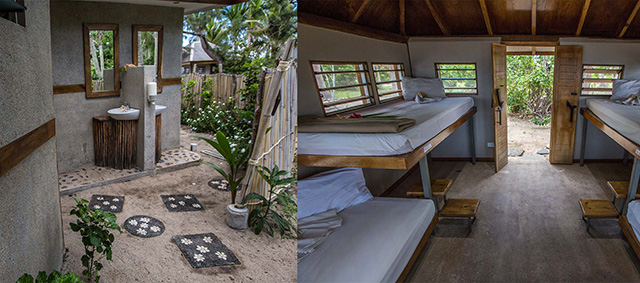 Sunrise Beach Dorm
B is for beachfront. The stand-out room is our Beachfront Safari Rooms or for families travelling our Family Safari Beachfront rooms are spacious and room for up to two adults and three children. These are tented bures with a safari theme. Merge with nature by way of the super cool semi-outdoor garden shower. Unwind on your private deck overlooking Sunset beach, complete with hammock, chilled beverage and a gentle sea-breeze.



Beachfront Safari Room



Family Safari Room
Diving
From stunning shallow reef dives to the deeper wreck dives we think we have an excellent choice of dives. Throw in some caves, walls, pinnacles and night dives and your options are unlimited. Despite the range of dives available the thing that sets us apart is the opportunity for certified divers to dive with and learn from our dive team which is made up of very experienced local divers and marine biologists from all over the world. All of our staff are committed to our conservation projects and love sharing their knowledge with guests.
If you are newly certified this is a perfect place to start your new journey into learning about magic of coral reefs. If you are an old hand we promise we will re awaken your senses and help you develop a new passion for the world you love.
We also love to explore. We are surrounded by miles of unseen coral reefs and like nothing better than to take divers somewhere we know humans have never laid eyes. The worst it can be is beautiful. If this appeals to you please let us know.
Cetified divers will be required to fill out a medical form prior to diving. Please don`t forget to bring evidence of certification and remember the rules about flying after diving. It`s also good to check your diving insurance with DAN before you come.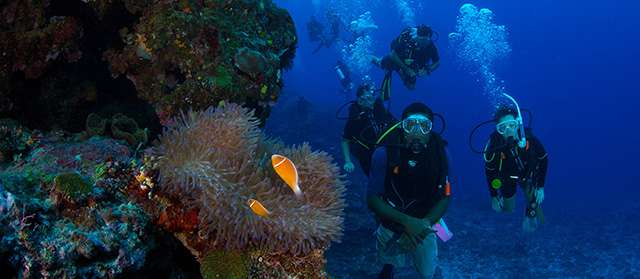 Swim With Manta Rays Fiji
If you are thinking about coming to Fiji, you should not miss a chance to snorkel with manta rays. There are several places in the world to do this, but our site is arguably one of the best. Not only because we have both manta colorations (chevron and black), but you will be with the Fiji manta experts during your stay.
Manta season by Barefoot Manta Island is between May and October. There are rare sightings outside of this time.