Home > Diving Fiji Islands > Fiji Dive Resorts
Paradise Taveuni
Taveuni Island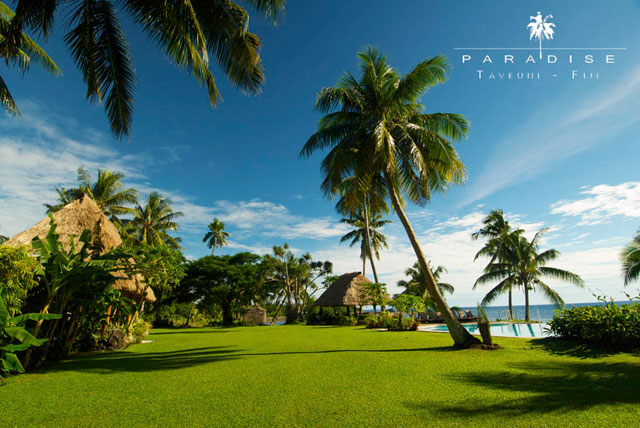 Paradise Taveuni is Fiji's boutique oceanfront resort, nestled amongst lush tropical gardens with rainforest mountain as a back drop, catering to discerning travellers looking for their own piece of paradise. Its unique deep water frontage allows Guests to dive, snorkel and swim from the lava flow edge into pristine warm tropical waters at any time of the day or night. If you want to truly experience the best scuba diving in Fiji, Taveuni is the right place for you.
Situated on the southern tip of Taveuni, Paradise is a secluded getaway a mere 1 hour domestic flight from Nadi international airport followed by a scenic 1 hour drive from the Taveuni Matei airport.
Full Service Activities
Swimming, snorkelling, kayaking, hiking, horseback riding, SCUBA diving, fishing, guided tours, cultural excursions, spa services and more.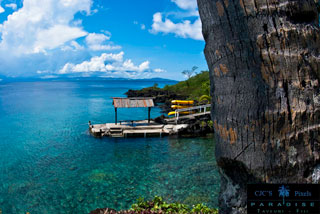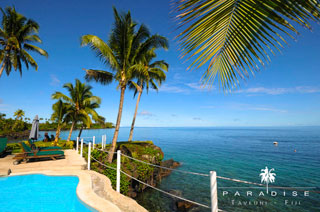 Accommodation in Paradise
Ten brand new Fijian Bures (Fijian for house) - are a recent addition to the resort. The new Fijian Bures combine traditional Fijian architecture with comtemporary design and exceptional standards.
Experience intimacy and seclusion within a private garden with outdoor showers and jacuzzi in the Oceanfront bures. Perfect for your Fiji honeymoon or that romantic getaway!
All who visit unique and secluded Paradise leave with a very real sense of Fiji in their hearts.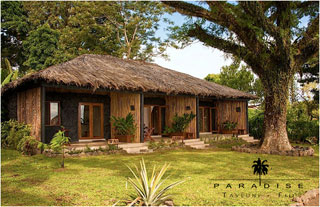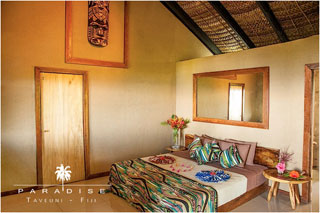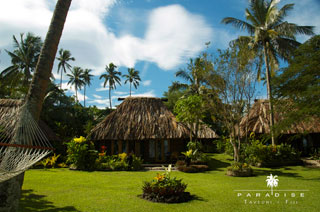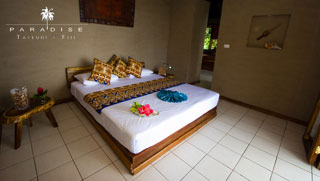 Fiji Scuba Diving!
Somosomo Strait (Fijian for 'good water') on the doorstep of Paradise, has strong tidal currents, which provide a constant flow of nutrients, idyllic for soft corals and diverse fish life. Taveuni is world renowned for the spectacular soft coral sites such as Rainbow reef. This is a fringing reef almost 32 km long on the southwest corner of Vanua Levu and easily accessed from Paradise. Not only the best Fiji scuba diving, but one of best scuba diving vacation sites in the world.
Taveuni Scuba Diving
Taveuni is made up of 28 extinct volcanoes with the depth of the crystal clear waters 100 metres deep 100 metres out. Remarkable pelagic marine life is encountered on the shore of Paradise Taveuni, some of which include the majestic Southern Right and Pilot Whales and pods of up to 50 Bottlenose Dolphins.
Paradise Taveuni is a Fiji scuba diving dream, only minutes from pristine reefs & diving directly from the shore, the resort marina or via dive boat, experience silt free, crystal clear water giving visibility of 100 ft and more. Nearby Rainbow reef and White wall have been noted in the Top 10 Dive locations in the world by U.S. Divers magazine.