Home > Diving Fiji Islands > Fiji Dive Resorts
Qamea Beach Resort
Taveuni Island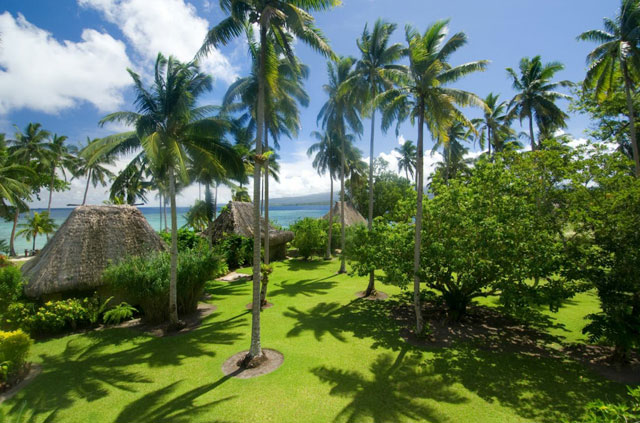 Qamea Beach Resort is located on breathtakingly beautiful Qamea island, just north of Taveuni. Qamea island is made up of lush, green, rainforest clad hills and pristine white sand beaches.
Qamea's authentic thatched roof bures were designed and built in traditional Fijian style with soaring 20 foot ceilings, hand polished local mahogany hardwood floors, air conditioning, fully stocked mini bars, tea and coffee making facilities, ceiling fans, comfortable beds and a separate sitting area. The bures have large covered decks with dramatic, unobstructed views of the ocean and sunsets.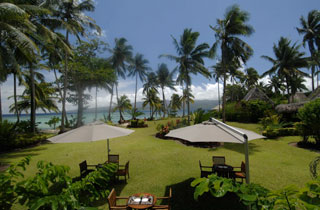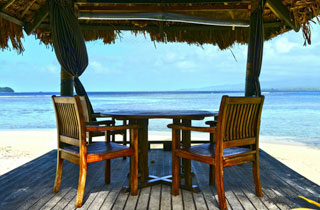 Accommodation
BEACHFRONT BURES
Our bures are positioned for maximum privacy, such that when you are taking in the views of the beach and lagoon from your covered deck, your privacy is not compromised by views of other bures. All of our Beachfront Bures were refurnished in July of 2008, with romantic four poster beds, sofa, cabinents, deck furniture, and more!
The bures are spacious with over 650 square feet (including covered deck), modern split air conditioning, fully stocked mini bar, tea and French press coffee making facilities, ceiling fan, high quality king size comfortable bed with all cotton high thread count Egyptian linens, separate living area, and antique Fijian art collected by the owners from neighboring villages and islands.
All our bures have large covered decks with comfortable furniture and hammock with dramatic and unobstructed views of the ocean and sunsets. The bures also boast large fully remodeled bathrooms with imported European fittings, heated towel rack, hair dryer, outdoor riverstone courtyard showers, organic soaps, shampoo, conditioner and lotion.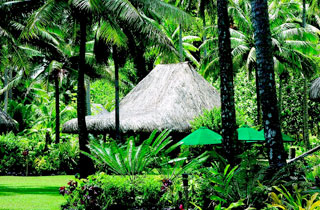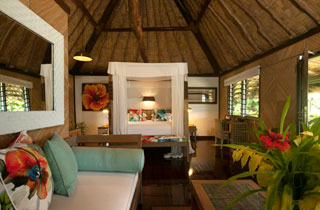 HONEYMOON BURES
Both of the Honeymoon Bures have romantic canopied four poster beds with soft white decorative mosquito netting curtains and boast a bathroom of over 300 square feet with walls that slide into pockets to opens onto a private outdoor courtyard with an enticing natural stone Jacuzzi spa pool.
Like all of the Qamea's accommodation, the Honeymoon Bures are fully air conditioned, have romantic outdoor river stone showers, with attention to detail at every step.
One of the many unique features of our Honeymoon Bures is a covered day bed off the beachside deck with privacy curtains.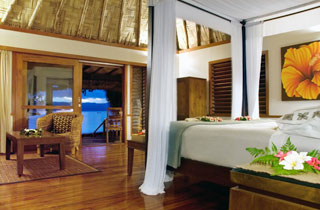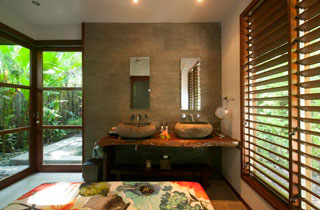 HONEYMOON VILLA
The upper level is the bedroom, and two steps take you down to the lounge. Both rooms face the sea and have access to a large verandah by sliding glass doors.
The villa is raised six steps above the lawn, and is fully screened. The bedroom is appointed with a large bamboo king size bed, side tables with figured lamps, large wardrobe, vanity unit, lounge chair and decorative mosquito net over the bed. Throw cushions, mats and Fijian art add to the overall luxurious effect.
The lounge has two divans, both of which can become beds when needed, an imported lounge suite, side tables, sideboard for minibar and tea/coffee making facilities and decorative table lamps and paintings. There is also a writing desk and several comfortable easy chairs.
Both of the rooms are cooled by overhead fans and split air conditioning and have an abundance of tropical potted plants.
The spacious covered deck has lounge chairs, a table and hammock. The oversize bathroom has an indoor shower, double sinks, and opens to a private outdoor riverstone courtyard with both an outdoor shower and jacuzzi spa bath.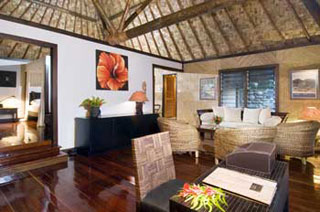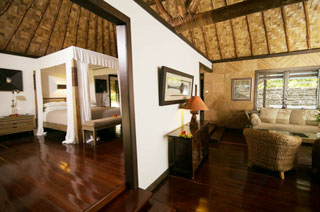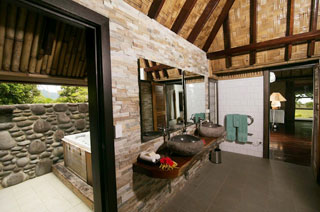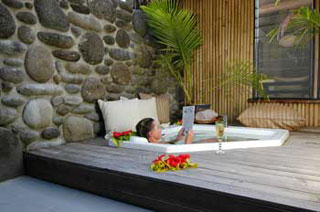 ROYAL BEACH HOUSES
Our Royal Beach Houses are very spacious at 1,700 square feet and feature a wonderful airy feel.
They are fully air conditioned, have a stereo system, i-Pod docking station, and 42" flat screen television connected to international satellite and DVD (multi-zone) player and telephone.
One of the many highlights of the Royal Beach Houses is their large covered decks that extend to the beach with expansive views of Qamea's pristine lagoon and romantic sunsets.
Complimentary hors d'oeuvre and a cocktail will be served to you each evening on your deck as you enjoy the sunset while looking out over your private pool and ocean views beyond.
Each of our two Royal Beach Houses also boast a swimming pool and Jacuzzi spa with sweeping ocean views. The spacious bathrooms contain imported fixtures, including double sinks and an indoor shower.
A separate door to the private river stone courtyard has an open air shower with access to the deck and pool.
Our Royal Beach Houses are the ultimate in privacy and luxury offered anywhere in Fiji.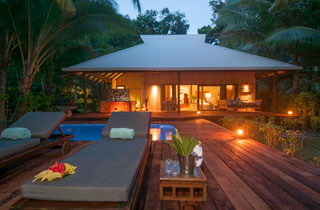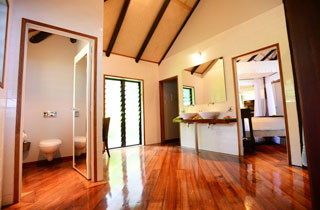 TWO BEDROOM ROYAL BEACH HOUSE
The Two Bedroom Royal Beach House is at the furthest end of the beach on the resort, has its own white sand beach, large deck with pool facing the ocean, two bedrooms (one with private en-suite bathroom and shower), and a second bathroom with outdoor shower.
Like the two other Royal Beach Houses, the Two Bedroom Royal Beach House boasts a stereo system, i-Pod docking station, and 42" flat screen television connected to international satellite and DVD (multi-zone) player, telephone, and a complimentary sunset cocktail and hors d'oeuvre delivered each evening. The Two Bedroom Royal Beach House is our only accommodation with a washing machine and full formal dining area.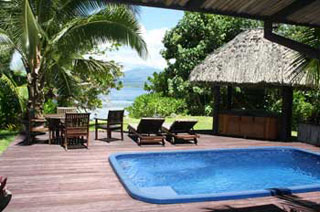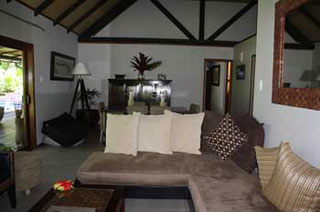 Diving
Dive Qamea Fiji, a PADI 5 Star Dive Resort, is proud to offer incredible dive site diversity, running the gamut from placid and pristine coral gardens to exhilarating drift dives along sheer walls bursting with color. World premier dive sites include the Purple Wall, Qamea Freeway, Swirling Coconut and many more, with 23 out of 26 sites within an eight minute boat ride of your bure. Full-day charters are available to the White Wall and Rainbow Reef in the Somosomo Straits and to the undiscovered gem of the Yellow Wall.
Diving with Qamea is effortless, all you need to do is show up and jump on one of the recently refitted dive boats, and up to 12 divers can enjoy a full day of diving before lunch. Divers spend comfortable surface intervals on the resort, not the boat. The recently upgraded dive facility features all new BCDs, regulators, and dive computers.
Dive Qamea Fiji's three full-time highly experienced dive instructors offer PADI courses ranging from the basic Discover Scuba Dive for non-certified divers up through Divemaster, including Nitrox instruction. No matter what experience level, Qamea Resort & Spa is qualified to accommodate your needs.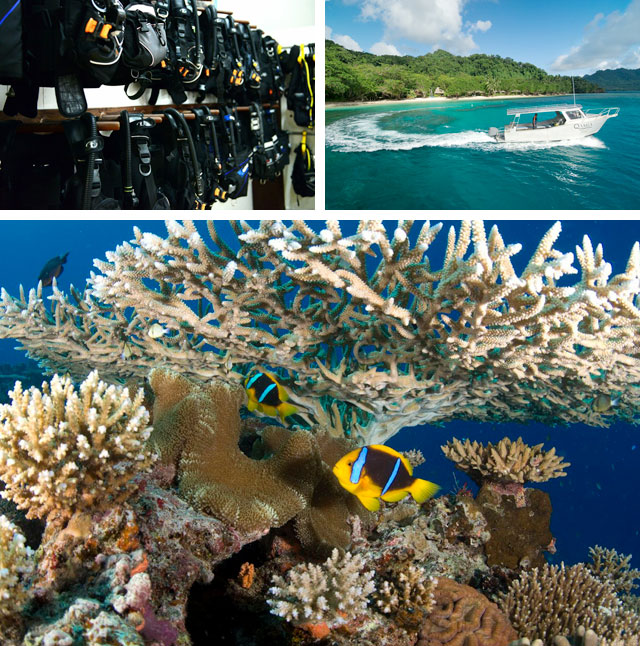 Other Activities
Qamea and her neighboring islands offer a tropical paradise of adventure and beauty. Guests can avail themselves of a wide range of complimentary activities including incredible snorkeling, hobie cat sailing, windsurfing, sea canoeing, hiking, croquet, visiting one of the local villages and lots more.