Home > Diving Fiji Islands > Fiji Dive Resorts
Lalati Resort
Beqa Island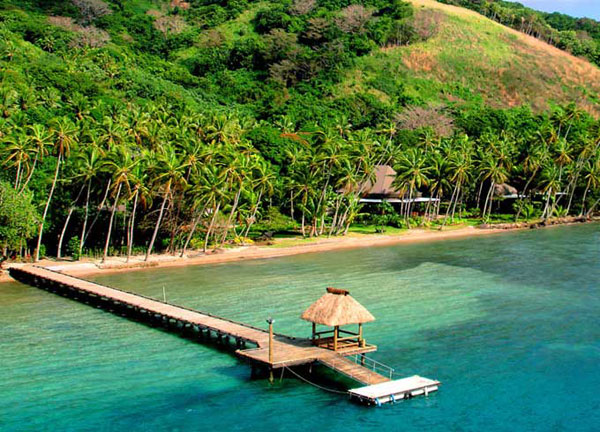 Nestled against the hills of Beqa Island, at the mouth of scenic Malumu Bay, sits picturesque Lalati Resort & Spa. This enchanting boutique resort sets a keen eye towards authenticity and friendly guest service. Each staff member embraces visitors with traditional Fijian warmth and hospitality, making sure there is no request too big, or too small, to satisfy. 4-star cuisine is the norm, as are the easy Bula smiles and warm-hearted welcomes. An overwhelmingly captivating location, Frommer's describes Lalati as having "one of the most picturesque views of any Fiji resort."
Modern Bride described Lalati as a "Romance Ready" resort, and Outside Magazine proclaims the diving at Lalati to be among the best, having one of the "best muck dives in the world" and one of the "World's Least Explored, Most Spectacular Reefs."
Prepare for your guests to be charmed by the unexpected pleasures that await them at Lalati Resort & Spa. It's a private, boutique experience, without high boutique prices.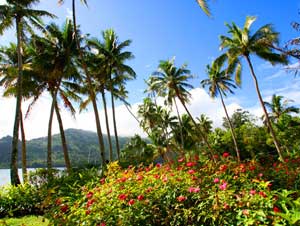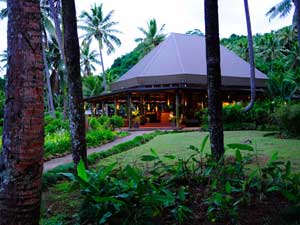 VILLAS – 7: 5 Beachfront Villas, 1 Beachfront Honeymoon Villa Suite, and 1 Garden Honeymoon Villa Suite. All villas are built in the "chiefly style" with soaring high beam roofs and beautifully polished local hardwood floors. All have California King beds, private hammocks, large private decks, sweeping ocean views, tea and coffee making facilities, fridge, hairdryers and deluxe amenities. Beachfront Villas have an additional bedroom with queen sized bed. The Honeymoon Villas feature romantic coconut palmwood 4-poster king sized beds. Beachfront Honeymoon Villa is steps from the water, and the Garden Honeymoon Villa is approximately 100 metres from the water. Both feature a romantic, private enclosed courtyard with hot tub, outdoor shower, day bed, and water feature. Garden Honeymoon Villa has partial ocean views, and includes a free mini bar, replenished daily.
SEAVIEW COTTAGES – 2: Our Seaview Cottages are reminiscent of a lake cottage or summer seaside retreat. All have California King Sized beds, large sitting areas, counter, sink and microwaves, tea and coffee making facilities, fridge, hairdryers, deluxe amenities, decks, and great sea views for catching sight of passing sailboats, dolphins, reefs and outlying islands.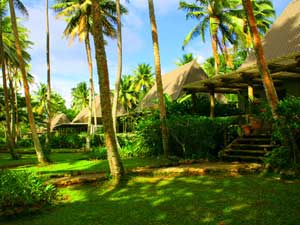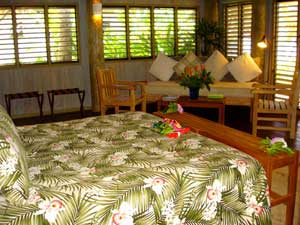 Diving
So Many Dive Sites, You'll Wish You Had Gills!
Beqa Lagoon diving is captivating. Surrounded by one of the world's largest barrier reefs, it pops up on lists all over – including the top 10 dive destinations in the world, and one of the "1,000 Places to See Before You Die." Surrounded by over 190 miles of hard and soft coral reefs, this amazing living aquarium delights both novice and seasoned diver alike.
Visibility lies between 60-100 feet, with warm tropical water temperatures a consistent 79°F/26°C year round. Your divemasters grew up in and around the waters of Beqa Lagoon, and delight in sharing their underwater world with you. Your expert dive guides typical Fijian warmth and delightful humor, combined with Lalati's intimate size, epitomizes the personalized experience you get on each and every dive trip.
From Mucks to Wrecks
Dive sites in Beqa Lagoon number over 100, and most are as close to your front door as a quick 5-20 minute boat ride away. A kaleidoscope of soft corals abound. Colors glow in neon yellows, oranges, reds, pinks, whites and purples. Tropical fish explode in every shade of the rainbow. Blue Ribbon Eels, Clown Fish, Frog Fish, Lionfish and Leaf Scorpionfish, the elusive Ghost Pipefish and the shy Seahorse, pelagics and more make their home in the nutrient rich waters of Beqa Lagoon. Enjoy a few of our favorite Beqa Lagoon dive sites.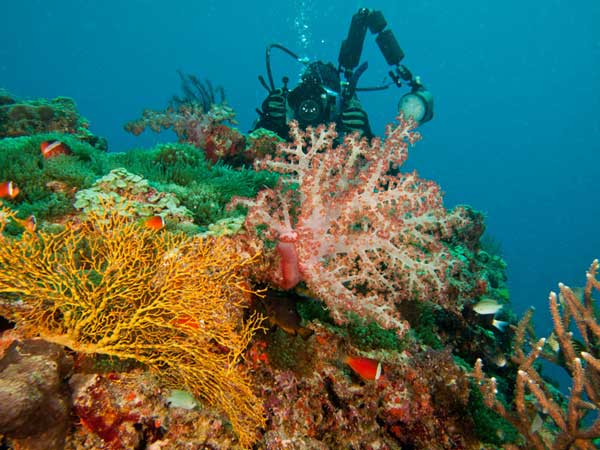 Diving in Beqa Lagoon
The multihued soft corals and immense variety of marine life is what differentiates South Pacific diving from diving in the Caribbean. And, in the gin clear waters of Beqa Lagoon, you'll find your dive sites are considered by many to be some of the best dive spots in the world. Soft corals unique to Fiji proliferate here, due to the nutrients in the tides that flow in and out of the lagoon.
The great pinnacles of Beqa Lagoon, a submerged volcano, a wreck, and shark dives, are just a short boat ride away on one of our 2 custom diving catamarans. Swim throughs reveal photogenic lionfish, while schools of barracuda and trevally cruise by. Tops of our bommies are so covered in soft corals and schools of swarming fish that your safety stops are hard to leave.
Dive Site Details [pdf file]