Home > Diving Fiji Islands > Fiji Dive Resorts
Volivoli Beach
Viti Levu Island
Tucked away on the northernmost tip of the island of Viti Levu, you'll find Volivoli Beach - one of Fiji's best kept secrets.
This wonderfully relaxed beach resort is located in a truly unspoilt and spectacular corner of Fiji. With a perfect blend of white sandy beaches and coral reef, an exciting range of watersports, a sunny climate year round, and friendly Fijian hospitality and culture, a beach holiday in Fiji doesn't get much better than this!
An energising mix of sporting activities are available for guests, including snorkelling, kayaking, game fishing, beach volleyball and some of the best diving in Fiji. Ra Divers, our fully certified PADI Dive operation, offers great value dive packages for beginners and experienced divers. Divers will find a variety of marine life and fascinating shipwrecks nearby, just waiting to be explored.
You'll also have the chance to sample Fijian culture at our traditional dancing and fire twirling performances, take part in a Kava ceremony or enjoy a boat trip to a traditional local village. Alternatively, you can simply lie back and top up your suntan on the stunning white sand beach.
Accommodation
At Volivoli you'll find some of Fiji's most affordable beachside accommodation without having to compromise on quality. Our facilities are excellent and it's those extra touches which make us stand out from the rest.
We have a range of clean, comfortable, modern accommodation including luxury twin share accommodation and our brand new Studio Vales. Volivoli also offers lodge and dormitory accommodation.
STUDIO VALES
Our stand alone Studio Vales are bure-style with private rooms uninterrupted ocean views. Each Studio Vale is air-conditioned and fully screened, and offers a Queen sized bed, two sofa beds, an ensuite bathroom, kitchen and washing machine.
Our Studio Vales are also perfect for a family holiday in Fiji, and are suitable for two adults and up to two children.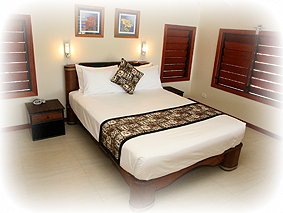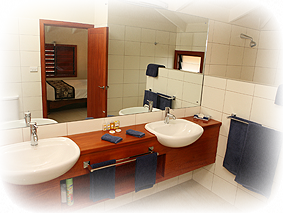 VALE BALAVU - Twin Queen Rooms
Designed specifically for divers travelling together our Vale Balavu rooms are beautifully finished in sustainable hard-woods and feature two queen size beds, a writing desk, Wi-Fi, deck chairs, 2 large ceiling fans, air con, tea and coffee facilities and Volivoli's famous Ocean views!.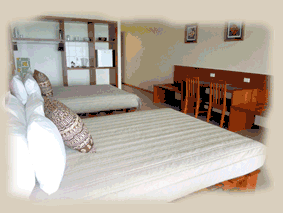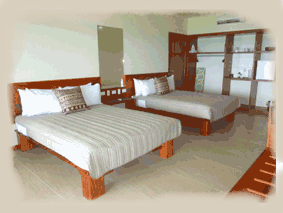 THE LODGE - Twin Rooms
The Lodge provides four twin/double rooms for those who are looking for more privacy and a space of their own.
There are two bathrooms and toilets, plus a central communal kitchen. Each room features a king size bed and a single bed, a ceiling fan and fully screened windows with ocean views.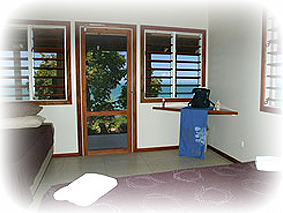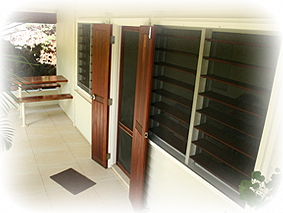 THE DORMITORY
We're often told that our dormitory accommodation is among the best in Fiji. It's new, clean and spacious, with a generous veranda that overlooks the coral reef and bay.
We have unisex and single sex dormitories. Each dorm sleeps eight people and has ceiling fans and two ensuite bathrooms.
On arrival each guest is provided with a key to a personal storage space in his or her dorm, which is large enough to stow an average sized backpack.
Bottom sheets and pillowcases are supplied for each bed, while top sheets and towels can be hired from reception.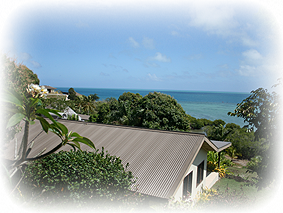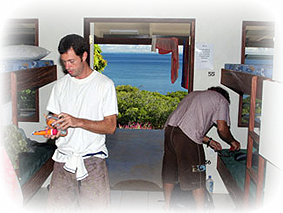 Diving
Arguably one of the best locations in Fiji for a diving holiday, Volivoli Beach is home to Ra Divers, a fully certified PADI and SSI Dive Resort.
Take the plunge… you'll be amazed what's below the surface! The reefs in the surrounding Bligh Waters are some of the healthiest in the world, with very little pollution and few boats, so you'll be able to see an array of marine life including anemone fish, turtles, colourful soft coral and reef sharks.
Volivoli Beach is one of the best places in Fiji to learn to dive - we have an open air classroom, and beginners can get certified with a SSI open water diver course, then explore the shallow waters right off the sand spit.
For the more experienced diver, our staff have hand picked more than 50 superb dive sites. Most of the best sites are no more than 20 minutes by boat from Volivoli Beach.