Home > Diving Fiji Islands > Fiji Dive Resorts
Beqa Lagoon Resort
Beqa Island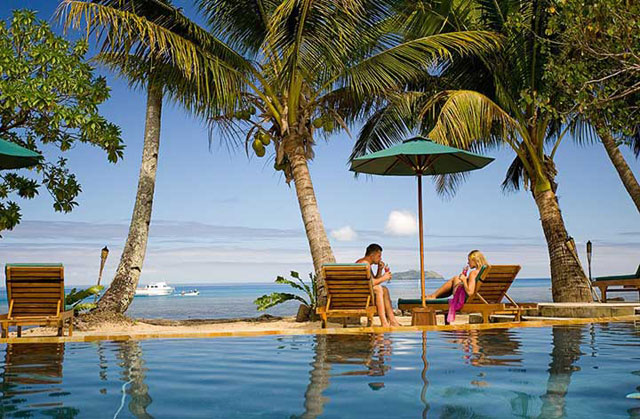 Bula! Welcome to Beqa Lagoon Resort. A visit to Beqa Island is truly a chance to get away from it all. A journey by boat across the Beqa Lagoon will transport you from life's hustle and bustle to the lovely, secluded Beqa Island. As you near the shoreline, the sound of Fijians singing a traditional welcome song will be the first sign you've arrived in paradise. A warm smile and a floral lei greet you when you step onto the sand of this enchanting island resort, where even the palm trees seem to sway to the music in the warm sea breeze. From the moment you arrive, you'll feel at home among the tropical flowers, warm waters and secluded private villas on the island—where no roads and no cars exist to interrupt your tranquility. World-class diving, delicious cuisine, relaxing spa treatments, and the incomparable Fijian hospitality are yours to savor and enjoy throughout your stay. Feel the warmth of this spectacular island paradise—its wonderful weather, tranquil waters, marvelous villas, and friendly smiles you'll not soon forget.
Accommodation
Our intimate resort features 25 deluxe, private air-conditioned villas(called bures) spread out beneath the lush tropical landscape. Each of these generously sized mini-suites are beautifully appointed with traditional island dècor.
12 stunning beachfront bures grace the shoreline, each with their own private courtyard, large sundeck and cool plunge pool. One of the beachfront bures is designated as our honeymoon bure featuring premium ocean view, upgraded contemporary interior and even a romantic outdoor shower. 6 charming bures surround our koi pond and 3 very private bures are tucked away in the garden.
For families or groups we suggest one of our 4 comfortable and spacious two-bedroom bures. Each of these are about 1,000 square feet with 2 private bedrooms and a large living and dining room area. Enjoy soothing ocean views from your private patio or balcony.
Beachfront: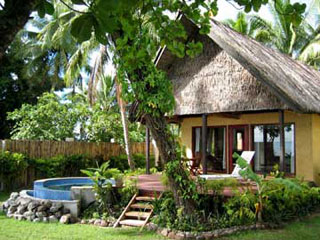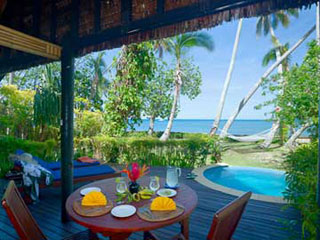 Garden Bures: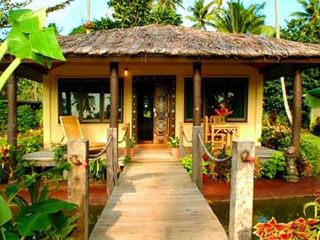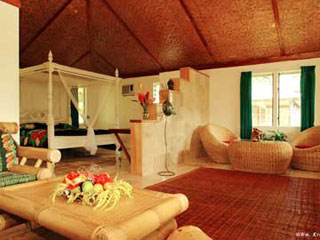 Diving
Surrounded by over 190 miles of spectacular coral, Beqa Lagoon is one of the world's largest barrier reefs. Diving these calm protected waters is like exploring another world. The water is clear and warm, visibility is typically over 100ft, currents are generally mild and the water temperature stays a fairly constant 80 degrees. . Fiji is known as the Soft coral capital of the world and offers spectacular undersea gardens in all hues. Many of the most spectacular dive sights are only a few minutes from shore and if you stayed long enough, you could explore over 100 different sights.
Our PADI Dive Masters have been exploring these waters since they were children and know every reef and coral head. They will point out to you all the colorful and amazing treasures these waters hold -Blue ribbon eels, clown triggers, lion fish, leaf scorpions, octopus, vivid anthias and fusiliers. Tickle your imagination by exploring shipwrecks of days gone by. For the more adventurous, join us for the incredible shark and big fish encounter where you will see over 9 species of sharks,huge groupers, rays, sea turtles and more!
Fiji is known as the Soft coral capital of the world plus experience Wreck dives.