Home > Diving Fiji Islands > Fiji Dive Resorts
Daku Resort
Vanua Levu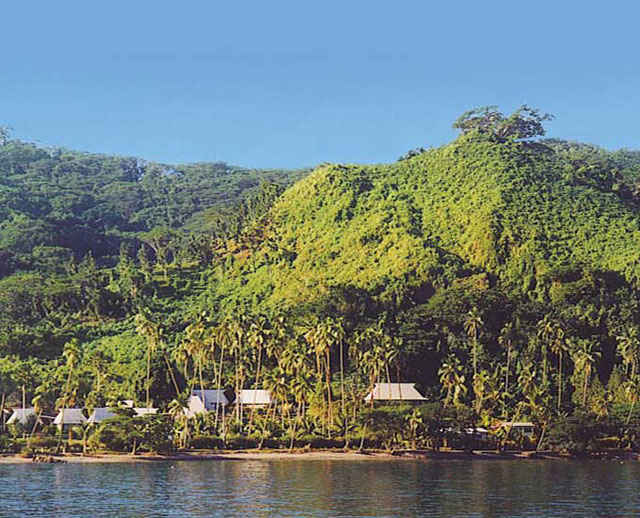 Daku Resort is vintage Fiji : comfortable accommodation in traditional bures and villas with stunning views over the bay, a reasonable price, and a staff whose friendliness and warmth give you all the joy of a vintage Fiji holiday.
We're an affordable, friendly resort – with accommodation ranging from FJ$180 to $350 – in a coconut plantation by the sea. We're small, low-key, and casual. You can have your own traditional style ocean view bure with its own deck, set in our tropical gardens, and it won't cost you the earth.
The owners are former guests who visited over 70 countries before finding paradise here in Savusavu. Over the last three years the resort has been refurbished and refitted, and there are a couple of new bures – but Daku has lost none of its intimacy. You'll still find ceiling fans, ocean breezes and lazy breakfasts, and you'll still be able to turn up to dinner in a sulu. Tradition is imporatnt at Daku but we understand you need to keep in touch with the world, so wifi is available.
At Daku, the staff is small, the smiles are large and our guests are welcomed like old friends of the family.
Accommodation
Ocean View Bures

All of our bures look out over the gardens and onto Savusavu Bay. We have 5 Ocean View Bures, 2 Family Ocean View Bures and one Garden Family Ocean ViewBure. Each single Ocean View Bure has a bedroom with a double bed and an extra single bed, with a private bathroom and covered deck. There is a bar fridge and tea and coffee making facilities in each bure, and an overhead fan.
The Family Ocean View Bures have 2 separate rooms with a lockable door in between, so they are ideal for a family or for 2 couples who are friends but still want some privacy. Or they can just be used as individual rooms. Each bedroom has its own bathroom, deck and the other facilities of the single bures. The Garden Family Ocean View Bure has all the same facilities but is larger.
The Pool House

The Pool House is the simplest of our houses, but also the largest. It's regularly used by families or groups and can sleep up to 8 people. There's a double bedroom with an adjoining room with 2 single beds, plus two other bedrooms – one with a double bed and one with a single. The bathroom facilities are set off a corridor – two showers, two toilets and a wash room with basin. It has a large kitchen, a living area and a deck which overlooks the swimming pool.
The Beach House

The Beach House is nestled in a beautiful plantation-like setting, just steps from the ocean. It's true vintage island style with a large verandah (you'll practically live outside), open living room and kitchen, three bedrooms, one large ensuite bathroom with shower and bath, and another bathroom with shower. Make yourself at home!
The Cottage

The Cottage is a smaller version of the villa. It has three bedrooms – two rooms with double beds and one room with two singles – plus its own living area, kitchen and covered deck. There are two bathrooms (not ensuite).
The Villa

The Villa is set up on a hill surrounded by tropical foliage… It is large and open with high ceilings, two bedrooms (and we can put in an extra bed for a family), two bathrooms, lounge, kitchen and a large verandah with a magnificent view of the bay – a wonderful vantage point from which to enjoy the breeze, or sit with a drink and gaze at the stars.
Bayview Luxury Villas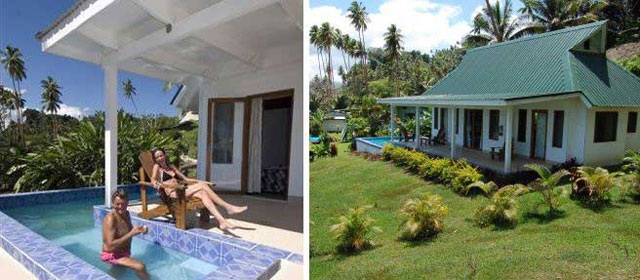 Each has its own 5 metre swimming pool, and is a hop and a step to the beach and ocean. 2 Bedrooms, 2 Bathrooms, Lounge, Kitchen, Huge Deck and Private Swimming Pool.
Diving
Known as the soft coral capital of the world, the reef around the Fijian Island of Vanua Levu provide a once in a lifetime experience. Diving in the South Pacific is a wondrous experience, as you swim at some of the world's most abundant coral reefs teeming with multi-coloured fish and other forms of sea life. There's easy access to a wide variety of sites: shallow reefs with spectacular plate corals, coral pinnacles topped with clouds of purple anthias and damsel fish, deeper reefs with steep walls dropping away to 800 feet and more where you may see some of the larger species.