Home > Diving Fiji Islands > Fiji Liveaboards
The Nai'a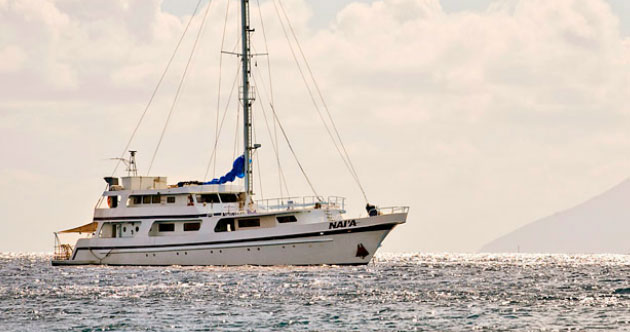 NAI'A has set new standards of live-aboard diving luxury in every way, especially in comfort and service. Designed by renowned marine architect, W. de Vries Lentsch, and built by skilled Dutch craftsmen, NAI'A was completely refitted in 1993 and again in 2000 and 2010 with the latest technology and facilities specific to the needs discerning dive travelers. This extremely spacious ship provides for 18 guests (maximum) with all the creature comforts of a quality land-based resort - including hot showers and cool staterooms - but with superior diving and a new view every day! NAI'A's sophisticated sailing rig affords her the range, comfort and stability of a true expeditionary vessel. Her large, diver-savvy Fijian crew is world-famous for their dedicated service, kava-inspired music and can-do attitude that makes for great flexibility as well as a great time!
Ship Layout:
The Salon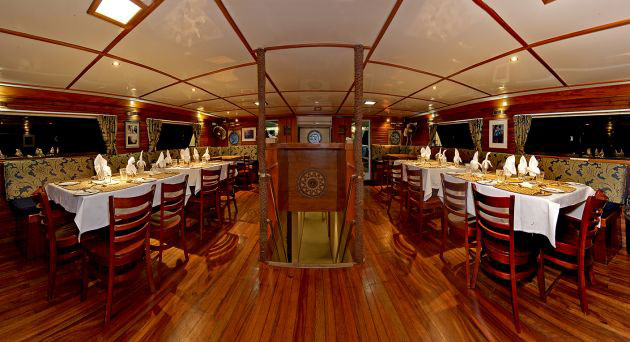 NAI'A's main salon is perhaps her most eye-catching feature. Carefully crafted out of local timbers, the 625 square foot room serves as lounge, theater, classroom, and dining room. The four tables in the salon are showpiece items, built as a gift to NAI'A by the Fijian carpenters who refinished the ship. Made of alternating planks of the four native timbers used elsewhere throughout the ship, the tables are polished to a high sheen.
When you come back from the dive you can review your videos immediately using the entertainment system located in the salon. Two multisystem DVD players are wired to the Sony High Definition television and there are extra jacks with which to plug in your own camera.
The salon is also a comfortable place to just sit and relax, read a book or take a nap. We have an extensive library of interesting books, magazines, games and puzzles available for your use while onboard.
The Accommodation Deck
NAI'A has accommodation for 18 passengers in 9 air-conditioned staterooms with private ensuite heads. All the staterooms were entirely rebuilt in 2010. Three of our staterooms have king-size beds that can be configured as individual singles; two of our staterooms have both a king and a single bunk above at the foot; two staterooms have only a king bed; and two staterooms have twin bunk beds. All the staterooms are larger than those on most dive vessels, with plenty of stowage for gear, and they are bright, airy, and comfortable. While camera and strobe charging is best done in the camera room, each room has both 110 and 220 volt power to run whatever electrical goodies you have.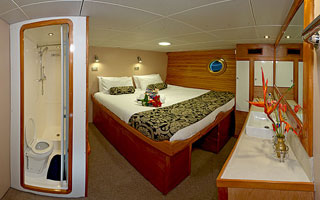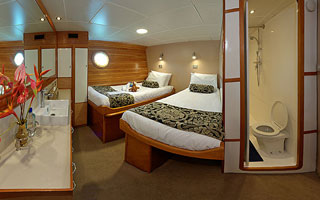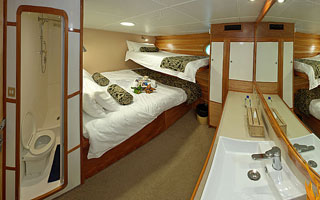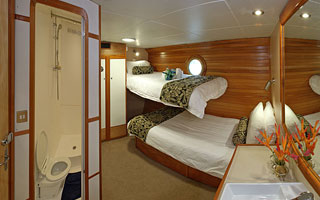 The Dive Deck
Just between the salon and the camera room is our spacious dive deck. The divedeck on NAI'A is unconventional in several respects. First, it is huge, bridging the entire 30ft beam of the ship, and it is located amidships away from the clutter of the working deck aft. During the charter, the crew take care of filling the tanks and loading gear into the skiffs from the aft dive platform, while divers have the uncluttered divedeck forward in which to suit up and listen to the very thorough dive briefings.
Only masks, fins, and camera gear are stored forward, while the heavy and unwieldy tanks and BCs remain aft. Divers returning to the dive deck are treated to hot deck showers and clean dry towels at the end of every dive. NAI'A has a small laundry aboard where towels and tablecloths are washed daily.
Once the scuba tanks have been moved aft at the start of the charter, the dive deck cushions come out and the place becomes a lounging area sheltered from the midday sun.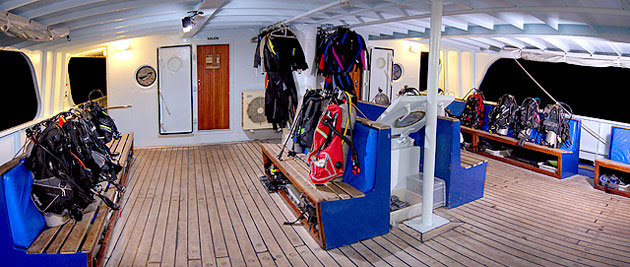 The Stern Dive Platform
When its time to dive you'll find your skiff waiting at the back dive deck. The crew takes care of moving your gear and making sure your tanks are full so you don't have to. After the dive you simply step out of the skiff onto the back deck and the crew will do the rest!
NAI'A went into the shipyard for a major refit in 2000, which included making a bigger and better dive platform. NAI'A is now 3 feet longer and 2 feet wider. The extra space allows divers greater manoeuvering room as they enter and exit the dive skiffs. As an added advantage, the large dive platform also allows NAI'A to achieve greater speeds on ocean crossings -- making voyage time quick and comfortable.
NAI'A uses two 22ft rigid inflatables. These are robust boats and their low freeboard makes them easy to exit and enter. Because NAI'A uses two skiffs, divers who surface early are whisked back to the ship where they can have a shower and a brownie while they wait for the hard-core macro photographers to complete their dive.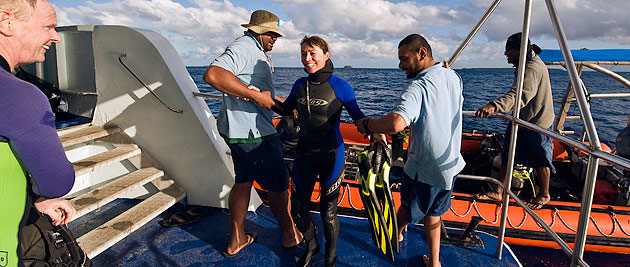 The Camera Room
After each dive you can rinse your camera gear in our two large fresh water dip tanks. Compressed air is at your fingertips in the camera room for cleaning and drying parts.
The camera room is located immediately adjacent to the dive deck and has storage and work space for more than a dozen photographers, their gear and storage of cases. Both 110 and 220 volt charging strips are available. There are more than enough for everyone!
NAI'A features the latest provisions for professional and amateur photographers in this digital age: a computer charging and storage console in the salon and a giant flat-screen High Definition TV.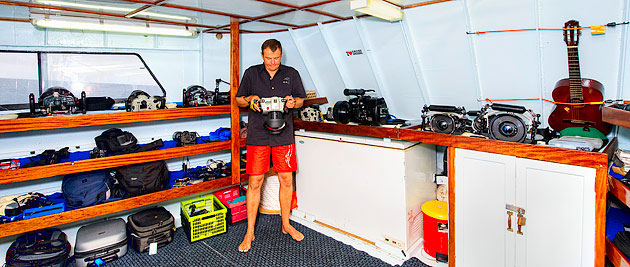 Ship Specifications
Length: 120ft motorsailer yacht
Beam: 30ft
Draft: 11ft
Displacement: 240 Tons
Crew: 12
Passengers: 18
Passenger staterooms: 9
Designer: W. de Vries Lentsch
Yard: Camenga, Amsterdam
Built: 1979
Extensive rebuild: 1993
Additional refit: 2000, 2010
Range: 6,500 miles
Speed: 9 knots
Fuel: 26 tons
Water: 29 tons + watermaker