Home > Diving Fiji Islands > Fiji Dive Resorts
Waidroka Bay Resort
Viti Levu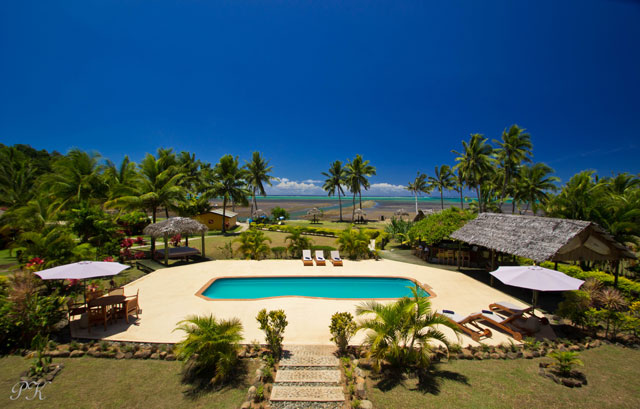 Where tropical rainforest meets the Pacific Ocean nestles a tranquil boutique resort, offering an absolute adventure into Fiji's culture combined with worldclass surfing - diving - fishing and everything else the ocean has to offer.
The perfect combination of pure relaxation and exhilarating action, Waidroka Bay Resort offers mind-blowing surfing at Frigates Passage and many other breaks like famous Pipe or Serua Rights, world class diving at the famous Bega Lagoon & Reef, as well as shark diving, game & sport fishing, snorkeling, kayaking, rainforest-trekking and all that is expected of a Fijian oceanfront adventurer paradise.
Famous Fijian hospitality and smiles, a variety of beautiful accommodation, great food, stunning views, exhilarating activities on the highest level and a dream location conveniently located on the main island, Viti Levu, only 2 hours distance from the airport and 20 minutes away from the 'Adventure Capital' of Pacific Harbour – yet totally secluded in the midst of the rainforest on our own private lagoon. Waidroka Bay Resort is a true haven for those seeking a home away from home combined with an intimate and private boutique experience and atmosphere.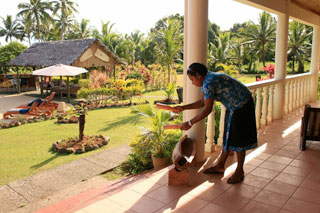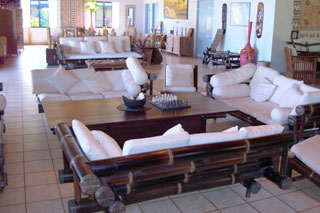 Accommodation
All rooms & bures are fully air-conditioned and include mini-fridges.
Panoramic Ocean-View Rooms
Our Panoramic Ocean-View Rooms are located with magnificent views of the Pacific Ocean and our private lagoon from a hilltop above the Resort, with separate bathrooms, one bedroom – with queen-size double bed and one full-size single bed (different set-ups available on request), table and chairs, mini fridge, ceiling fan and a large veranda. The Panoramic Ocean-View Rooms enjoy the best views of the resort, looking over the sea and seeing as far as the islands in the distance.
1 Bedroom Unit: Sleeps 1-3 Persons.
(Possible share of 4 single surfers in Surf Group)
Deluxe Ocean Front Bures
Our Deluxe Ocean Front Bures are located with magnificent views of the Pacific Ocean, with their own little gardens, seperate bathrooms, two beds - one queen-size and one full-size (variety of bed constellations available on request), table and chairs, mini-fridge, ceiling fan and large decks with sitting corner and 'hammock chair'. Air-conditioned.
1 Bedroom Unit: Sleeps 1-4 Persons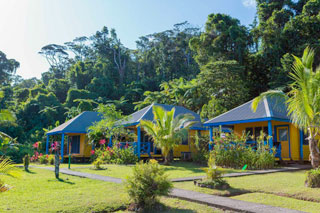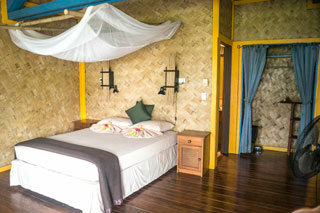 Superior Deluxe Ocean Front Bure
Our 'Superior Deluxe Oceanview Bure', is located almost right on the Pacific Ocean. Surrounded by stunning rainforest and beautiful private garden you will be sitting on your own private terrace and enjoying the beautiful sunsets. The Bure has 2 bedrooms and can be arranged in any possible bed constellation offering a variety of choices for either couples, honeymooners, families or simply seperate parties wanting to share.
2 Bedroom Unit: Sleeps 1-5 Persons
(Possible up to 6 including children)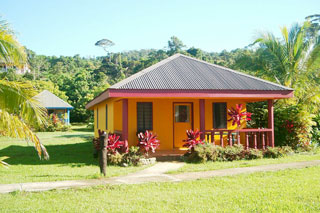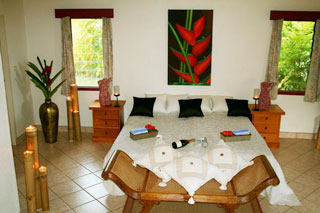 Diving
Waidroka Bay Resort offers divers the best of world class Scuba Diving with amazing variety, combined with some of Fiji's finest soft coral and the great Fiji Shark Dive in the Beqa Lagoon. Fiji has:
one of the world's largest Coral Reef's, with over 4000 sq. miles of reef
one of the planets largest variety of marine life
one of the planets most diverse eco systems
over 1500 different species of fish
incredible variety of coral with over 400 different coral types
some of the most beautiful soft coral in the world
great year around diving conditions with friendly water temperatures
visibility which can easily exceed 100 ft.
the best 'Shark Dive' in the world with up to 9 species of sharks in one dive
combined with the friendliest & happiest people in the world
and of course Fiji's wonderful villages, kava ceremonies and landscapes of lush tropical rainforest and lot's of adventure.
"The Soft Coral Capital of the World" (Jaques Custeau)
Beqa Lagoon is world famous for its soft-coral and marine life, perfectly reflecting the variety and diversity of Fiji's diving. Beqa is also home to 2 of the world's top shark dives!
Beqa Lagoon is one of the world's largest barrier reefs. It is surrounded by over 190 miles of spectacular coral. It is world renowned for its spectacular soft coral and abundant marine life. It has Fiji's biggest variety of diving in one centralized area. It is easily accessible from your flight destination, Viti Levu (main island). Iit is also called "The Mecca of Pacific Diving". It is the home of Fiji's world famous Shark Dive.
"One of the Best Dive Sites in the World" (Scuba Diving Magazine)
Waidroka Bay Resort offers divers an ultimate dive experience, through its easy location, access to Beqa, the shark dives, passion for Fiji, our beautiful resort and of course our staff – the Waidroka Family!