Home > Diving Fiji Islands > Fiji Dive Resorts
Wakaya Club
Wakaya Island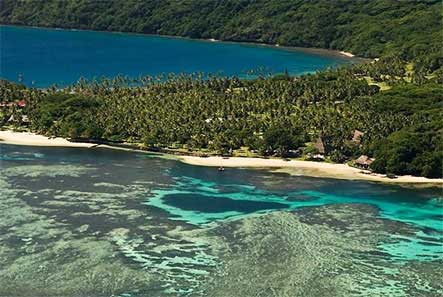 The Wakaya Club & Spa is a luxury private island resort unlike any other in the world. This serene retreat in Fiji offers gracious living, sophisticated cuisine and unparalleled leisure opportunities in one of the most remote and pristine corners of the world.
The Wakaya Club & Spa is situated on Wakaya Island, Fiji, a private 2,200 acre hideaway that is one of 333 islands that comprise the Fiji group. Wakaya Island is surrounded by a protected coral reef, and the island boasts serene lagoons, majestic cliffs and pristine white sand beaches.
From the moment you arrive via Wakaya's own Grand Cessna Caravan aircraft, greeted by warm and friendly Fijian staff, you are completely immersed in the peace and tranquility of island life–
Welcome to Paradise!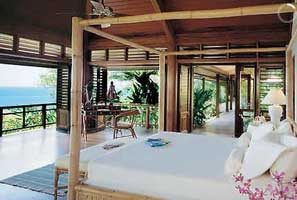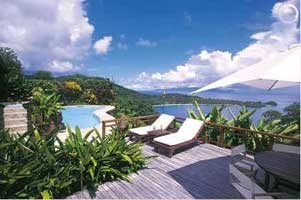 Vale O - Seen from this cliff-top perch, every sunset comes as a gentle benediction.
Accommodations
The Wakaya Club & Spa is comprised of ten free-standing waterfront Fijian cottage suites or bures (pronounced boo-rays), including seven private Ocean View Bures, one private Garden View Bure, Governor's Bure and Ambassador's Bure. Each bure is a luxurious hideaway located just steps from the Pacific ocean, and is designed to indulge you in the beauty of the island while providing every conceivable comfort.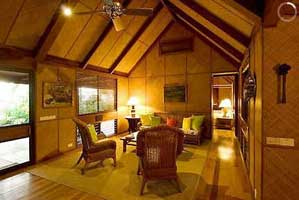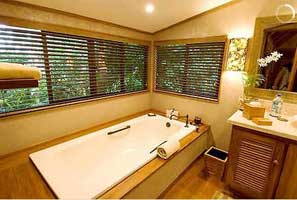 Garden View and Ocean View Bures
Our water activities include:
Scuba diving and Snorkeling
Fishing, Reef Viewing and Swimming
Sea Kayaking

Scuba Diving and Snorkeling
There is no better way to discover Wakaya than by venturing into "the blue." Your room rate includes two one-tank dives per person per day and all equipment (available Monday through Saturday). Enhanced by the able assistance and good company of The Wakaya Club & Spa staff who call these waters home, certified scuba divers can explore more than a dozen outstanding dive sites just minutes from the Marina. For non-certified divers, we have a selection of scuba courses so you may become certified here on Wakaya. Snorkeling is excellent right in front of your bure or at any of the dive sites. All arrangements may be made through our staff at the Reception Bure.