Home > Diving Fiji Islands > Fiji Dive Resorts
Wananavu Beach Resort
Viti Levu Island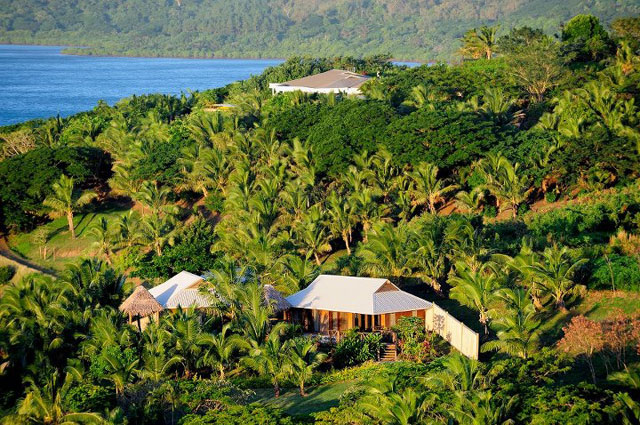 If you're looking for a true Fijian experience away from the major tourist areas then Wananavu is where you want to be - come where you can spend your time relaxing in paradise with our luxury bure accommodation catering for everyone from honeymooners to families.
Wananavu is a truly idyllic resort offering an island paradise experience with mainland convenience. Just a 2 and 1/4 hour journey from Nadi International Airport will have you being met with the biggest Bula in Fiji and tasting your first coconut before most other visitors have even reached their island destinations.
Wananavu boasts 34 deluxe Bures & the uber chic 4 bedroom Villa Vanua amongst the lush, tropical gardens, dotted along the beach front or perched on the hillside overlooking the azure Sailstone Reef and the Nananui Islands.



Enjoy ocean views and beachfront access from our romantic honeymoon bures or simply relax surrounded by tropical gardens in our two bedroom villas. From the north facing Sunset Deck you have unparalleled views morning to night, perfect to while away the hours over a cocktail from the bar or a meal from the local produce focused restaurant.


Whether you join us to get below the surface on our world renown dive sites, say "I do" in a beachfront wedding ceremony, be pampered by expert hands in the Wai Spa or simply pick a hammock and doze through a book, Wananavu will seduce you into its rhythm and keep you far from the madding crowd.
Diving
You haven't dived Fiji until you dive Wananavu and you haven't dived Wananavu until you dive the Bligh!
The Amazing Maze, Breath-Taker, Golden Dreams, Mellow Yellow, G6, Black Magic Mountain, Instant Reply…names that will become etched in your memory.
World class diving delivered by our PADI Gold Palm Certified team will have you coming back again and again and again.
From beginners to braggers, there's something for everyone at dive Wananavu; from the thousand fish frenzies of Sailstone Reef to the awe inspiring soft coral and big, big fish of the bligh waters.
Dive Wananavu runs three boats from the Wananavu marina, with a total capacity for 30 divers.