Home > Diving Fiji Islands > Fiji Dive Resorts
Uprising Beach Resort
Viti Levu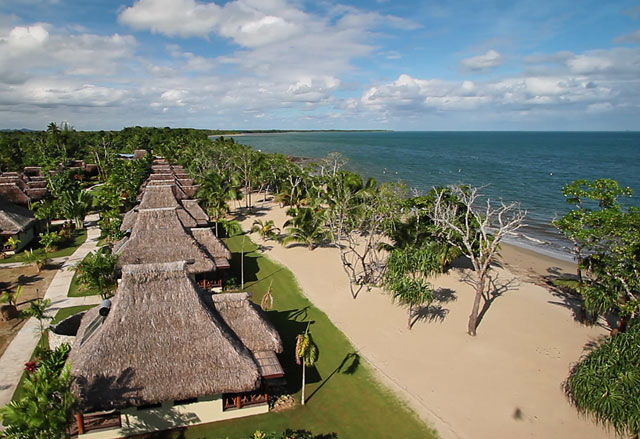 Uprising Beach Resort presents a stunning selection of authentic, Fijian-themed accommodation options ranging from traditional thatched beachfront Villas and Bures (cottages) to a fun tree house shared facility that makes picking a great vacation simple.
Located on a 2 mile perfect sand beach, the resort offers a wide range of activity choices to ensure your days are filled with as much or as little activity and adventure as you please. Choose to play above or below the water of world famous Beqa Lagoon or kayak, trek or Zip Line the lush and tropical Highlands of the Namosi Province. Exploring the islands of Beqa Lagoon, the highlands and river ways of Namosi, or take a day trip to Fiji's Capital city, Suva. At Uprising, the pace is entirely your choice.
Uprising was created with a vision of bringing all the best of Fiji to one location, with a focus on value to our guests. Most come to a tropical resort for some level of rest and relaxation. Many seek some additional elements of adventure, from soft to daring like the World's Number Shark Dive. Others want romance, while some want purely to relax on the uncrowded beach of Pacific Harbour.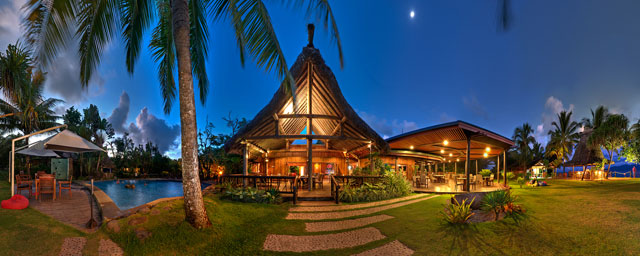 Authentic Fijian Accommodation Options
Uprising Beach Resort offers a unique range of accommodation options to choose from. With value in mind, you will find an option that satisfies your desire for a truly Fijian vacation. Accommodation options include Commodores Beachfront and Garden View Villas, Classic Beachfront and Garden View Bures, the Tree House Dormitory and Mini Dorm.
Commodores Beachfront and Garden View Villas
Placed elegantly along the beachfront or gardens and overlooking the world renowned Beqa Lagoon, these spacious villas make up the deluxe range accommodation within the resort. Indulge yourself in these well appointed villas with large balconies, and comfortably furnished interiors. Quality room amenities combine with indoor bathtubs and tropical outdoor private open air showers.
All Beachfront and Garden View Villas include:
Bedrooms and living spaces opening onto large balconies overlooking Beqa Lagoon or set within tropical landscaping
All Villas have king size beds
Fully air conditioned
Ceiling fans in living and bedroom areas
Solar hot water
Indoor bathtubs,and private open air showers
Stocked mini bars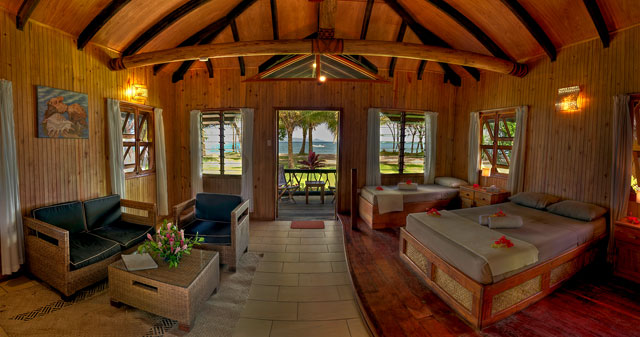 Beachfront and Garden View Bures
Positioned between a tranquil beach and the surrounding gardens, the Classic Bures offer guests a Fijian beach bungalow just metres from the waters edge. Balmy sea breezes flow through these spacious bures with a balcony, private hot and cold open air shower and lounge suites. You will certainly capture the essence of Fiji living while you rest as the waves meet the shore.
All Beachfront & Garden View Bures Include:
Balconies
Tea and coffee facilities
Refrigerator
Hot and cold open air private landscaped showers
All Bures have a Queen and Single Bed
Lounge suites
Ceiling fans
A stones throw from the water's edge
Tree House Dormitory
The Tree House dormitory makes up the shared facilities within the resort. Take great pleasure and comfort in the uniquely designed dormitory developed especially for the specific needs of backpackers and independent travelers.
Facilities in the dorm includeds:
20 beds( 10 bunk beds)
Balcony with views over the resort
Lockers
Hoand cold male and female showers