Whales
Gray Whales, Blue Whales, Humpback Whales, Sperm Whales and Whale Sharks
Gray Whale Watching Tours:
Baja Mexico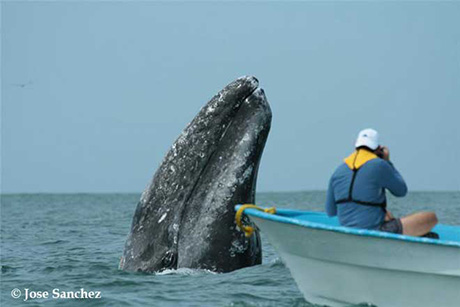 • Kayak & Whale Watching Combo:
The ultimate Baja trip, combining one of the most incredible wildlife encounters on the planet (touching gray whales & kissing baby whales) and sea kayaking through the Loreto Bay National Marine Park, in the Sea of Cortez.
• Laguna Ojo de Liebre (Scammon's Lagoon):
It is our choice as the number one location for the all-around whale watching experience. It is also the most remote with camping on the shores.
• Magdalena Bay Whale Watching (Baja):
Magdelena Bay is home to the thousands of whales from end of January through February and March. Here you will observe the sights of baby whales at play, or the resounding splash of single males and females in their dramatic display called breaching.
• San Ignacio Whale Watching (Baja):
San Ignacio Lagoon is a sheltered lagoon that is connected to the migratory path of the gray whales as they travel the Pacific Coast of North America from Alaska to Mexico, where they arrive every December and January to calve.
Blue Whale Watching Tours:
Baja Mexico

By WPPilot (Own work) [CC BY-SA 3.0
(http://creativecommons.org/licenses/by-sa/3.0)], via Wikimedia Commons
• Whale Watching at Loreto
This is where we do our Blue whale watching. Plan to see Blue whales and Finback whales the world's two largest species. We usually see dolphin, sometimes in huge pods of hundred or even thousands of dolphins. We see other whales too on occasion including Humpbacks, Bryde's whales and Orcas. Often you will see the mesmerizing jumping Manta rays as they fly up from the water through the air, sometimes hundreds of them!
Blue Whales and Gray Whales:
• Combination Blue whales on the Sea of Cortez and Gray whales at a Pacific Coast lagoon
Each combination trip is unique with specific start and end points that vary with the itinerary date.
Humpback Whale Watching:
Silver Bank, Dominican Republic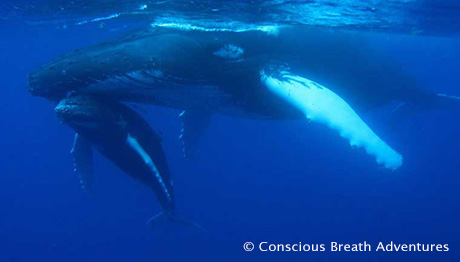 On Oct. 14, 1986, the Dominican Republic established the Silver Bank Sanctuary to protect this area as a safe haven for sea mammals. On July 5, 1996, a Dominican presidential decree enlarged the area and declared it the Sanctuary for Marine Mammals. The Silver Bank has long been a breeding and calving area for humpback whales. This is a wonderful arena to snorkel and get up close and personal with these gorgeous gentle giants!
• Snorkel with Humpback Whales
January through March, snorkelers have the rare opportunity to enter the water and swim with majestic humpback whales. Humpback whales fulfill an instinctual migrating ritual before the inquisitive eyes of visiting snorkelers. It's incredible!
• Tahiti - Humpback Whale Migration in Rurutu
The arrival of the HUMPBACK whales are from July through October! Here you are able to get very close on snorkel. This is a very remote place hundreds of miles south of Tahiti.
• Humpback Whales of Tonga
Every year from July to November they complete their migration from the cold feeding waters south of New Zealand and Australia, to the warmer tropical waters of Tonga- the pristine waters of Vava'u, where they give birth to calves.
Swimming with Whale Sharks:
Isla Mujeres, Mexico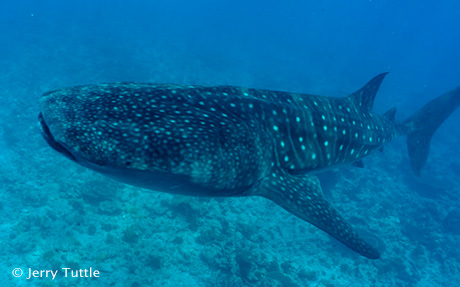 Best time is June through the end of August. Extra-Ordinary encounters! Swim with the world's largest fish, measuring up to 18 meters in length.