Home > Diving Dominican Republic > Dominican Republic Dive Tours
Humpback Whale Watching Programs
Silver Bank
by Conscious Breath Adventures, Winner of the 2012 Planet Whale Responsible Whale Operator Award!


The Love of a Whale
My love of the sea began when I was a little girl growing up in Michigan, I loved the lakes (I had never been to the ocean until I was 15yrs old)! I belonged to the Jacques Cousteau Society and Greenpeace since I was 9 yrs old. The whales were the siren that awakened my soul and love of the sea.
I strongly believe in the way Gene Flipse has fashioned his philosophy in showcasing these most incredible gentle giants for all of us to experience! If you have ever dreamed of being eyeball to eyeball as I have with a humpback whale underwater, this is now the time to do this, with Capt Gene.
Check out the YouTube's yourself, they are incredible. The Love of a Whale video made me cry.
Let me know what trip dates work for you, this is a life changing transformational time of your life.
With gratitude,
Cindi LaRaia
A couple sentences from Capt. Gene Flipse of Conscious Breath Adventures
~> About the whales & the experience:
"I have spent most of my life on and under the water and have been fortunate to meet many of the oceans' inhabitants but nothing compares to the experience of swimming with humpback whales. Having a wild and free whale that is as big as a school bus approach out of curiosity and interact with you on a one-to-one basis is a breathtaking and humbling experience. There is no place on land or in the sea where animals this large interact at such close range and it is impossible to come away unaffected."
~> Why I do this:
"Swimming with humpback whales has given me a deeper connection with all life on earth. Conscious Breath Adventures gives me the opportunity to share this connection with our guests and at the same time give something back to the whales and dolphins who mean so much to us. Guests have an indescribable experience in the water but learn much more through our educational presentations, leaving them with a deeper understanding of the whales, their life history, and the threats that they face now and in the future. Conscious Breath Adventures also offers direct support to researchers working on the Silver Bank and offers data we have collected to international researchers."
Conscious Breath Adventures: Winner of the 2012 Responsible Whale Watch Awards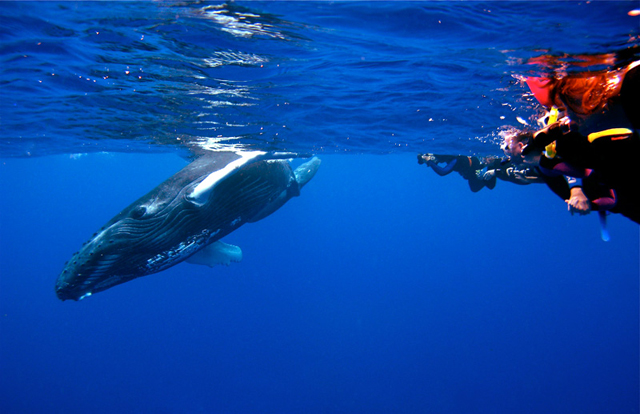 Encounter the Humpback Whales of the Silver Bank
Cruise Itinerary
Each trip is a week-long liveaboard cruise that boards on Saturday afternoon and disembarks the following Saturday morning. The daily schedule is designed to maximize the time available for tender-based and soft-in-water whale encounters. Be advised that this schedule is approximate, and is provided for reference purposes only.
Saturday
5pm
Guests board vessel, M/V Sun Dancer II, at Ocean World Marina, Cofresi, Dominican Republic; cabin assignments
6pm - 7pm
Vessel Safety and Operations orientation; required paperwork.
7pm - ?
Dinner; group introductions
11pm
Vessel departs Ocean World Marina
Sunday
9am (approx.)
Vessel arrives on the Silver Bank, moors
9am - 12am
Vessel cleanup; tender preparations; snorkeling and humpback whale orientations
12pm - 1pm
Lunch
1pm - 5:30pm
Whale excursion in tenders
5:45pm - 7pm
Sundowner celebration
7pm - 8:30pm
Dinner
8:30pm - ?
Evening activity (discussion, lecture, slideshow, etc.)
Monday - Thursday
7am
Breakfast
8:30am - 11:30am
Whale excursion in tenders
Noon
Lunch
1:30pm - 5:30pm
Whale excursion in tenders
5:45pm - 7pm
Sundowner celebration
7pm - 8:30pm
Dinner
8:30pm - ?
Evening activity (discussion, lecture, slideshow, etc.)
Friday
7am
Breakfast
7:30am
Vessel drops mooring, departs Silver Bank anchorage
4:30pm (approx.)
Vessel arrives Ocean World Marina
5pm - ?
Free time to explore ashore, shop, dinner
Saturday
7am
Continental Breakfast
8am
Guests disembark vessel
2018 RATES
For the standard seven night, six day itinerary the costs, per person in US$, are as follows:
$4,195 for Deluxe Stateroom
$4,350 for Master Stateroom
Sanctuary Access & Port Fees: $400 per person.
What's Included
Seven nights accommodations aboard, starting with guests boarding Saturday evening approximately 5:00 pm; and disembarking the following Saturday morning at approximately 8:00 am.
The excursion is seven nights and six days. Your arrival/departure days are included in those six.
You will have five days on the Silver Bank with up to four and one half (4.5) days of tender time to look for whales (up to nine tender excursions), weather permitting as per Sanctuary rules.
Three meals a day aboard the vessel, except for the last (Friday) night, which will be ashore.
Morning and afternoon snack.
All beverages , including carbonated, non-carbonated, and alcoholic; a limited selection of beer (local) and wine is provided. Hard alcoholic beverages will not be provided, but may be brought on board the vessel if desired.
Morning in-room beverage service.
Nightly turn down service.
Fresh towel service daily.
Entertainment library.
For more information
Contact:
Dive Discovery
@
1 800 886-7321
(415) 444-5100
or
Request Info