Scuba Diving Maldives
Land of 1,000 Islands, Dive the Indian Ocean ... DIVING MALDIVES !
A true tropical paradise with an abundance of beauty above the water as well as in it. The Maldives have been enjoyed by European divers since the 70's , and now are attracting the North Americans as a world class dive destination.
You must visit this land of a 1,000 islands before they are no longer emeralds in the Indian Ocean.
The airstrip is built out into the ocean on the island of Hulule. This is a transfer point for the many resorts and live aboard dive boats. The harbour is scattered with boats of all sizes and shapes. The Maldives is the most watery nation on earth. Half the size of Singapore, the sea forms half the territory. There must be great diving in Maldives!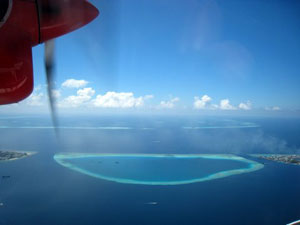 Over 2,000 visitors come just to dive the pristine reefs. It's the abundance and variety of marine life that attract divers from around the globe. The Maldives dives are colorful and full of life, large and small. The Maldives sit on an underwater mountain range that rises from the depths. The mountain range is the base for the Maldives coral reefs. There are more than 70 species of coral here. A great location in the Indian Ocean and close to 700 species of fish and other marine life can be found here.
The claim to fame here IS the FISH life. Schools of fish galore, a great place for achieving that perfect fish portrait! If you don't get it here, you just won't get it! The Maldives have several indigenous species of marine life, which makes it even more exciting to us photog's. Currents play an important role in the gathering of the big fish species. Large schools of fish, sharks, eagle rays, mantas, whalesharks, jacks, trevally's, tuna, dogtooth tuna, wahoo, fusiliers, sweetlips, angel fish turtles and butterfly fish for starters. Then you get the occasional giant Napolean wrasse that looks to be one hundred years old, huge grouper, mating octopus and hordes of other fish too numerous to name.
You won't see a lot of small critters here not great for macro photographers (unless you are into fish photography), this is strictly a "fishy" destination!
The tides move huge amounts of water in and out of the many lagoons. This makes for some awesome drift dives full of large pelagics. Sharks are common visitors on many dives. Turtles are everywhere, and anemones abound dancing in the current. Clouds of tropicals, schools of sweetlips, eels lashing out, octopus trying to hide. Every dive was an adventure. In the late summer and fall months (however we did see mantas and eagle rays in March!!), due to the plankon rich water you will be rewarded with mantas and whalesharks; how about a whale shark sighting in paradise? This is what dreams are made of.
There are two ways to dive the Maldives. Land based resorts (75+) and live aboard dive boats. Every resort has a dive shop, and is full of certified divers. There is no lack of dive sites at any location in the Maldives.
The best way to see this island nation is by liveaboard dive boat. This allows you to explore the far reaches of the coral atolls that make up the Maldives, away from the day boat divers. There are hundreds of dive sites to choose from. Three dives a day is the norm, as many of the dives are deep. You wish you could do 10 a day! What a hardship, just cruising and watching these beautiful islands go by while you head to the next dive site.
Maldives is an action place, moving fish and drift dives, never knowing what will show up!