Home > Diving Maldives > Maldives Liveaboards
M/Y Duke of York
Albatros Top Boat Exclusive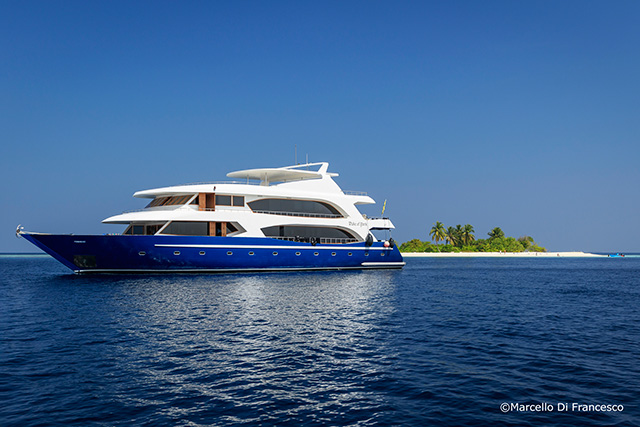 The M/Y Duke of York was built and launched in the Maldives in 2010. Thanks to high design standards, combining the skills of local naval architects and engineers and quality standards, this yacht is the ideal solution for a fantastic sea adventure in the Maldives that is also a holiday dedicated to wellness and relaxation in a comfortable environment.
The 36-meters long and 11-meters wide Duke of York boasts 4 levels with indoor parquet flooring and teak on the main deck, is accompanied by a comfortable DHONI used for diving, snorkeling, fishing, marine activities and to land on sand banks/desert islands. Along with the more traditional diving techniques we are able to offer cruises with the assistance and material to dive with REBREATHERS.
Onboard NITROX is free of charge.
11 Cabins - Large
1 double with twin beds with wide glass window overlooking the stern of the second deck
1 double with convertible twin beds (on the second deck)
1 double with twin beds (on the second deck)
4 triples (one double bed and a single one)
3 doubles with twin beds.
1 single cabin
All cabins feature independently adjustable air conditioning
Bathrooms with shower box.
There are no bunk beds.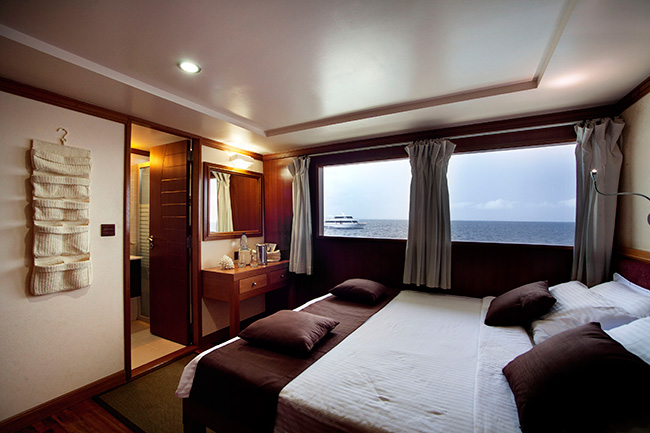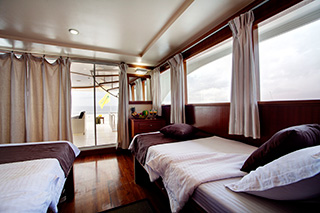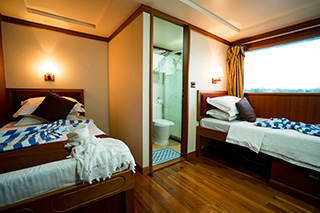 Restaurant
The very spacious outdoor dining area (aft of first deck) is furnished with tables and chairs made of quality wood and can easily accommodate 24 guests. The area is wholly shaded and can be covered to allow outdoor dining even in case of rain. Meals are served as buffets and menu include dishes from the International, Italian and Maldivian cuisine, mainly prepared with fresh fish, although our chefs are always ready to satisfy any of our guests specific needs.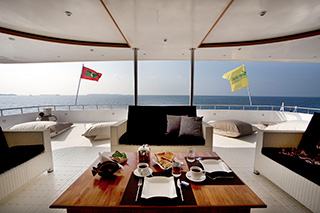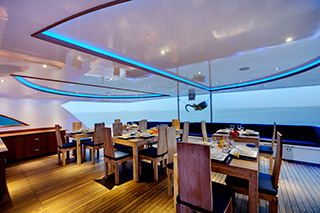 Dinette
The large air-conditioned indoor saloon of the Duke of York has a bar offering a wide choice of soft drinks and spirits and 2 comfortable sofas, which become a meeting and relaxing place for those wishing to listen to music, watch a movie or read a book. Occasionally, for special evenings, thanks to its Dolby Surround TV-Stereo system the saloon even turns into a dancefloor. Recharging area for cameras -220v electricity.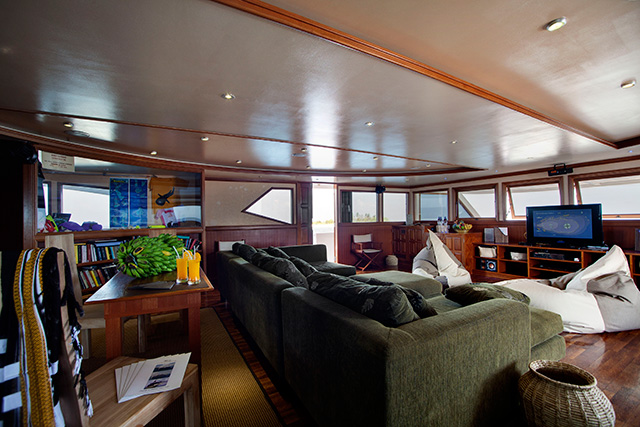 Decks
The common open-air spaces are on three decks and offer large areas furnished with sun loungers, cushions and sun mats, both in the shade and in the sun. The decks allow guests to enjoy the breathtaking Maldivian scenery, both when sailing and while relaxing when the yacht is moored in the lagoons for the night.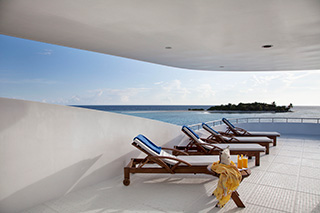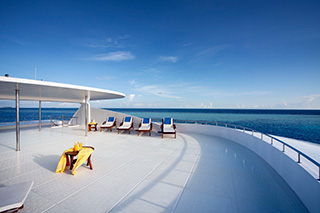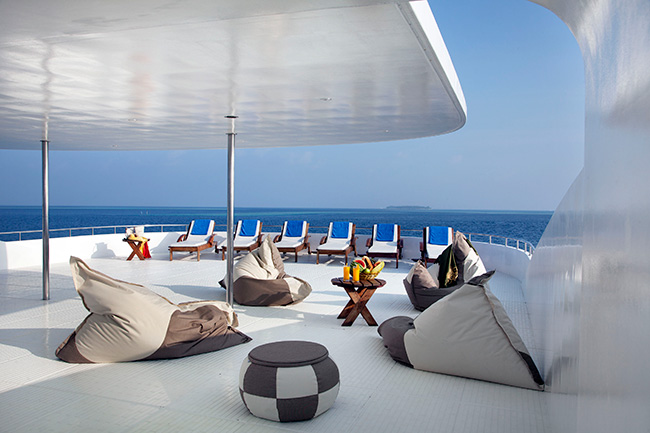 Boutique
The on-board boutique offers traditional Maldivian souvenirs, gadgets and T-shirts.
Workshop and diving & snorkeling equipment
Diving equipment is available for hire, and should be requested when booking.
Internet & Phone
3G Wi-Fi connection is availlable for a fee.
Dry Dock & Maintenance
Every Year
Diving Dhoni
Traditional Maldivian boat accompanying the Duke of York, equipped with 3 Coltri MCH16 and MCH13 compressors and NITROX nuvair system CATALINA C100 & S80 DIN/INT fittings and twin regulator
Crew
Min. 9/10 members plus 1 boat leader, 4 dive guides/instructor/divemaster and snorkelling guide. A masseur is available on board.
TECHNICAL SHEET
Year of construction
2010
Inverter
Yes
Hull
Wood
Telephone & radio
Yes
Length
36 mt
Diving Dhoni
Yes
Breadth
11 mt
Dhinghi
Yes
Engine
Daewoo
Canoe
Yes
Speed
12 Knots
TV-Video/DVD
Yes
En-suite cabins
10
Spirits
Yes
Electricity
220 volt
Air conditioning
Yes
Cylinders
12 & 13,6 lt
First Aid
Yes/O2