Home > Diving Maldives > Maldives Liveaboards
Ocean Divine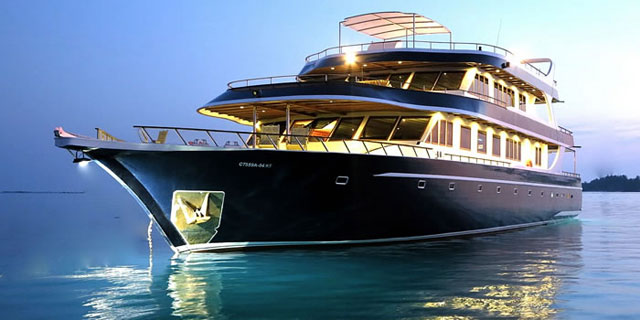 The ultimate Maldives diving / surfing trip, the Ocean Divine luxury live-aboard experience
The Ocean Divine luxury live-aboard boat will provide you with the diving / surfing experience of a lifetime featuring amazing diving / surfing locations, in a truly incredible environment, with outstanding 5 Star service and amazing restaurant prepared meals. Your hosts David and Gaelle Mesnard, welcome you aboard Ocean Divine, where they will ensure you a truly unique and unforgettable Maldives diving / surfing holiday experience.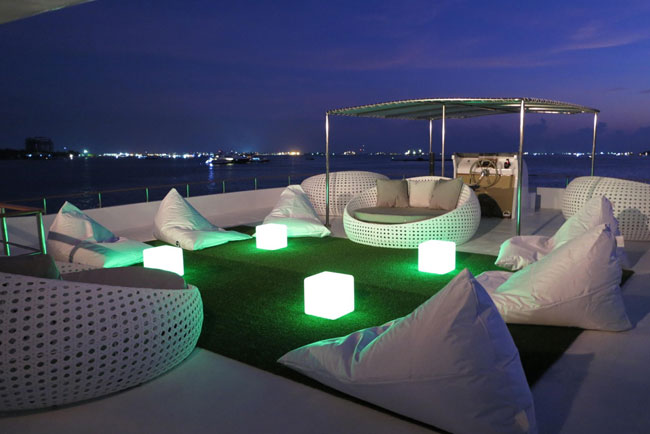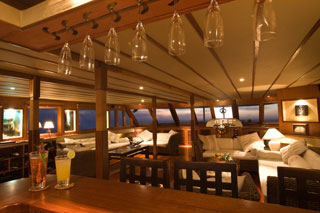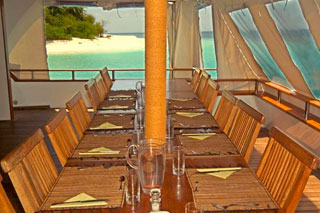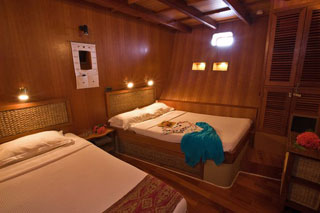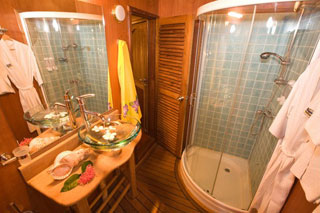 21 years of experience in the Maldives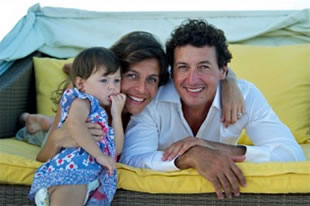 David and Gaelle Mesnard have over 21 years experience organizing exclusive Maldives diving safaris and over 6 years offering the ultimate surfing trips throughout the Maldives. Ocean Divine is not only the finest luxury boat in the country, but David and Gaelle have the best team on board offering the best local knowledge and professionalism to deliver a luxury live-aboard experience. Alongside the highly trained Chef's offering an exceptional range of locally prepared produce and seafood for your dining pleasure.
The team from Ocean Divine are totally committed to providing you with the best possible Maldives surfing or diving holiday experience, and to that end our dedicated staff work year round to ensure everything is just right. David and Gaelle Mesnard personaly live on board and share with you their love for the ocean.
David and Gaelle are both keen free-divers and provide an on board complimentary free diving course to help you to understand how to hold you breath longer under water and reach your goal with mental training, breathing technique s and relaxation. You can expect more than just an exceptional Maldives surf and dive experience, we're sure the free-diving will change your life forever.
The ultimate Maldives surfing experience
To ensure you have the ultimate Maldives surfing experience, our friendly Australain surf guides on board are familiar with the area and conditions to ensure they will always select the best spot for you featuring the best Maldivian waves available.
And in the unlikely event of poor swell or bad surfing conditions, David, Gaelle and the team on Ocean Divine will ensure an enjoyable experience. This may include chilling out watching a DVD in the luxurious living room, diving, snorkeling, fishing or having some time at our relaxing SPA.
Ensuring your ultimate Maldives surfing or diving experience is our commitment, knowing you will visit aboard Ocean Divine will be the holiday of a lifetime.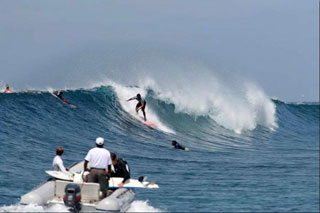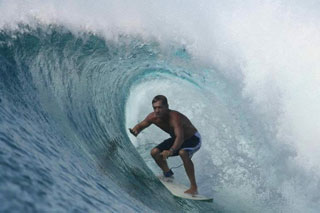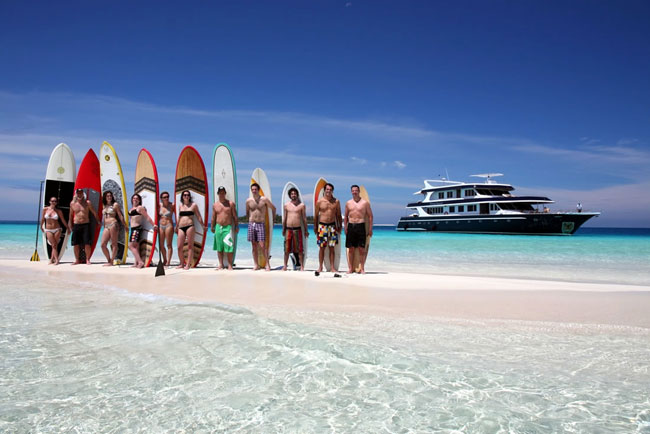 Dive Itineraries & Highlights
Southern Atolls : 10/14 night
Simply the best dive site of the Maldives ( one way up or back by domestic flight)
The best corals of the Maldives
Whale sharks
Chanel, thilas, the best.
Sharks sharks sharks !
Virgin islands every day
Ari Atoll: 7/10 nights
Most popular dive sites
"Thilas" full of life
Manta cleaning station
whale sharks
soft coral ( ouest side)
Hammerhead sharks ( rasdho)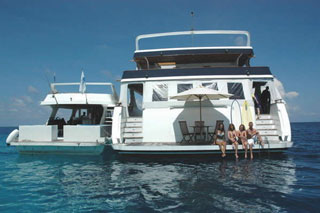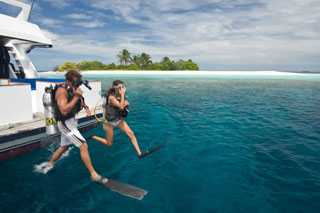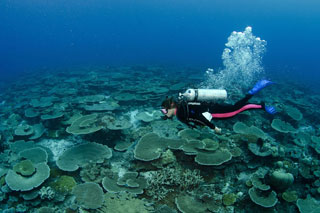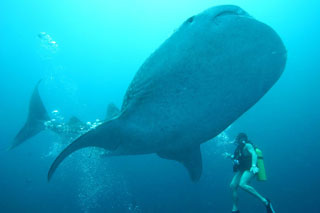 Boat Specifications
Type: Motor yacht
Length: 110 feet
Number of Passengers: 14
Accommodation: 7 Double Occupancy Staterooms
Number of Crew: 10
Number of Tenders: 3 ( Dive boat 52 feet, 2 dhingy 18 feet , 85 HP engine and 11ft 15 HP
Oxygen On Board: Yes
Laundry: No
Compressor: 3 x Mariner BAUER
Voltage: 2 x ONAN 35 KVA gensets, 220v, 50 cycle
Air-conditioning: To all interior areas
Photographic Video Services: Yes (No E6 processing )
Diving Instruction: Yes
Nitrox: Yes
Dive Gear Rental: Yes
Special Dietary Requests: Yes
Recompression Chamber: Bandos resort Male
Communications: Satellite Phone, VHF Radio, Internet (but not available for the guests), Mobile phone.