Home > Diving Maldives > Maldives Liveaboards
Maldives Aggressor
Aggressor Fleet's Liveaboards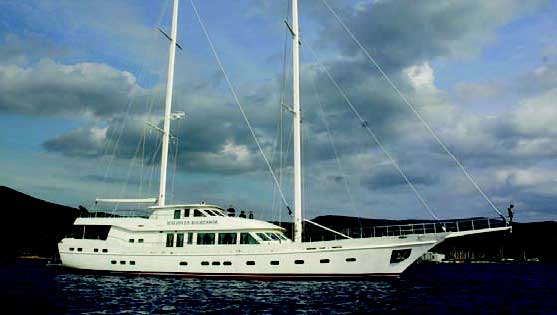 Accommodations:
Passengers: 20
Staterooms:
8 Deluxe Staterooms, each has one double berth and one single berth
2 Twin Staterooms, each has two single berths
Crew: 10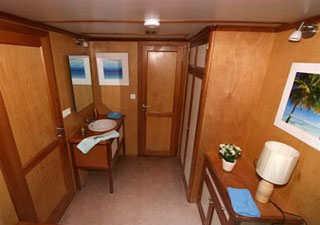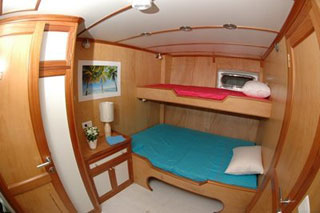 Specifications:

Length: 115 feet
Beam: 26 feet
Draft: 9 feet
Built: 2009
Fuel Storage: 4,000 gallons
Water Storage: 2,500 gallons
2 Water makers: 2,600 gallons per day;
1,300 gallons each
Desalinator: 2 @ 55 gallons/hour
Speed: 12 knots
Cruising Range: Motor Sailer, therefore,
unlimited cruising range
Certification: RINA-SOLAS built to
international safety standards

Marine Equipment:

2x 440 HP MAN diesel engines
2 x 75 kw generators
48 miles radar
GPS with electronic charting
SSB marine radio
2 dive compressors with cascade storage
55 foot dive tender
Nitrox membrane system
Satellite phone
Computer station with e-mail
2 VHF radios
Auto pilot, coupled with GPS
Depth sounder
Compass
406 mhz Electronic pos Indic Radio Beacon
Diving
Maldives Aggressor Itinerary I - North Malé, South Malé, Felidoo Atolls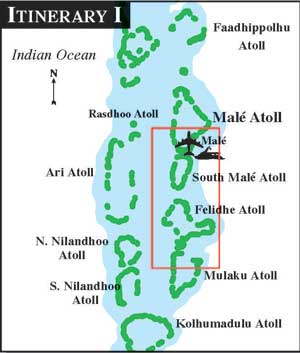 SUNDAY: Boarding 5:00 p.m.
MONDAY: Kuda Giri Wreck, steel wreck lying upright at 65 feet. Guraidhoo Corner, Sharks, Eagle Rays, Napoleon Wrasse and reef fish.
TUESDAY: Kandooma Thila, dense schools of Jacks, Trevally and Snapper, large outcroppings with brilliant soft corals. Guraidhoo Corner, Sharks, Eagle Rays, schooling Bannerfish, Tuna, schooling Fusilier. Cocoa Corner, many caves and overhangs, Turtles and Black Snapper. Medhu Faru, sea fans, soft corals, Barracuda and Sharks.
WEDNESDAY: Guraidhoo Corner, Sharks, Eagle Rays, Napoleon Wrasse, and reef fish. Miyaru Kandu, White-tip and Black-tip Sharks, cave at 108 feet is home to Grey Reef Sharks. Fotteyo, a photographer's paradise, overhangs and cave ceilings are covered in soft coral, hard corals, Sharks, Titan Triggerfish, schools of Sweetlips, a remarkable dive.
THURSDAY: Fotteyo, it's worth diving again! Rakeedhoo Kandu, a deep channel with coral terraces on the channel walls, lots of pelagics. Vattaru Kandu, large sea fans, Black Coral trees, occasional Leopard Sharks, schools of Fusilier, Turtles and Manta Rays.
FRIDAY: Mulaku Kandu attracts giant Trevally, Tuna, Great Barracuda, White-tip and Black-tip Sharks and Turtles. Rakeedhoo Kandu. Ambara Thila, hundreds of anemones, excellent hard corals, White-tip Sharks. Kudiboli Kandu, a corner with a cave at 82 feet, beautiful soft corals, White-tip and Black-tip Sharks.
SATURDAY: Guraidhoo Corner. Embudhoo Express, on a swift incoming current, pelagics, like Eagle Rays and Napoleon Wrasse are drawn to the channel. The 270-foot freighter, Victory Wreck, lies upright at 110 feet, nudibranches and stony corals. Manta Point, a Manta Ray cleaning station, when the cleaning is complete, they swoop down to the reef feeding on Zooplankton. Afternoon: snorkeling and visit to Malé.
SUNDAY: 7:00 a.m.- 8:00 a.m. Check Out. Day rooms available for up to 12 hours.
Maldives Aggressor Itinerary II - Ari Atoll
SUNDAY: Boarding 5:00 p.m.
MONDAY: Rasdhoo-Madivaru, one of the most spectacular reef formations in the Ari Atoll, a narrow spur extends out like a suspension bridge; Hammerheads Sharks, Manta Rays, schooling Barracuda, Trevally and much more.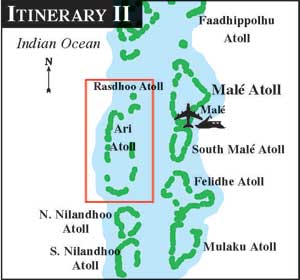 TUESDAY: Madivaru-Hammerheads. Ukulhas Thila, a long narrow pinnacle, Manta Ray cleaning station, schools of Fusilier, Moray Eels, Grouper, Sharks. Miyaruga Thila, in the middle of the reef, there are two tunnels, Fusiliers pass through the tunnels in large schools, soft corals and colorful sponges, Napoleon Wrasse.
WEDNESDAY: Maaya Thila, considered the White-tip Shark capital of the Maldives, many caves and outcroppings, Lionfish, Moorish Idols, Dog-toothed Tuna, Blue-face Angelfish, Clown Triggerfish, lush soft corals and huge gorgonians. Halaveli Wreck, a 124 foot cargo vessel, large stingrays, Moray Eels, nice corals on the telegraph mast. Orimas Thila, lots of caves and crevices, a patch of Sea Anemones on the eastern side at 50 feet, reef tops have Staghorn, and Table Coral.
THURSDAY: Fish Head, a large isolated flat top reef, large schools of Grey Reef Sharks. Maalhoss Thila, also called "Blue Caves," a series of caves, the cave ceilings are covered in white and blue soft corals.
FRIDAY: Panettone, sharks, Barracuda, Giant Trevally, brilliant soft corals and sea fans, Turtles, Manta Rays, many reef fish such as Starry Rabbitfish. Bulhaa Lhohi Caves, great reef for divers and snorkellers, one cave at 52 feet, has a swim-through to another cave, sea fans and featherstars. Madivaru-Manta Reef, feeding Mantas, Napoleon Wrasse, Basslets, Midnight Snapper and Parrotfish.
SATURDAY: Maamigili Faru, The reef on the outer corner of Maamigili is a shallow platform that extend to the outer atoll rim, Sharks, Grouper, Stingrays, turtles and even Whale Sharks. Kudarah Thila, great expanses of large sea fans, Grey and White-tip Sharks, Rainbow Runner, Great Barracuda, Tuna and other pelagics. Broken Rock, a canyon slices through the reef, Turtles, Fusilier, Tall fin Batfish, schools of Barracuda and soft corals. Afternoon: snorkeling and visit to Malé.
SUNDAY: 7:00 a.m.-8:00 a.m. Check Out. Day rooms available for up to 12 hours.