Home > Diving Maldives > Maldives Liveaboards
Maldives Blue Force One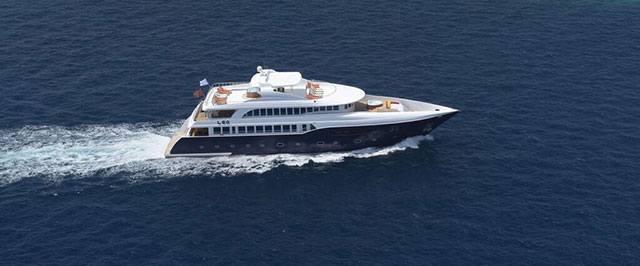 The boat which we have called commercially as Maldives Blue Force One is considered one of the top three boats in the Maldives. Possibly there is nothing you could think about which is on this boat.
It has 42 meters length x 12 meters wide, 700cv Caterpillar engine; 3 generators, 2 Caterpillar 65 KW and 1 Onan 27 KW; desalination plant 30 ton /day; 3 air conditioning groups.
Last generation lighting system inside, outside and underwater. Touch switches. WIFI all over the boat. Electricity: available 24 hours. Voltage: 220 V.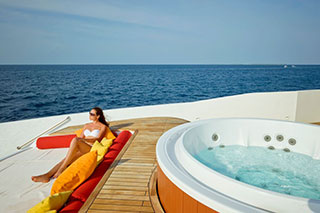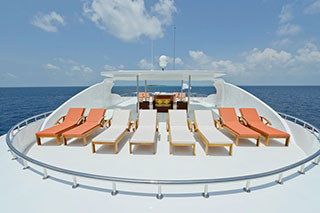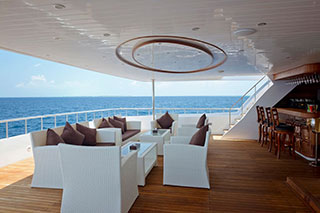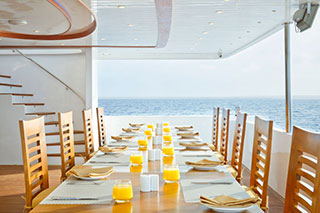 Spa will be available (with supplement) with the complete massages room, sauna and steam bath.
Two Jacuzzis outside one in bow and the other in stern.
3 solariums with sunbeds and mattresses (in bow, stern and in the upper bridge).
Bar on the upper deck.
Living room with sofas, massage armchairs, 65' TV with in house channels, satellite navigation and film system.
Music equipment including Disco room with Karaoke.
10 excellent cabins for 20 people, 7 wide double cabins, 1 Junior Suite, 1 Master Cabin and 1 Master suite. All of them have complete bathroom, hair dryer, remote control for lights and air conditioning, 32' TV with in house movies, satellite, WIFI, in boat phone circuit, safe, bathrobes and towels.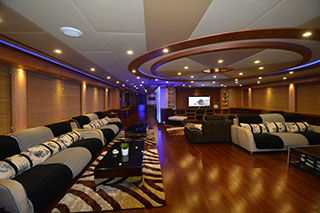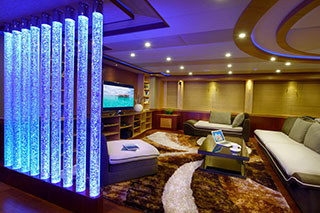 CABINS
Down Deck:
4 cabins with double bed and single bed (cabins 102, 103, 104 and 106) and 2 cabins with double bed and sofa (cabins 105 and 107 ) all cabins have bathroom and shower.
Main Deck:
1 Master Suite with double bed, bathroom, Jacuzzi for 2 people and sea view (cabin 109).
Up Deck:
1 cabin with double bed and 1 single bed, bathroom and shower (cabin 111).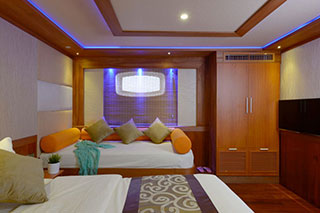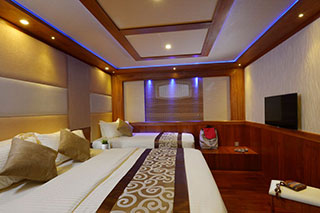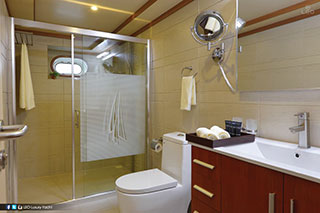 Free NITROX
We will not now discover the advantages of nitro, especially for those who know, but the possibility to extend up to 20% the bottom line, no decompression dives as in Donkalo Thila, where mantas dance around us, or touring the southern channels between shoals of jacks, groups of sharks, rays and other pelagic, without having to worry about deco (simply a safety stop) has radically changed our diving cruises.
To increase security, important in a safari, often far from Recompression Chamber, reduce fatigue after 3 dives to enjoy more after-dive activities and visits … not just the eat, sleep and dive adding discovery of the country, meet its people and its culture.
Our NRC NITROX Membrane join systems and our BAUER and L & W Compressors allow us to fill up to 32% our sell 12 & 15 liter tanks 3 times daily.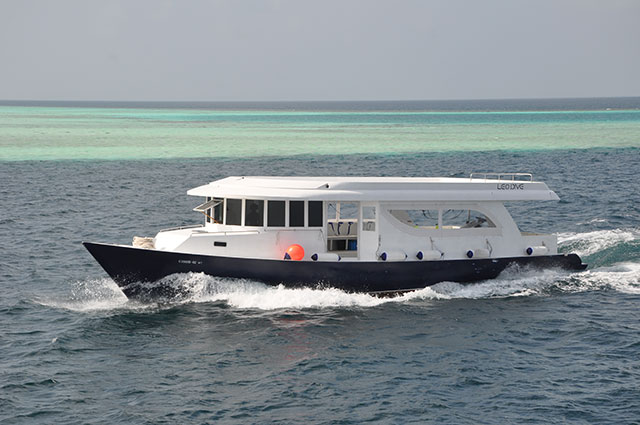 Dhoni
Diving with Maldives Blue Force One is from a Dhoni, auxiliary Maldivian boat, of 18 meters length where air compressors and nitrox well as dive gears are. So it makes the noise of the compressors to refill bottles and humidity equipment is never a problem. 12 and 15 liters steel tanks.
The Dhoni is completely independent of the boat so you can access diving spots where coral reefs come almost to the surface and divers' collection is more comfortable.