Home > Dive Discovery Trip Reports
India Tigers & Temples - Maldives Diving 2009
November 16 -24 2009 - India Trip Report
November 25-30 2009 - Maldives Diving Trip Report
Maldives Diving Nov 25-30 2009 Trip Report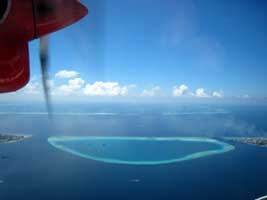 The DreamCatcher II allowed us a shorter version of the trip, we flew to the boat already in progress for 2 days via seaplane! What a way to see these amazing atolls. Water warm at approx 84F. This was a short trip so the itinerary is Ari atoll and South Male Atoll. While some of this diving is fantastic no doubt, we were pretty shocked at all the boats here.
I think the only way to offer diving in these areas would be to try and make it to the dive sites earlier than the rest of the boats. It was disturbing to our fellow divers on this trip to get to a site with other dive boats there and or they would drop in over us on a site. This became a bit of a problem and I can see that it could be remedied by going 30 to 45 min earlier in the day. No real night diving here, they offer maybe 1 per week. Part of the problem is there are many atolls in the Maldives hundreds and hundreds, it would be dangerous for boats to travel at night. So they find a place to park for the night, and I imagine not the best places for night diving.
In any case we made the best of it as some sites were fantastic. The Maldives are not known for the pretty colorful coral, they ARE known for large schools of fish, sharks, eagle rays, mantas and whalesharks! We were there at a very slack moon phase and very little current, Maldives needs current to get the fish organized in the schools we love so much. Not this trip. However we had some very lovely sites with the largest gardens of Black Coral I have ever seen, that was a lovely treat.
The boat had a fun beach party one night and all the boats go ashore and compete in their rendition of a sandcastle WHALESHARK! Gorgeous work and a fun beach party, this would be our Ganesh to see a whaleshark the next day!! Ohhhh fingers crossed!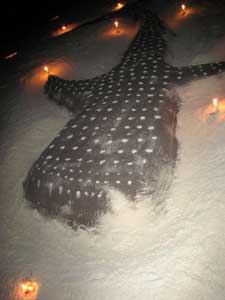 The next morning the boat went to this area, a shallow channel known for whalesharks near Sun Island on Mama Gili Island. Well sure enough we see a train of snorkelers and they said get in so we donned our snorkel gear and off we went. There she was a gorgeous juvenile 20ft perfect female whaleshark. Way too many snorkelers in the water for me, so I motored to the front of the charge and stayed in front of the young girl for maybe 40 min. Very easy to swim on my back with my head facing her and taking heaps of pictures! Too fun and great exercise!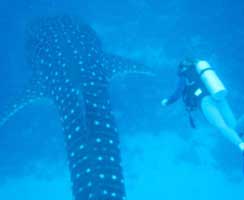 Next dive we went on with scuba to a no name reef as we did not want any other boats near us, ok so the reef was not special but there it was another Whale shark and then another in the distance, I got out to about 110 ft and got some images of that one. Far out!
The 3rd dive of the day Jerry and I ended up last as usual in the group, puttering around and whammmm a big boy grazed the top of my head and I screamed for Jerry as of course he facing the other way….. We had a lovely dive just the 2 of us with our big boy, I did my normal 'talking, talking, talking' that I do with mantas and whale sharks and they are so curious and stay next to me so slow as I get very close and talk, I think I hypnotize them! I was able to gently put my hand on top of his pectoral fin and he acknowledged with a shudder and was ok with it. Jerry then approached and did the same. Our WS moved ahead and turned his bigggggg body around at the surface and came back to us, what a site to see this big giant body twist and turn and come back. I have only ever seen them go straight, this was a great visual. So he did some feeding with his mouth open and very happy to stay with us as I continued to carry on Cindi talk with this gorgeous thing. Ahhhhhhhhhhhh a lovely ending to this day, 3 WHALESHARKS in one day, ok then!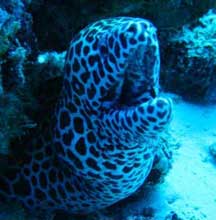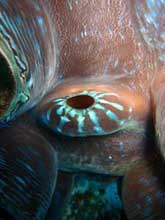 The next day we found a lovely site that reminded me of the Maldives I remembered (and that was in the big El Nino year). A beautiful dive at south Male Atoll, with lots of active fish, 3 varieties of giant sweetlips, 2 types of Moray eels, heaps of the indigenous Maldives Clown Fish and just enough current finally for the tubastrea coral polyps to open and feed. Gorgeous. The rest of the dives leading to Male were lovely with lots of big fish, giant travallies, schools of fusiliers, lots of eels, and several hawksbill turtles feeding. They are so oblivious of divers; they are very close and could care less if you are there, very fun. This I called my ZEN dive, full of life, lovely and relaxing and just plain magic.
Short and sweet was our trip to the Maldives after our India Adventure; it was a perfect way to end this amazing trip on the other side of the world, literally.
I still recommend diving the Manthiri and the new luxury boat there called Orion we went aboard to see this gorgeous boat as we had time to kill before our long flight back to the USA.
Yes I will go back!
Cindi LaRaia