Home > Dive Discovery Trip Reports
San Ignacio Lagoon Gray Whales NEW LUX Glamping in Baja Mexico!! January 28-31 2021
Todos Santos & Camp Cecil de la Sierra ~ February 2021 Trip Report
Reported by: Cindi LaRaia
Here we are at the beautiful new Glamping camp at San Ignacio Lagoon in Baja Mexico! A 2 hr lovely Charter flight from Cabo San Lucas to the camp!
These 5 star tents offer full en-suite with comply real beds and linen! Sink, toilet and HOT shower!
Not to mention a chandelier, all powered by solar!! Beautiful setting on the beach!! We were there as the whales were coming in, each day more and more whales arriving!
Babies being born some only 3-4 weeks old! Not quite ready for mommies to bring to the boats! That happens more in mid February to the end of March!
Mandatory covid testing before arrival in Mexico, complimentary covid testing the night before leaving for San Ignacio camp!! They will also offer complimentary testing prior to departing to USA!!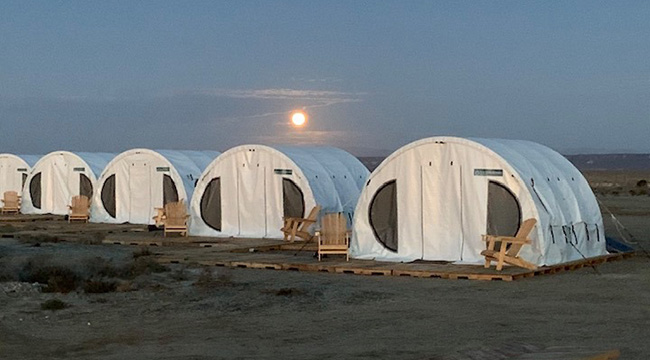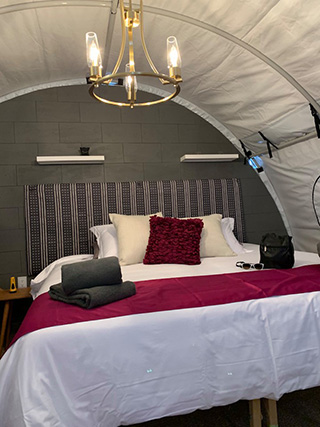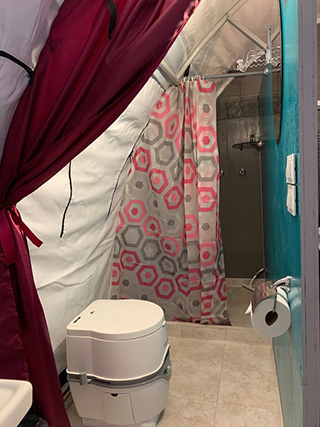 More images and my favorite video of a female Pacific Gray whale coming to the boat!!! I visualize my beloved whales coming to bring us ❤!!
We were so blessed with outstanding encounters with these gentle giants, even early in the season!
We had 2 different female whales come to our boat for cuddles and love!! We were squealing with joy !!! I of course had streaming tears!!!
Our second whale thought the bottom of our boat would be a good way to get rid of her barnacles!!! LOL!! Omg - moving our boat around was a very wild feeling!! She is bigger than our boat!!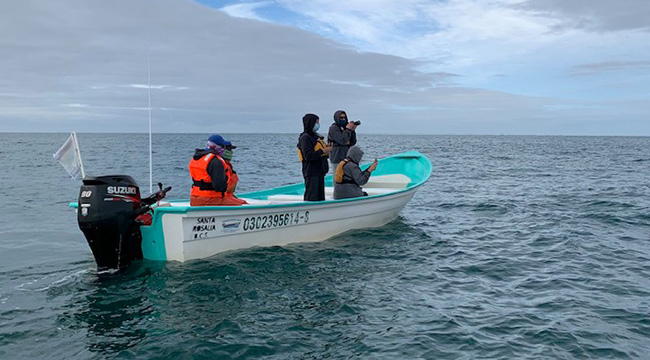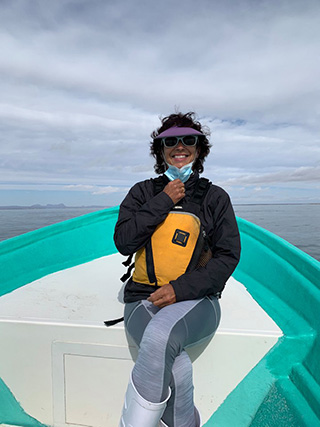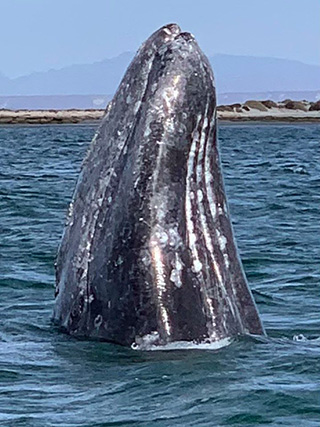 The absolute joy of being this close to a magnificent whale who trusts you, loving the human interaction and touch.... is mind blowing!!
You have not lived until you have been doused in whale blow / snot !!! Hahaha!
Thank goodness they have either forgotten or forgiven humans for the mindless slaughter they endured, that brought them close to extinction!!!
Their numbers have increased well, however other dangers are now causing casualties..... some are starving,,,not sure if the food source in the Arctic circle is an issue!
They have the longest migration of whales in the world !!
This is an amazing journey they have!!!
Enjoy this special video encounter- look for her eye!!!
Todos Santos Mexico!
We visited this beautiful town 1 hr north of Cabo San Lucas! Another world, a small quaint artist town! Loads of history; a town with a heart and soul! Home of the Hotel California!!
Our base was at Colibris Casitas! Stunning views of the Pacific; migrating gray whales close to shore with Humpback whales a bit further out! Whales everywhere!!! We did a fabulous hike up the colorful boulders, stunning views, cactus and some good exercise!!
After 3.5 hours they had a wonderful lunch waiting for us on an empty beach!!
The hotel offers a fun cooking class with resident chef Iker!! Too much fun!
A great add on after the San Ignacio Lagoon Gray Whale Trip!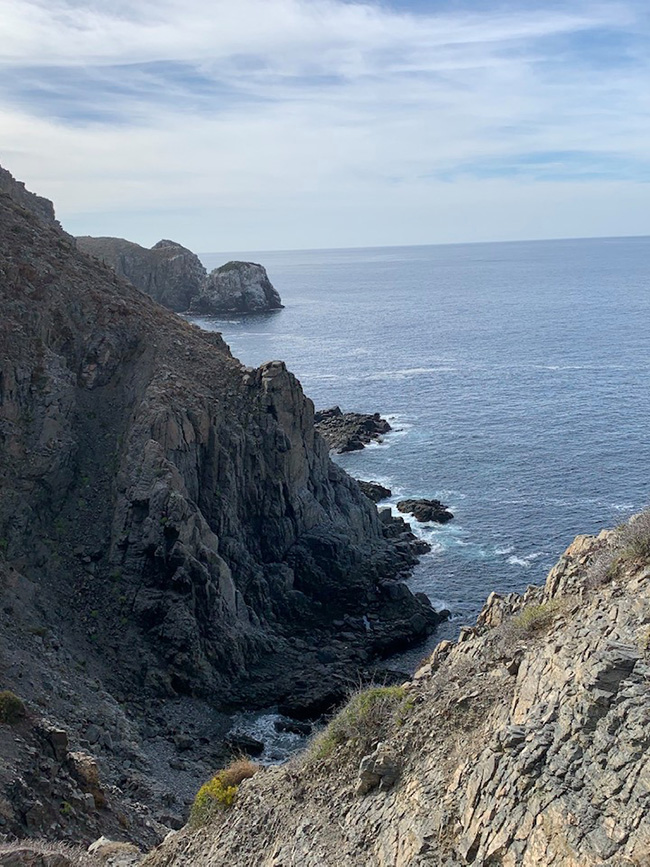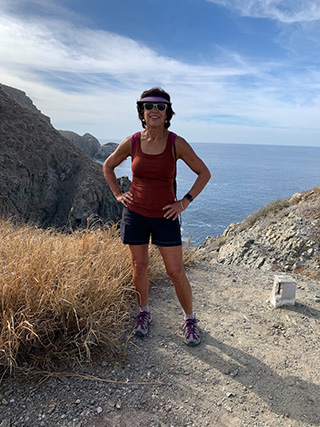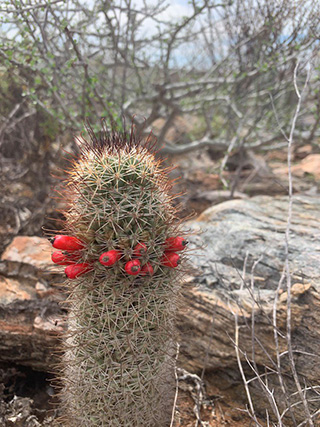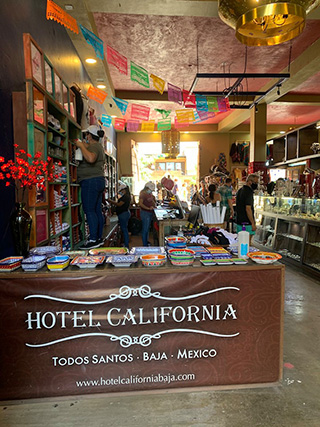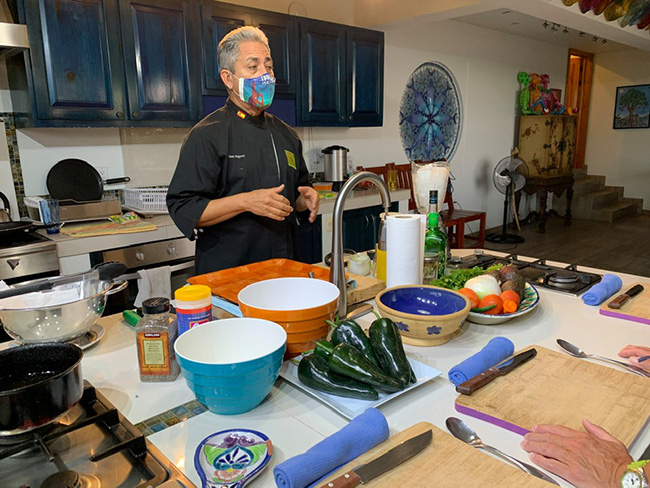 Camp Cecil de la Sierra we enjoyed immensely! So completely different from what we have been doing. Only 1hr from Todos Santos yet feels like you have been transported to a new world! 2nts here with our wonderful chef Martine & our knowledgeable naturalist guide Alejandra!
Camp Cecil de la Sierra is a luxury tent camp in the mango and grapefruit grove of a local ranching family in the Sierra La Laguna Biosphere Reserve of Baja California Sur, close to the town of Todos Santos. The camp highlights both the cultural and natural heritage of the Sierras. The family is an integral part of the experience, providing all the meat, cheese and tortillas for the camp, teaching guests how to make traditional food and crafts, and acting as guides in the reserve.
The accommodations are beautifully decorated walk-in tents with real beds, linens, rugs, bedside tables, lamps, mirrors, chairs, towels, and rocking chairs on the patio. Each tent has a private compost toilet cabaña, and there is a shared shower cabaña. Activities include beautiful hikes in the reserve with spectacular views, swimming in watering holes and picnicking by waterfalls. There is fantastic birding in the mornings, amazing star gazing at night, and many opportunities to interact with the rancheros.
We did 2 different day hikes and visited with the local Rancheros!
A wonderful safe place to spend time and "get away from it all"!
Cheers,
Cindi LaRaia