Home > Dive Discovery Trip Reports
Galapagos Islands Sept 29-Oct 5 2014 Humboldt Explorer,
Island land walks on Santa Cruz & Isabella Island Oct 5-11 2014 Trip Report
Escorted by: Cindi LaRaia
"Our Epic Journey"
Part I
Camera & Edit: Josh Jones
Some of us started this Epic journey in Quito, Ecuador 2 days before the diving portion began. We stayed at a lovely boutique hotel in Quito, met old wonderful friends and made new ones! Day 2 we had a full day visiting Mindo Cloud forest, we visited a beautiful butterfly farm, learned how they begin and end their lives. Amazing they only live for barely 2 months! Many different colorful varieties large and small. They had a wonderful hummingbird sanctuary outside with feeders and literally hundreds of many different varieties zooming about our heads, like little fairy princesses buzzing all over!!
We then visited a delish small owner run chocolate factory, learned how it is grown, fermented, dried, shelled and stirred until most glossy and creamy. We tasted the pure 100% form of the cocoa, then they had us add sugar and how it did not change the sweetness, then chili, coffee, and some other flavors. Learned how they make cocoa powder by removing the cocoa butter. The end result is a higher amount of pure cocoa of approx. 76 to 80%, absolutely stunning chocolate!!! However the best were the brownies they made, ohhhhhhhhhh myyyyyyyyy gosh! I bought the solid brick and will make them and share with my friend Wayne from our trip ;-)
We fly to San Cristobal to meet our dive masters and wonderful crew of the Humboldt Explorer! I have had to name this trip as "Our Epic Journey"we had the most incredible journey, we were lucky charms, our awesome collective karma attracted everything the Galapagos had to offer!
Arrived a bit late on the boat, got our dive gear sorted out,,, cold water, ahhhh about 68 to 70F here in the inner islands. 40 minute check out dive, and whoaaaaa salty water needed a whopping 16# of lead with full 7 mill suit.
Next morning first dive 630am at Point Carrion, near Baltra island. Sea Lions, large green sea turtles, large white tip sharks sleeping and swimming. Same site at 9:30am was an amazing dive, we saw Eagle ray, mobula mantas, mola mola and the FIRST WHALE SHARK they have seen here in this area in years!!! OMG!!!! What a way to start!!!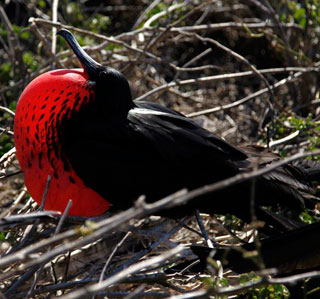 We had an amazing land walk in the afternoon at North Seymour, Fantastic!! A 2.5 hour easy slow walk to see literally tons of frigate birds, males with their bright RED gular sack in varying degrees of size and brightness to impress females into mating. Adorable fuzzy white babies in nests. Blue footed boobies and babies, land iguanas, lava lizards, sea lions and pups, stunning white crashing surf against black lava! Ahhhhh soooo happy to be back in the Galapagos, 14 yrs since last visit, wayyyy to long!
We now head off north to the magic islands of Wolf and Darwin to find hammerheads, Galapagos sharks and hopefully whalesharks! Our first full day at Wolf island starting early at Shark Bay, treated us to our first school of hammerheads, very large black tip & silkie sharks,  schools of Yellow Fin Tuna and 2 Eagle rays,,, well wow!!! What a great first dive here!! 2nd morning dive to Landslide, loads of hammerheads and the giant Eagle Ray parade, so many of them very close to us and non-fussed we are there, just all of us hanging into the current so close to 6 huge gorgeous Eagle Rays! Next dive here again with more Eagle Rays and here come the GIANT SIZE Galapagos Sharks, whew, some look like Sherman tanks, they come in very close! One was a very pregnant female, so fat she looked like a Great White Shark!
The next day dove Shark Bay at Wolf a little slow start, a couple of hammers then off we go to drift in the current ended up at Landslide and hung out with the local crowd of Galapagos sharks and Eagle rays. We see a sparkling giant green sea turtle with loads of silver pompano fish cleaning his carapace sideways, a very interesting sight as they sparkled in the sunlight. As we are drifting there are loads of hammerheads below us on the sand. Josh my dive buddy and I ended up alone from the group and had to deploy the safety sausage. All of a sudden right below us is a GIANT WHALE SHARK!!!! OMG, he grabs his video and shoots one handed as we are drifting on our safety stop! They say they only see whalesharks 50% of the time at Wolf and this was our first!!! Yeahhoooooo and she was HUGE, most of the whalesharks at Galapagos are females and the ones we saw were all pregnant and HUGE full size some 40 to 50 ft long!!! The lower white bottom part of them, near the rear was just huge with offspring!! Some looked ready to pop!
They have NO information on whalesharks or very little. Here in Galapagos, they are only migrating, not feeding, not getting cleaned nor mating.
On this same dive the other boat had a huge bait ball, what a wild place this is!! Next dive now we head to Darwin Arch!! Everyone's favorite as this is where most of the whalesharks are seen.
On this dive we had schools of Jacks, and bottlenose dolphins all over as we went in the water! Makes me crazy to hear them u/w I just want them to swim to me. So off we went into the blue, so fun to dive off and drift in the blue, you never know what will show up! Well we got right into a huge school of yellow fin tuna, they circling me, way cool!! We saw dolphins on several dives which is most amazing as we swim into big schools of fish and you hear the clicking and sonar of dolphins then BAAM the fish split and open and here come the dolphin whizzing by! WOW!!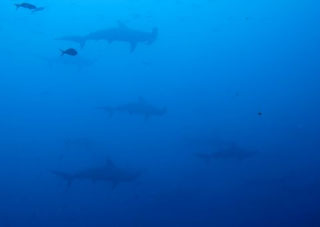 A wonderful Discovery Channel dive at Darwin, a HUGE school of thousands of hammerhead sharks, black tips and silkies! More bottlenose dolphins everywhere making me crazy with all the clicking, so close but low vis keeping them out of sight. Then woahhhhh HUGE schools of bait balls of fish streaking by and dolphins chasing at the speed of light! Amazing to see the multitudes of fish all moving so fast, all this way then all that way and whizzing dolphins, holy moly! Then all of a sudden in all the craziness a HUGE whaleshark appears right in front of us!! WOW huge and girthy again!! So fun for me to kick in high gear and get to the front side and talk to her eye as I swim and gently talk and video this gorgeous gentle giant,,, then off she goes into the murk with huge tail fin loaded up with a dozen remoras. Such a sight to behold, we are so blessed! This was our BEST dive yet!!
Early am dive at Darwin arch treated us with very clear water, and boy could we see the show as we all settle in on or spots on the rock 'platform' here is what I called the viewing platform, to watch the show of hundreds of very close hammerheads, in calm clear water! Wow! Fabbo Hammerhead dive and yes another whaleshark as we caught the end of her giant giant tail, whew! As we did our drift into blue, we found tons of hammers in shallow water on our safety stop! So fun, you just never know what you will find in the blue and on safety stops, seems to be the most exciting way to dive here!
I look down and then there are hundreds of hammers all swimming low on the sand, sheesh! Then up in our safety stop zone big giant black tips with huge dorsal fins!
Our next dive was more of a lovely Zen dive, calm with hammerheads, blacktips, giant green sea turtles, and a WHALESHARK!!! Wow another amazing dive!
Juan Carlos our dive master is offering us 2 surprises here at Wolf and Darwin.
Surprise #1: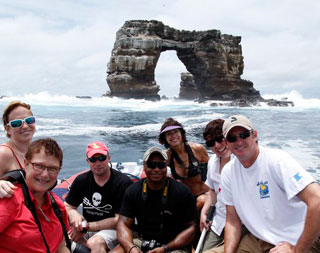 We all got into the zodiacs with land cameras get up close and personal to view the birds and wildlife at Darwin arch! Sea birds, red footed boobies, masked boobies (my fav), frigate birds and sea lions. An absolutely gorgeous site to behold in the middle of nowhere.
The dives at Wolf and Darwin each dive each day rewarded us with more and more epic adventures. It really became surreal as we really were blown away with the amount of hammerheads we saw on every dive all a bit different in how they approached us and where we saw them. Hundreds in front of us, scouring the sand floor, overhead, coming up the reef in front of our faces!
The cast of characters appeared before us on every dive, the giant green sea turtles, schools of up close and personal Eagle rays, hundreds of bottlenose dolphins all around us at the surface screaming through the throngs of fish underwater! The Sherman tank size Galapagos sharks and lovely huge black tip sharks with the very tall dorsal fins in schools of fish, with some Silkies thrown in the fish soup for good measure, was a truly larger than life experience!
However the daily dive sightings of full grown pregnant female whalesharks really topped the dives for all of us. They would just appear these huge magnificent gorgeous gentle giants so we could see them close and get wonderful images and video! Not to mention GIANT HUGE SMILES on all our faces!!!
Note: we were at Wolf and Darwin at half-moon phase.
Sad to leave Darwin Arch after 2 full days there, went back to Wolf and had quite possibly the very best dive of all ;-) the action never stopped from the minute we jumped in with some wild current! Well worth it and by now, pretty used to the blowing around in the wind! All the players in our faces for the entire dive, non stop including whalesharks! This dive was simply off the charts!
The entire time I was here for the four full days at Wolf and Darwin (more than any other Liveaboard there) I felt as though we were part of a film crew from The BBC, Discovery Channel, Animal Planet and National Geographic all at once!!! I felt very blessed to see with my own eyes that  'Man' has not completely devastated all the sharks and big animals of the sea!!!!!! There may be hope for us yet!! Nature is wild and if left alone, we can witness how lovely the balance of life is................