Home > Diving Tahiti > Tahiti Liveaboards
Aqua Tiki II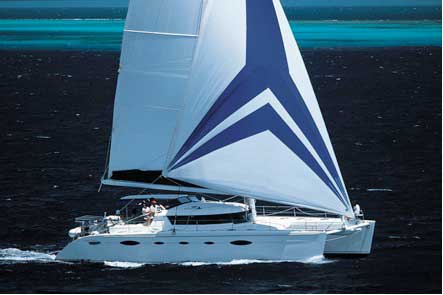 A catamaran of type Eleuthera, from Fountaine-Pajot, the AQUA TIKI II is over 18 meters (60 feet) long and offers 5 passenger cabins:
2 double cabins, for honeymoon trips, with at your disposal: full private en-suite facilities with hot water, AC (3hrs / day), radio with an i-pod plug.
1 twin cabin, for individuals, with at your disposal: full private en-suite facilities with hot water, AC (3 hrs / day), radio with an i-pod plug.
1 spacious VIP cabin, with at your disposal: full private en-suite facilities with hot water, AC (3 hrs / day), an island bed, TV-DVD, radio with an i-pod plug, and a free cocktail every evening.
1 skipper's cabin (economical Forepeak), for single travelers, accessed from the deck, with at your disposal: common bath with hot water in the starboard hull.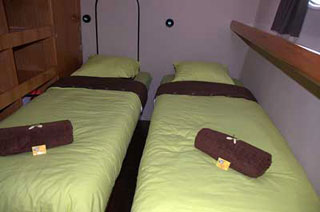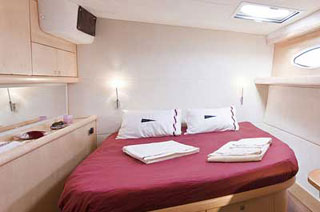 On-board amenities are worthy of a small hotel: a large dining quarter with a table accommodating up to 9 passengers; a reading lounge near the bar where fantastic cocktails are served every night. An outdoors cockpit, sheltered from the sun by a large awning, provides a table that can sit 9 passengers, where all meals are served. The boat is also equipped with a plancha flat-top grill for evening barbecues. The sun can be enjoyed from two highly-coveted trampolines at the bow... A professional crew of 3 is always on board. A hostess is responsible for meals and service, while a professional skipper and a professional diving instructor take care of the cruise and all land and water based activities.
A maximum of 9 passengers (8 divers) ensures optimal comfort and conviviality. 2 passengers guarantee a departure. For everyone's well-being, the AQUA TIKI II is strictly non smoking, as the on-board storage of fuel, gas and oxygen prohibits it. Smokers will be able to smoke during land-based trips, but they must pick up their cigarette butts (our cruises take place inside the Fakarava Biosphere Reserve).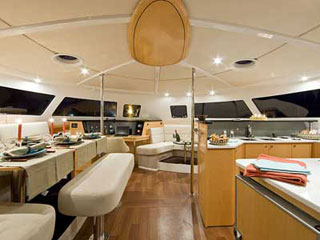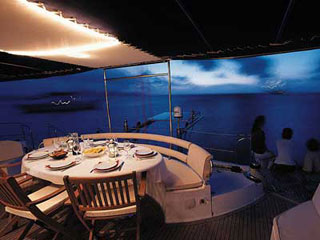 The Equipment
The AQUA TIKI II provides very modern conveniences: a stereo, an HD TV with Blue Ray DVD player in the main quarter, and a small library. It is self-sufficient in its water supply: over 800 liters (200 gallons) in reserve, alongside a desalinator. A powerful generator and an UPS (uninterruptible power supply) provide the electricity on board, providing 220V DC, with European plugs in each cabin, 24/7! The boat is also equipped with a complete suite of modern navigation tools: GPS, SSD, V.H.S, a computerized navigation console, radar, and a Sarsat distress EPIRB beacon for optimal safety. Propulsion is provided by 120 square meters of sail (1300 sq ft) (mainsail and genoa jib), as well as two 110 hp engines with a tank capacity of over 1000 liters (270 gallons) of fuel oil. Two dive compressors can fill all diving cylinders within an hour, and a 8-diver, 90 hp RIB (rigid inflatable boat) provides surface cover as well as other water sports (water skiing, wake-boarding). Passengers can explore the lagoons with two kayaks that are available at all times. Many trips on shore, with the RIB or with the kayaks are also possible.
Diving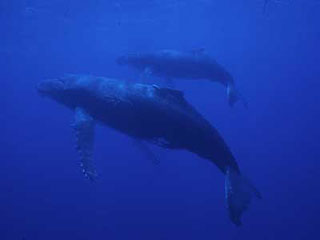 The AQUA TIKI II has been designed and built specifically as a diving vessel in the Tuamotu. A fast and safe RIB (90 hp, 18 ft long) drops the divers off and provides constant surface cover when diving passes. A diving instructor leads the dives and the skipper ensures continuous surface monitoring of the divers during drift dives. We are a CMAS center and can deliver FFESSM certifications and diplomas. The AQUA TIKI is also an authorized SCUBAPRO center, providing high quality equipment.
Two long dives per day are organized. Divers are equipped with 230 bar, 15L cylinders (3300 PSI, 0.5 cu ft) (for men or heavier breathers), or 230 bar, 12L (0.4 cu ft) cylinders (for women or lighter breathers). There are four 15L cylinders and four shorter, "stumpy" 12L cylinders available, with dual valve manifolds (Din and A-frame). A fast, electric compressor allows for all cylinders to be filled within an hour – we also have an identical, spare compressor for redundancy!
Except for special cruises, all our cruises are aimed at competent, qualified divers that are comfortable in currents (CMAS level 2, PADI Advanced Open Water advised). Beginner cruises are organized on specific dates and upon request. The most interesting and safest dives happen during an incoming current (6 hours per day at best), therefore the dive and meal schedule is adapted to the tide times each day to provide the best diving conditions. Photographers and videographers are welcome aboard!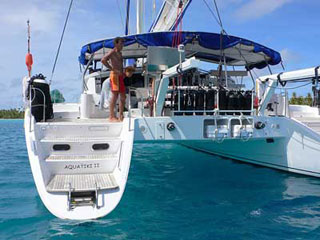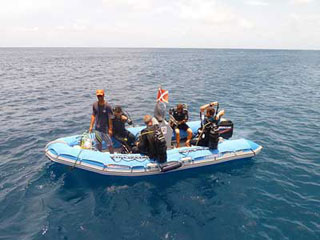 The fauna encountered in the passes is very abundant and varied; you always meet huge schools of sharks (mostly grey reef sharks, but also white tips, black tips, sleepers, hammerheads, sometimes tigers…), of barracudas, and of bonitos. Rays, manta rays and napoleon wrasses are also present year-round in the Tuamotu, as well as dolphins and various species of fish: bigeye snapper, goatfish, barracuda, emperor, groupers, moray eels ... Depending on the time of the year, you can witness incredible sights: humpback whales migrations, breeding shoals of groupers and emperors, napoleon wrasses, jobfish…, pelagic migrations: melon-headed whales, whale sharks, giant groupers, schools of manta rays…
Unfortunately Nitrox is unavailable on-board, however we would strongly recommend the use of our oxygen cylinders for your safety stops - at your disposal for 66 euros a week.
Honeymoons
We welcome many couples on their honeymoon, year-round. We reserve the two double cabins at the helm for the newly weds, and offer a personalized reception.
Groups
We offer very favorable terms for groups of 6 people and over (6 to 9 people) with an option to charter the whole boat and modify the cruise as wished (length and atolls on the itinerary).
Fakarava - A Dream Cruise In The Tuamotu
Fakarava Diving Intineraries: (pdf file)
9 days / 8 nights dreaming in the Tuamotu
11 days / 10 nights dreaming in the Tuamotu
13 days / 12 nights dreaming in the Tuamotu
15 days / 14 nights dreaming in the Tuamotu
17 days / 16 nights dreaming in the Tuamotu