Home > Diving Mozambique > Mozambique Dive Resorts
Vamizi Island
Quirimbas Archipelago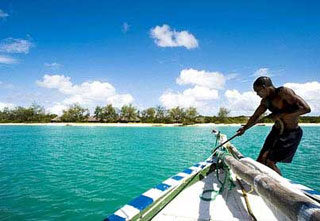 A slender coral island just off Mozambique's remote northern coast, Vamizi Island is part of the Quirimbas Archipelago, sometimes called the new Maldives.
The Land
Arching out of the Vamizi seas - twelve kilometres long and a kilometre wide - this whale-shaped curve of beach and bush is drenched in sunshine and breezes.
The miles of unpadded white sand and wild bushy interior are also a sanctuary for samango monkeys, coconut crabs and the 112 bird species that have been recorded as either resident or visitors, as well as being a haven for the more land-based creatures amongst us.
Like the 100 turtles that nest on Vamizi's empty shores and are irresistibly drawn to its peace, solitude and perfect harmony year after year, intrepid travellers and rarified pleasure seekers find it's just the place to rest their weary fins.
The Sea
Webbed feet would be an advantage, though not essential, on this crescent island that is a springboard for some of the best diving, fishing and beach life in the world.
The island's near perfect white coral beaches and breathtakingly beautiful shallows are just the tip of the tropical iceberg.
Beneath the surface of the Vamizi seas is an outstanding reefscape - mountains, valleys, plateaux and cliffs - teeming with a bewildering amount of sea life, from whales, dolphins, turtles and reef sharks to gregorian corals and giant clams.
Vamizi Island lies right by the point where the south equatorial current splits.
The emergent cool and warm currents sustain unusually large amounts of microscopic plankton and krill, a major food source that supports a vast array of species - up to 46 types of coral and over 400 species of fish, alone.
A glance at a marine map reveals another deep Vamizi secret: a sheer walled canyon that slips down to a kilometre below, meandering along the island's eastern edge, providing dive sites beyond compare and coral habitats that have been deemed amongst the healthiest reef systems anywhere.
Simply put, whether you want to dive, fish, swim or bob, this is the place.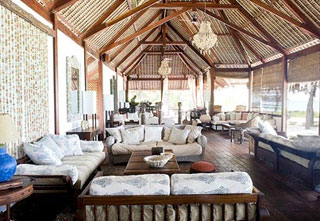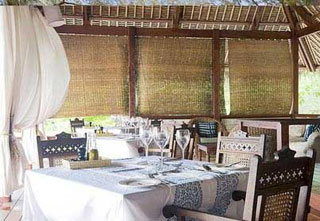 Villas
Exclusivity is one of Vamizi Island's greatest assets and, as the only lodge on the island, it has the space to spread wide, so each villa amply commands its own part of the beach.
Thirteen villas - one or two bedroomed - are right on the shoreline, all with to-die-for views of the ocean.
Both airy and generous - with over 170 square metres of timbered floor to pad about on, they have plenty of space for spreading beds, sofas, a marble shower and vanity area and outside, a sun deck.
Vamizi Island is not about the ordinary five star stuff, so don't expect TVs or air conditioning - it's all about barefoot relaxation and rooms as open as they can be, to catch the natural breezes.
That said, if you can't drag yourself away from your villa, there's a mini-bar and the means for a deluxe cup of tea or coffee - as well as private dinners in the room on request.
Beyond that, we just leave you alone, in the peace of your own private paradise.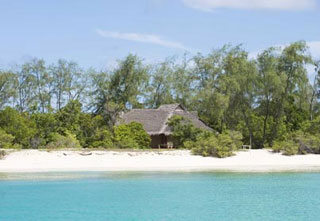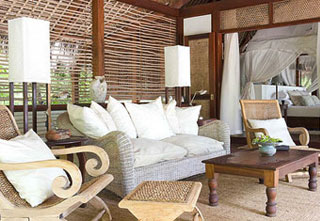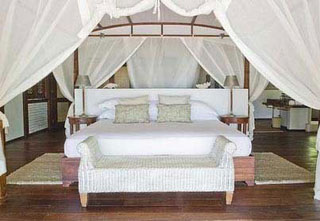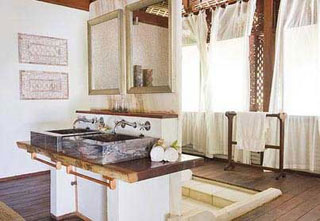 Private Villas
Vamizi's private villas have been designed by carefully selected award winning South African architects, renowned for their commitment to creative design and sustainable development, creating a unique style of architecture that draws on the multi-cultural influences of Mozambique.
The designs have been chosen to keep the footprint to a minimum and to avoid existing trees and natural features, thus ensuring maximum privacy within two acres of private grounds, and each situated with exclusive beach front access to take full advantage of the spectacular sunsets and sea views.
Sleeping up to twelve people, the villas are perfect for larger family groups, friends travelling together or for individuals wanting their own private hide-away. The villas have five en-suite bedrooms each with private deck and beach access, and the spectacular drawing room, dining room and hardwood decks surrounding the salt water plunge pool offer a variety of options for eating, drinking and just being "Vamizi style".
The resident hospitality team will ensure guests every needs are met, from tailor made menus to fishing & diving activities, a range of holistic spa treatments and sailing trips around the islands. Whether you are seeking deep sea activities, or complete relaxation on the beach there is something to suit everyone at Vamizi.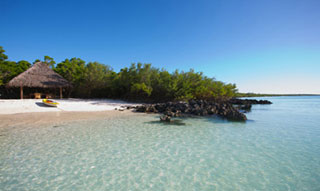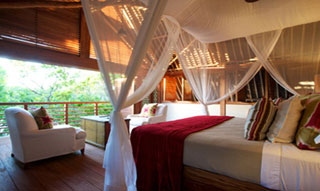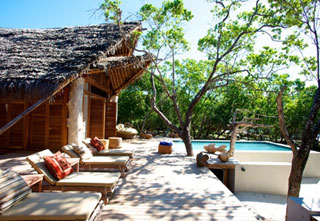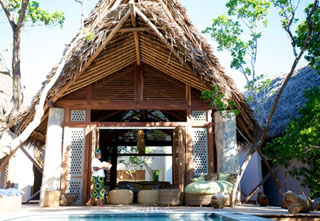 Diving
A combination of wild underwater landscapes, the bounty of tropical ocean currents and an abundance of marine life, makes Vamizi diving beyond world class.
In this incredible ocean environment, Vamizi Island's fanatical dive team - which includes qualified PADI divemasters and instructors - take the tropical scuba experience to new depths.
Chilled by water from over a kilometre below, corals on Vamizi's dramatic drop- offs (unlike most of the world tropical reefs) have not been bleached by the global rise in sea temperatures and make up among the healthiest and most pristine reef-systems you can see anywhere.
There is also a huge variety of marine life here: great shoals of tuna, barracuda, grey reef sharks, turtles and giant groupers, amongst many others.
These are the kind of conditions that divers mostly dream about. One particular Vamizi site, Neptune's Arm - where coral gardens tumble down the edge of a thousand metre cliff so crowded with fish you can hardly see the view - has been named as one of the top ten scuba sites on the planet.
That said, there are also plenty of easy dives, shallow sites and snorkelling spots for the casual or beginner diver - still stunning, full of life and very close to the island.
Altogether, this makes Vamizi Island more than a great place to dive, it is an oceanic Nirvana.