Home > Diving Micronesia > Micronesia Dive Resorts
Dolphin Bay Resort
Peleliu Island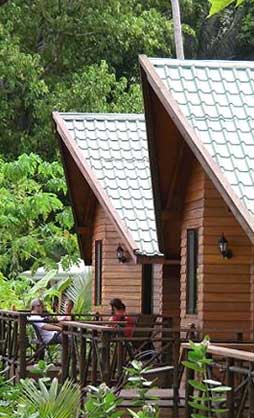 Welcome to Dolphin Bay Resort & Peleliu Divers, Palau's most eco-friendly resort.
We invite you to the tropical island of Peleliu, at the southern end of Palau's Rock Island, and very close to the most famous dive and snorkeling sites in all of Palau.
The resort is designed with spectacular views and very comfortable lodging.
All of our buildings have been designed with natural materials that blend well into the quiet secluded setting of tropical trees and flowers. We combine local hospitality, island atmosphere, and thrilling adventures to make your vacation a lifelong memory.
Bungalow
Set among natural coconut and palm trees, our 7 bungalows are surrounded by a beautiful tropical garden which provides secluded privacy for every guest.
Each bungalow offers a comfortable queen bed or twin beds, air-conditioning, ceiling fan, beautiful interior tropical hardwood walls and floors, an indoor table and chairs, a modern western-style bathroom with hot shower, and a fully stocked mini-bar. The mini-bar is restocked daily with a choice of beers, soft drinks, fruit juices, and bottled water.
Each bungalow has a private balcony offering full ocean views. Relax in a chair on your balcony, feel the breeze from the ocean, enjoy beautiful butterflies fluttering through the exotic flowers, listen to the tropical birds singing, and at the end of the day, view a spectacular sunset.
Beach chairs and hammocks are only a few steps away for your island style relaxation. They are so comfortable, you may fall asleep.
"Dolphin Bay Resort" was named for the friendly family of spinner dolphins that live a short distance off shore, just beyond the reef. You may encounter these dolphins during a boat trip. Many of the dolphins show their playful energy by jumping out of the water and spinning around in the air, then flipping their bodies and splashing back into the ocean. We think the happiness of the dolphins adds to the happiness of our guests!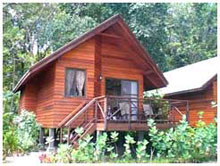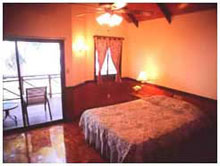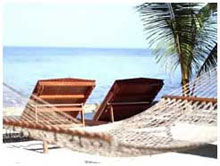 Diving
Our dive shop, " Peleliu Divers," has been operating since 1996. It is the first dive shop on the island. It is Palauan owned and operated by Godwin Sadao, one of Palau's most knowledgeable divers and boat captains, and his staff of experienced dive guides.
We have 2 fully equipped dive boats for daily dive trips, with a maximum of 8-9 divers on a boat.
The great advantage for divers and snorkelers staying at Dolphin Bay Resort is that we are so close to all the famous diving and snorkeling areas. Almost all of Palau's best known dive sites are located within a twenty-minute boat ride from our resort. For example, it takes less than 20 minutes to reach the Blue Corner and Blue Holes, about 10 minutes to travel to the German Channel and Big Drop-off, and 5 minutes to travel by boat to the Peleliu Corner, Peleliu Express, and Peleliu Drop-off.
You'll enjoy getting to the dive sites ahead of the boats from Koror, and staying longer, as well.