Home > Diving Red Sea > Red Sea Liveaboards
MY Felicidad II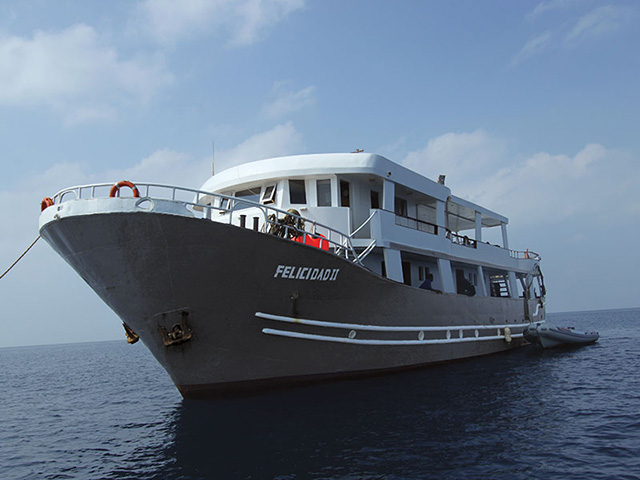 M/Y Felicidad II is undergoing a complete restyling and will be ready to sail the waters of the Sudanese Red Sea in October 2017. Three major names in the scuba diving world are involved in this project and have decided to join their passion along with their experience to start this new adventure: Aurora Branciamore, scuba diving holidays organizer since 1971 and especially in Sudan for over 40 years.
Dodi Telli, scuba diving instructor as well as scuba diving liveaboard cruise expert. Since 1990 she organizes holidays and liveaboard trips under her company's name Albatros Top Boat/Luxury Yacht Maldives.
Licia Ricciardi & Alessandro Berton, ship owners of the sailing boat San Marco (previously in Sudan, but now operating in Greece), expert of scuba diving in the Maldives for 12 years as well as in Sudan since 2003.
A winning team thanks to their long experience in the scuba diving business and for their internationally recognized professionalism.
Technical Details
Length: 32m
Width: 6,5 m
Weight (tons):172.8
Engine: Caterpillar 425 hp turbo
Speed: 8/10 Knots
Cabins with bathroom: 8
Passenger: 16 in DBL cabin (up to 18 in TPL cabins)
Crew: 6
Tender 2
Diving guides/instructor: 2
Electricity: 380/220/24 Volt
Plugs: Europe
On Board
Restaurant / Bar, International Cuisine
Air Conditioning
Telephone GSM
Desalination Plant
1 Sun Deck
TV/DVD Lounge
First Aid & Oxygen
NITROX
NAUTILUS Lifeline for divers