Home > Dive Discovery Trip Reports
Cuba: Jardines de la Reina (Gardens of the Queen), Liveaboard the Floating Hotel Tortuga
July 18-24 2015 Trip Report - Page Three
Escorted by: Cindi LaRaia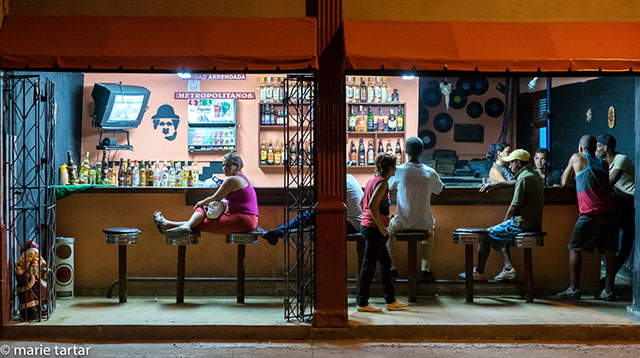 We were back in Havana about 6pm! We had that night to see town from our Park Central hotel, Tony recommended a restaurant 'Palador' is a restaurant in peoples' homes, to us called Ivan and Justo. An interesting history where this chef used to cook for Fidel. A lot of old time photographs and memorabilia, real Cuban fair. A great place, they put our group on the rooftop overlooking the neighborhood. We all decided to have suckling pig, the house specialty! It was absolutely delicious! Some of the wines they serve are from Chile and just great! My favorite was like out of the movies (again) the waitress came by with the box of cigars, like the commercial ages ago, cigars, cigarettes, tiparilos? Here I am in Havana Cuba ordering the real deal, a Cuban Cigar!!!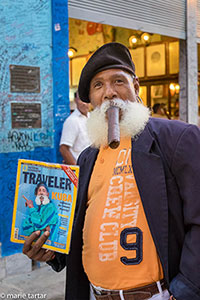 I got one of the best they said, brand name Cohiba, Not one of the big Churchill's but a nice size cigar I could smoke in 2 sessions. HOW FUN! It was divine! If only my papa, sisters & brother in laws were there with me,,, as a family we love to share talk and story around the campfire in northern Michigan in the summer, ahhhhh good times!
The next day we had a guide meet us and take us around Havana for about 6hrs. It was wonderful. We started with using these gorgeous vintage American cars from the 1950's, time warp indeed! They use the convertibles as taxis, they cost more than a normal taxi of course. The drivers are the quintessential Handsome Latin men, some are playing old music from the 50's era, I only needed my babushka with it flying in the wind to be a real actress in this movie!! The cars ranged from Chevrolet's, Ford Fairlane's and various others in outlandish hot pink, baby blue, purple, red and white, you name it, they had them!
The architecture of the buildings intrigued and saddened me, for the most part they were in ruins and decay, and they must have been magnificent in their heyday! The local people call these decaying buildings home.
In stark contrast the literacy rate is 99.8% and many speak fluent English. The health system is among the worlds best, Cuba has an infant mortality rate lower than the USA. Many well educated, with an average income of 20.00 month. Some doctors and surgeons, drive taxi's to supplement their income.
Also no drugs on the street, no guns on the street. The reason some say is they have a really strong culture. Which is part of the appeal we are so interested as Americans to visit this place, in hopes it will remain and our new 'visitation' will not change that.
Our day tour took us in 2 lovely vintage cars to the main park in Havana, with a flowing river, giant trees and one of the biggest Kapok trees I have ever seen. We went to a rum factory which was very interesting! The cigar factory was closed when we tried to go there, darn.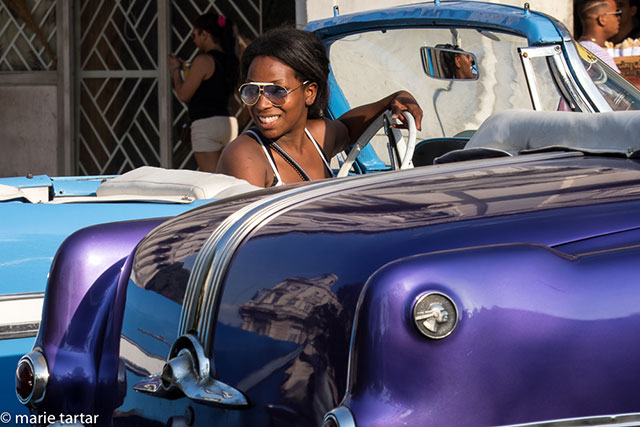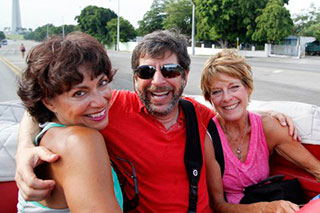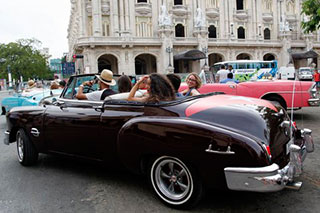 We drove down the popular Malcon, the ocean front main road that also had the US Embassy that historically reopened the week we were there! The funniest thing was, there was a huge area of many rows of the Cuban Flags all flying in front of the US Embassy, a little confusing, looked more like a Parliament building for Cuba!
After our hour was up with the vintage cars, we walked thru Old Havana with our guide. What a lovely afternoon doing this. Very hip with painters, music, shops and a feeling of happiness. Many old buildings in various stages of repair! It is nice to know some of them are getting worked on, at a very slow pace however, with gaping holes in the streets, one had to always keep your eyes looking down also. We were in the big Square with a lovely church getting repaired. Found a lunch place off the square that was fantastic, seems you can always get lunch that includes either a beer, daiquiri or cuba libre (rum and coke)!
Old Havana is a wonderful place for photographers, every step you take is a photo op! Hanging laundry, tuk tuks with Cubans cycling you around. People hanging out the rusting balconies with plants and laundry drying. Very picturesque, we watching them and they watching us.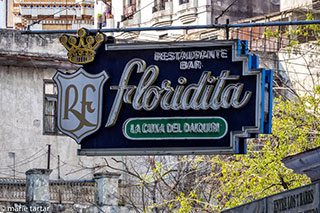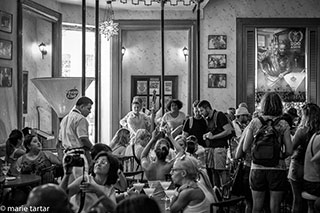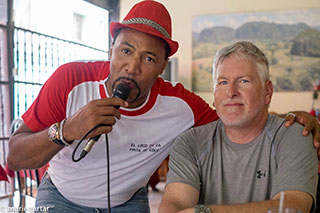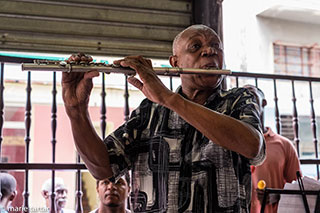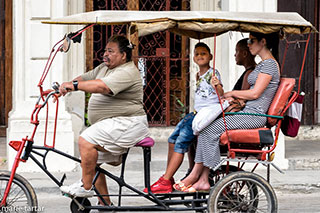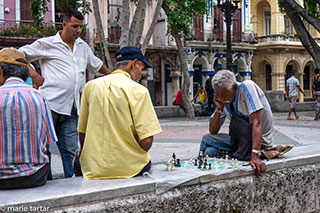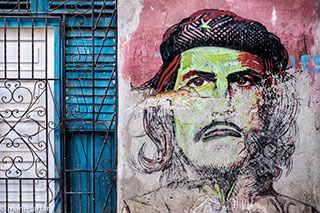 We found a good cigar shop and purchased the famous Cigars to bring home to friends and family! Bought 5 Cohiba's, proudly hand made in Havana!
3 of us went to the finest 5 star Paladar called La Guarida for dinner that night, our last, we were not sorry we did not go to the Canon firing that takes place each night at the Fort!
The food was beyond belief, and highly recommended by friends that went 4 days earlier and had been there 2 times already! A gastro heavenly time was had by us, this compared to any US finest gourmet dining restaurant except for the price! Reservations are a must!
We ran out of time to see the Revolution Museum, I will have to go back ;-)
Diving at the Gardens of the Queen, and our short but very sweet visit to Havana was absolutely outstanding!!
Cindi LaRaia
Photos courtesy of Marie Tartar, Steve Eilenberg and Cindi LaRaia
Video courtesy of Bob Pecoraro