Home > Diving Cuba > Cuba Liveaboards
Tortuga
The large double-decker floating hotel
While a guest at Los Jardines de la Reina, accommodations are provided primarily on large liveaboards or on our original 110-foot double deck houseboat, the Tortuga. The Tortuga is a floating hotel with eight guest cabins that accommodate 2/3 divers each (16 divers up to 21). Tortuga is a steel houseboat anchored in a protected channel, so it never moves. It is extremely stable, there's no chance of getting seasick no matter the weather conditions.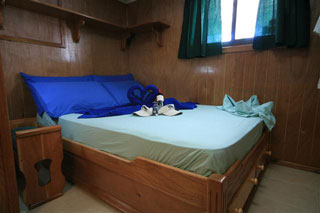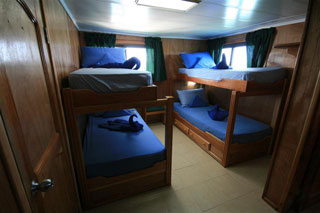 There are 7 cabins on the upper deck and one on the main deck; all featuring their own bathrooms with sink, toilet and a good shower with hot water. Each cabin has its own easily adjustable air-conditioning system.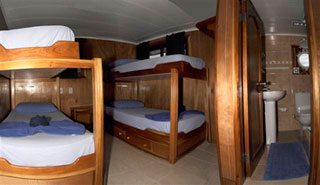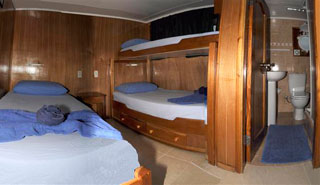 On the lower level (main deck), there is a large air-conditioned dining room along with a foredeck and afterdeck, with chairs and tables, perfect for relaxing and taking the sun after a diving day. The foredeck is a very nice place to enjoy our pizza appetizer and drink cocktails or smoke Cuban cigars before dinner. Electricity on board is supplied by generators located nearby and it is available twenty-four hours a day. There are many outlets on board that provide both 110 and 220V. We have a satellite Internet service with Wi-Fi, making communications with the outside world easy and free for our guests. All you need is wireless capability with your laptop or other devices.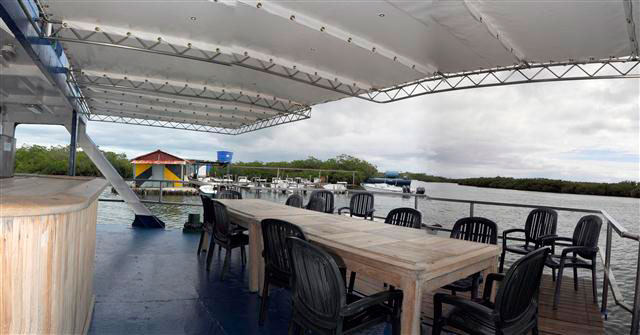 Dining on board combines the style of the best Continental Italian cuisine with delicious seafood and traditional Cuban favorites like rice and beans, black bean soup and fried bananas. Beverages available on board are: Bottled mineral water (2 lt/day included in the package), sparkling and tonic water, various soft drinks, juices, beers, rums, whisky and excellent wines.
The chef on Tortuga is excellent. The day starts with a hearty breakfast. Lunch and dinners are primarily fresh fish. Lobster is our specialty and is served in a variety of ways. For those who like something different, chicken, pork and beef are also available. Salads and different fruits are served in every meal. Desserts feature our famous Cuban caramel custard, rum-flavored cakes, cookies, puddings, pies and many others. Vegetarian and kosher meals are served on request with many different choices available.