Home > Diving Cuba > Cuba Liveaboards
Jardines Avalon Fleet I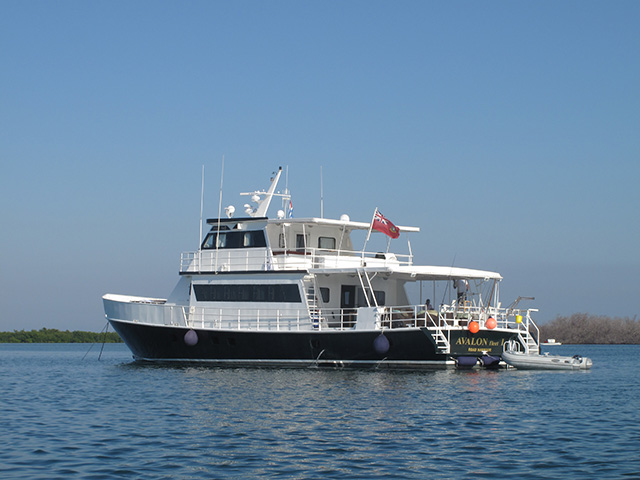 Jardines Avalon F I has great accommodations for up to 18 guests in 8 Staterooms: two Staterooms back from the main salon, four Staterooms on the lower deck (all have private bathrooms, hot water, comfortable beds, TV, and A/C) and two staterooms on the middle deck (with sharing bathroom) . There is a crew cabin with two bunks in the Captain's Bridge located on the upper deck.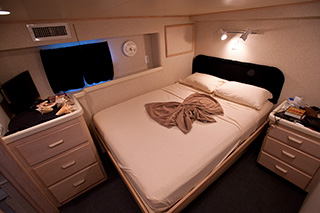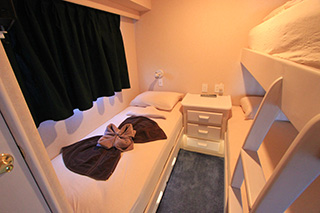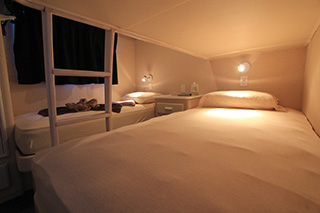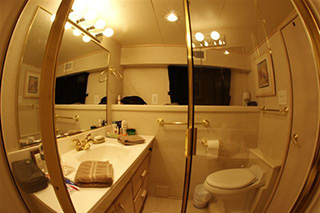 There are many outlets on board that provide both 110 and 220V. The beautiful pickled oak interior decor has an open and contemporary atmosphere. The lounging area is a large salon with a set of large inviting sofas that form the central setting and also a desk and PC station. Clean, modern lines combined with a moderate, natural and warm color turn this space into an area that feels like a cozy classical salon. The soft carpet combines remarkably well with the walls. The cushions on the sofas spice things up and give the overall ambiance a subtle edge. On a corner, an intimate dining room with a glass table invites for elegant lunches and dinners; just in front, there is a nice bar. Beside the bar, a comfortable staircase takes us to the lower deck.
On the upper deck, the large dining area is surrounded by comfortable sofas inviting to sit before dinner to enjoy a cocktail while watching the sunset. There is a large bar on one corner with a music system and well equipped to prepare all kinds of cocktails, and also to assist in the preparation and service during dinner. Beside the bar, a glass door leads to the captain's bridge, including a nice bathroom and crew cabin. At the end of the large dining room, the stairs lead to the roof, to an open area with Jacuzzi, a majestic grill, chairs and an excellent panoramic view.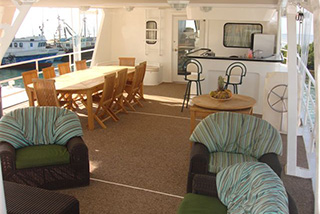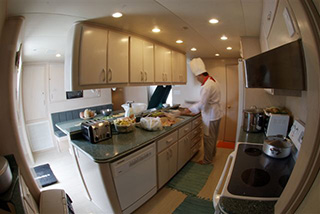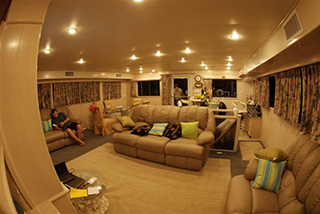 Meals are usually served on the afterdeck where there's a nice breeze. Dining on board combines the style of the best Continental Italian cousine with delicious seafood and traditional Cuban favorites like rice and beans, black bean soup and fried bananas. Beverages available on board are: Bottled mineral water, sparkling and tonic water, various soft drinks, juices, beers, rums, whisky and excellent wines (6 beverages/day are included in the package).
The chef on theJardines Avalon F I is excellent. The day starts with a hearty breakfast. Lunch and dinners are primarily fresh fish. Lobster is our specialty and is served in a variety of ways. For those who like something different, chicken, pork and beef are also available. Salads and different fruits are served in every meal. Desserts feature our famous Cuban caramel custard, rum-flavored cakes, cookies, puddings, pies and many others. Vegetarian and kosher meals are served on request with many different choices available.