Fishing in Cuba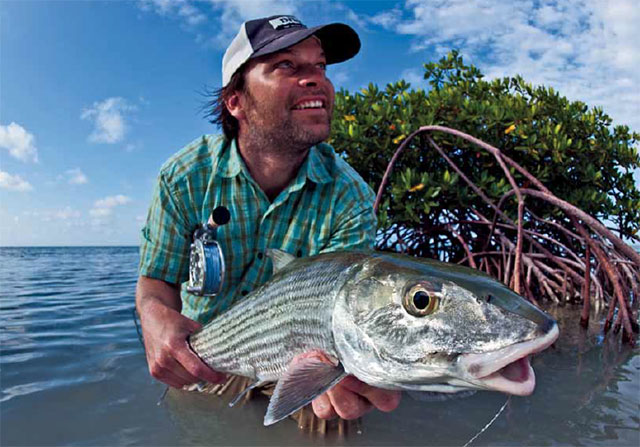 Think about a place where you can fish more than 100 miles of flats without seeing another fisherman, a place where the flats fishing is so good, you can catch seven species of fish in one day, a place where big bonefish run toward your fly even when it hits the water too hard, rather than streaking off the flat in the other direction, a place where you have a legitimate chance for a Grand Slam every day of the year, a place where big permit are as plentiful as they were in the Florida Keys 30 years ago, a place where you can wade miles of white-sand flats in your bare feet for big bonefish, a place where you'll find enough big tarpon, jacks, 'cudas, and sharks on the flats to wear you out!
Fishing in Cuba is a delight and a continual mixture of incomparable sensations. In the exclusive fishing centers of AVALON at Jardines de la Reina (Gardens of the Queen), Isla de la Juventud (Island of Youth), Cayo Largo (Long Key), Sur Ana Maria (South Ana Maria) and at our newest destination on Cayo Cruz, you will be tempted with the most combative and acrobatic species, while enjoying the exclusiveness of a vast area of endless flats just for you.
This is a unique and incomparable combination that Avalon offers their clients-fishing in their own marine park on the southern coast of Cuba. There is no doubt that this is a once in a lifetime opportunity. Imagine being able to choose the place where you want to fish, and go after the species you want and to do so accompanied by the most experienced and knowledgeable guides. These guides spend almost 250 days every year guiding visitors and ensuring that their guests enjoy all the benefits and opportunities that this amazing environment offers.
These they are some of the species that you can fish in Avalon, Cuba: Bonefish or Macabi, Tarpon or Sabalo, Permit or Palometa, and other ones like Snappers, Jacks, Snooks Barracudas, Needlefish or the combative and voracious Lemon sharks.
Fishing in Cuba - Download Brochures [pdf]
By destinations:

Photographs and information courtesy of Avalon
For more information
Contact:
Dive Discovery
@
1 800 886-7321
(415) 444-5100
or
Request Info