Home > Diving Cocos Island > Cocos Island Liveaboards
Undersea Hunter
Undersea Hunter Group's Liveaboard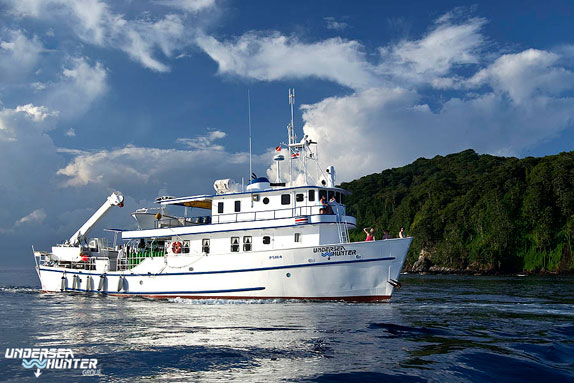 This is our special projects vessel. With her 90-foot length she is the smallest of our fleet. But don't be fooled by her size: Undersea Hunter is a classic boat, offering intimacy and charm. She is particularly well-suited for your film or research project and ideal for hosting individual or small group charters. She actually boasts a larger working deck than her bigger sisters Sea Hunter and Argo, due to smaller interior common areas. But she is by no means lacking in comfort, as her seven guest cabins offer equal or even superior space to those of our larger vessel, the Sea Hunter.
Originally built in Florida in 1968 for Perry Oceanographic, she was employed for 20 years as a research vessel and submarine support boat, working primarily in the Bahamas and the Caribbean.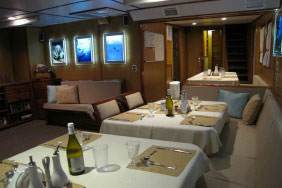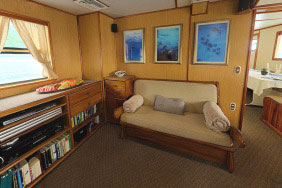 After acquiring this notable boat, we spent five months rebuilding and refurbishing her from stem to stern. Already a capable and well-proven research vessel, the Undersea Hunter was modified to include six new cabins that accommodate up to 14 passengers and was fitted with conveniences that surpass all expectations. The newly added zero-speed stabilizers are sure to make your stay on-board even more enjoyable.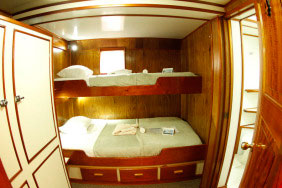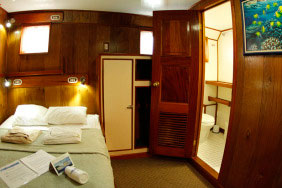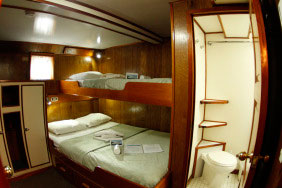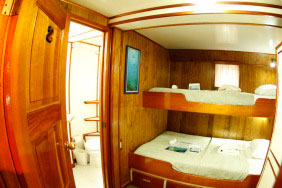 Undersea Hunter has completed hundreds of research and photographic missions, including the Deep Rover Project with Dr. Sylvia Earle. Her film pedigree is long and goes back to her participation as a film support boat during the shooting of the James Bond movie "License to Kill" and also has included various IMAX movies.
With a fuel capacity of 40 tons and water tankage of 26 tons, her blue water capability is almost unlimited. Under the guiding hands of Avi Klapfer and Yosy Naaman, the Undersea Hunter is dedicated to bringing civilized comfort to delightfully uncivilized locations like Cocos Island.