Home > Diving Mexico > Mexico Liveaboards
Rocio Del Mar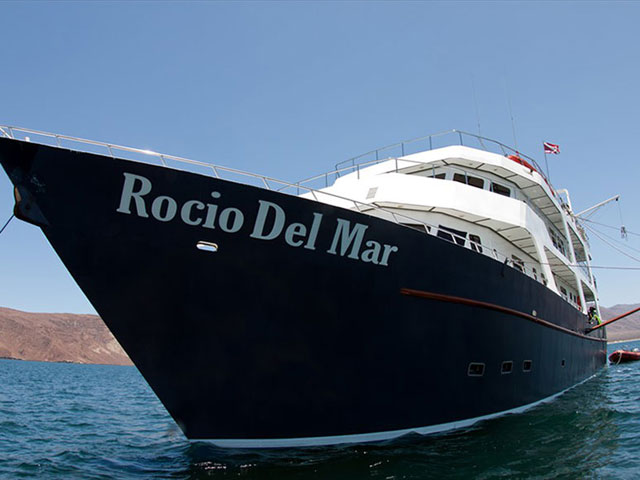 Accommodations & Comfort
Staterooms: 10 comfortable guest staterooms on two decks. All have private bathrooms with hot shower stalls, western style toilets, lavatories, and above height window. Each cabin is carpeted and air conditioned. There are room length windows with privacy curtains and convenient gear and clothes storage drawers beneath the beds. We recommend any private valuables be safely stored in the boat's secure vault.
There are two staterooms on the second deck behind the bridge on the port and starboard side. Each features a full size lower bed and a single size bed on top with adjustable reading lights.
Eight cabins on the main deck - four on the port and starboard side. Each feature two parallel single beds with an aisle in between and night table at the pillow end. Adjustable reading lights to focus the illumination without disturbing your cabin-mate.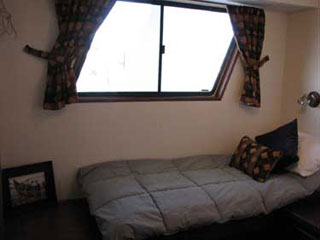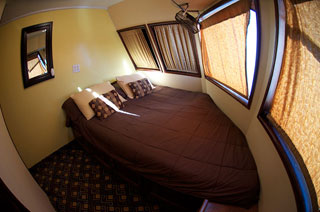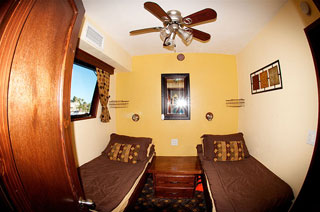 Smoking allowed only on the top sun deck.
Wet gear storage is available on the diving deck, so there is no need to lug gear or clutter your stateroom with it.
The spacious dining area is in the lower forward part of the boat to minimize any sense of movement during meals.
We will carefully select anchorages to minimize any wave action on the 200 ton stiff steel vessel while anchored for the night.
Oversize engines designed to operate at low working loads with high efficiency, producing less engine noise and vibration at normal cruising speed.
Deep V hull design and wave breaking bow knuckle to minimize surface wave action against the hull as the Rocio Del Mar moves forward through the sea.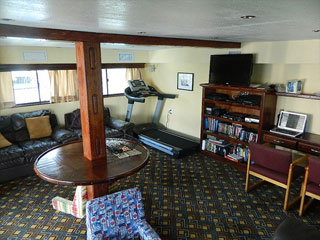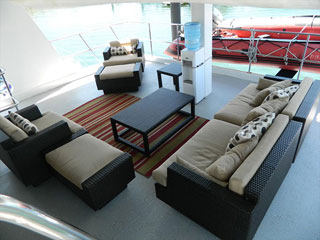 Diving the Sea of Cortez Midriff Islands
With clear, deep blue waters, abundant sea life, white sand beaches and inspiring vistas, the Sea of Cortez - known as the Gulf of California - is a breathtaking destination for amazing fishing, scuba diving, snorkeling, sailing, boating, and exploring diverse marine creatures. Legendary diver Jacques Cousteau described the Sea of Cortez as the "world's aquarium" and the "Galapagos of North America." Dive on untouched walls and reefs abounding in marine life. Encounter great and small whale species, whale sharks, manta and jumping mobula rays, and sea lion colonies. Hike and explore remote uninhabited islets. Dine under the stars in a calm anchorage, socialize with your shipmates and make new friends. Then melt into a luxurious bunk in your own finely appointed cabin with private bathrooms and hot showers. All in a day aboard Rocio, combined with personalized service to enhance your live aboard safety and fun. Dive into your dreams and see what sea of cortez diving is all about.
Although the conditions in the Sea of Cortez are mostly calm, there are times that the sea is rough. Please be prepared for this type of situation. There are several over the counter remedies that can help you in case we are faced with rough seas during your trip.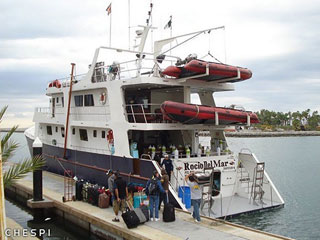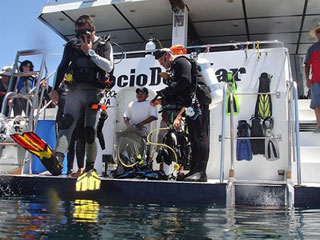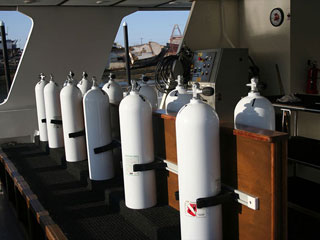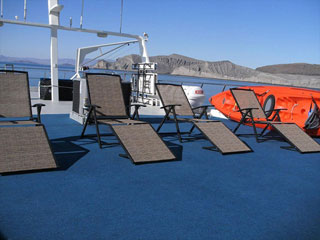 Itinerary
Day 1. Embark at 4:00 p.m. Puerto Peñasco, leave at 5:00 p.m.
Day 2. Wake up at Refugio Bay on Angel Island
Potential Dive sites: Angel Rock, La Vela, Lolo's Cove, El Jardin
Day 3. Angel Island
Potential Dive sites: Andrea's Eagle, El Aquario, Las Vivoras, Las Vivoras Night Dive
Day 4. Salsipuedes
Potential Dive sites: Los Cuervos, El Caballo, In Animas, El Lavadero, El Lavadero Night Dive
Day 5. San Pedro Martir
Potential Dive sites: Ravijunco, Xareni's Pinnacle, Coromel, Morrito
Day 6. San Pedro Martir
Potential Dive sites: El Arroyo, Punta Martir (Sea Lions), Chayo's Cove
Day 7. Start trip back to Puerto Peñasco
Potential Dive sites: El Pescador, Baja Ca., Animas in Bahia de Los Angeles, La Ventana.
Day 8. Disembark between 7:00 am. and 8:00 am.