Home > Diving Mexico > Mexico Dive Tours
Baja Day Tours and Trip Extensions
Baja, Mexico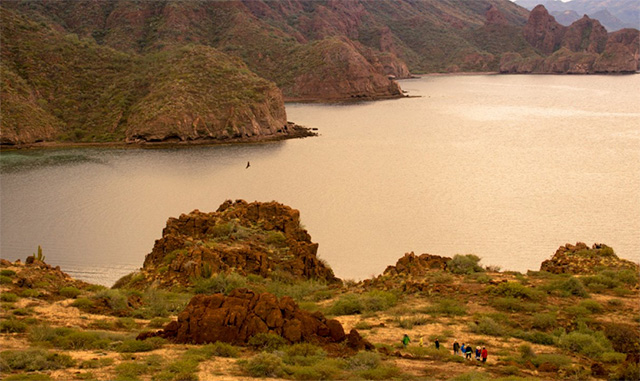 Baja California is a fascinating place and an adventurers' dream which offers a vast array of activities, such as, history, art, and culinary pursuits. Baja is a huge peninsula, with six major mountain ranges in total. Nestled in these mountains are many small towns and villages that see very few travelers compared to the coastal communities yet offer so much that is of interest.
While most of the Sea Kayak Adventures activities take place in coastal areas, there are also trips that explore the interior, such as a hiking trip to see the gigantic wall murals with local cowboys and a one day Communities and Mining History tour that explores the mining towns of El Triumfo and San Antonio, located near La Paz.
These tours may be added on as an extension to the marine-focused Baja sea kayaking trips and Baja whale-watching tours also listed on the Mexico dive tours web page. Below are the standard one-day incredible Baja tour options.
Loreto Day Tour Options
LaPaz Day Tour Options
Whale Shark Snorkel Download Itinerary

Spend an exciting day snorkeling with whale sharks in Mexico's Bay of La Paz. Set off in a skiff until a whale shark is spotted and then hop into the water to swim alongside and observe the largest fish in the sea, beside dolphins and tropical fish on an incredible underwater excursion.


Mining History and Village Life of Baja Day Tour Download Itinerary

Visit the mining towns of El Triunfo and San Antonio. These towns were established in the 1750's. Copper, silver and gold were the target metals and as the mines grew, so did the population. El Triunfo was at one point, Baja's largest city, with around 10,000 people. Today some 300 people live in the town which is encircled by the remains of the mining buildings and infrastructure.


2+ Day Magdalena Bay Whale Watching

For those who have the time to spare, the best gray whale tour in Baja is the 3 or 4-day Magdalena Bay whale watching tour. Each day motorized skiffs take you to the deeper waters of Magdalena Bay, where whales swim up to the skiffs to say hello. You can watch the whales and their newly born calves up close and personal.
COST: Request pricing
For more information
Contact:
Dive Discovery
@
1 800 886-7321
(415) 444-5100
or
Request Info