Home > Diving Mexico > Mexico Dive Tours
Marlin Expedition
Marine Safari in search of the Striped Marlin in Baja California Sur, Mexico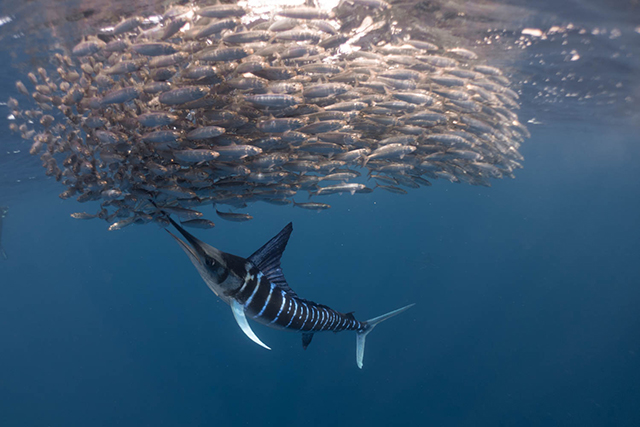 | | |
| --- | --- |
| Season | Nov - Dec |
| Location | Puerto San Carlos |
| Dates | TBC |
| Participants | 4 to 6 |
| Duration | 6 days |
| Experience | Basic Snorkling |
Baja California is home to some of the most incredible animals in the ocean.
The Striped Marlin (Kajikia audax) are a species of pelagic billfish that migrate primarily looking for food. Every year sardines gather in the coastal waters of Bahia Magdalena attracting the Marlins and creating a unique opportunity to observe them as they hunt on the sardine bait balls.
While hunting, the Marlin work together to corral the sardines up to the surface and into tight bait balls. The marlins then take turns darting towards the bait ball, using their long bills to hit, stun and sometimes spear the fish before pivoting back to consume their prey. While they are hunting the marlin flash their bright stripes as a form of communication creating a magical display of animal behavior that we are lucky to witness.
The trip will take place in Magdalena Bay in the lovely town of Puerto San Carlos where we will be based. Every morning at sunrise we will board our boat for the 2 hour trip out of the bay and into the open ocean where the search for the magnificent frigate birds begins. The frigates feed on the sardine bait balls that we are searching for.
Once we find the bait balls things really get interesting. The trip can be fast paced and we will be jumping in and out of the water throughout the day. The bait balls can move fast as they attempt to escape the Marlin. We will be freediving and snorkeling amongst these incredible fish. Sometimes we may find other animals getting in on the bait ball action such as dolphins, sea lions and sometimes even whales.
When in the open ocean, anything can happen. There are plenty of other incredible marine animals we may encountered. In past trips we have even encountered orcas. Magdalena bay is a wonderful place also home to many sea lions, bird island, incredible mangroves as well as beautiful sand dunes and coyotes all of which we will have a chance to experience on our expedition.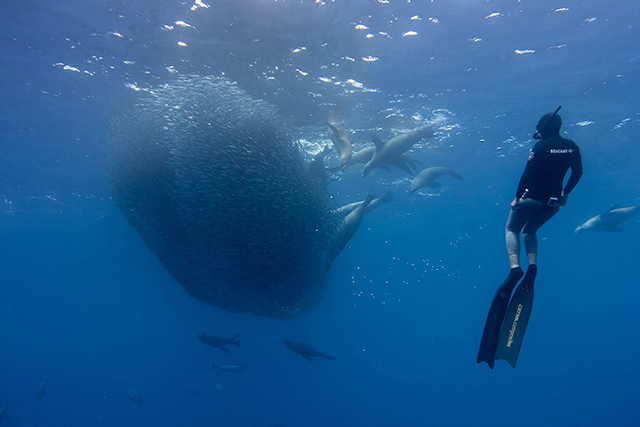 Itinerary
Day 1: Travel day & meeting for dinner for trip info
Day 2: Open ocean day
Day 3: Open ocean day
Day 4: Morning exploring Mangroves and Sand Dunes Afternoon in Open ocean
Day 5: Open ocean day. End of Trip and Dinner Celebration
Day 6: Goodbye breakfast & photo sharing drive back to Cabo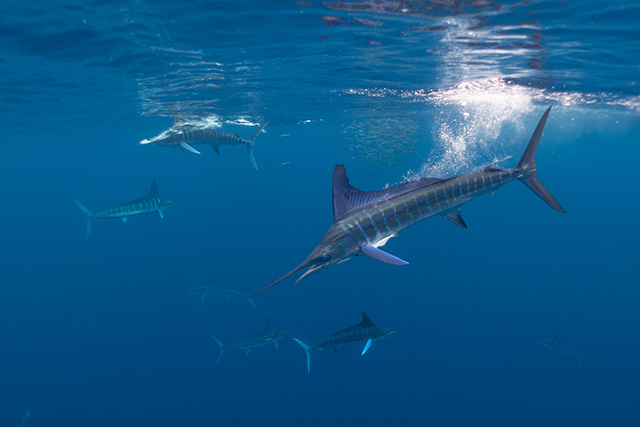 For more information
Contact:
Dive Discovery
@
1 800 886-7321
(415) 444-5100
or
Request Info