Home > Diving Mexico > Mexico Dive Tours
Silky Shark Aggregation Expedition
Swim with sharks in Baja California Sur, Mexico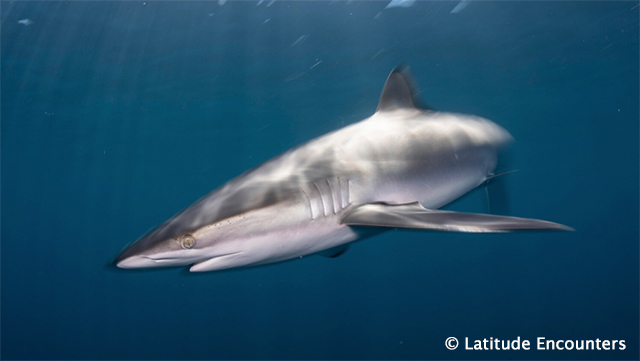 | | |
| --- | --- |
| Season | Summer |
| Location | Los Cabos |
| Dates | TBC |
| Participants | 4 to 6 |
| Duration | 6 days |
| Experience | Basic Snorkling |
The southernmost point of the Baja Peninsula is a very special place
The pacific ocean and the Sea of Cortez collide, and create a unique and rich ocean environment. As the water begins to warm up new life emerges in our oceans.
Silky sharks are the world's most abundant pelagic shark species, spread all over the world in temperate waters. They are known to congregate around the southern Baja Peninsula particularly in the summer months for their mating season. During these months the Silky sharks congregate naturally in large numbers for mating. We have encountered schools of up to 100 silky sharks at once. Silky sharks get their name from their smooth and glistening skin. They have a slender body with a light brown dorsal surface and white belly and grow up to 2.5meters. They are confident and curios sharks that often come in very close and are fascinating to interact with.
The warmer summer waters also attract the very beautiful but shy Smooth Hammerhead shark. The smooth hammerhead is the second-largest hammerhead shark. The largest ever recorded was 5m long. They have a beautiful tall dorsal fin and a darker dorsal surface than most other hammerhead sharks. Their most distinguishing feature is of course their hammer-shaped head called cephalofoil that has no indentation giving them their name "smooth hammerhead". In this area, we most often see these sharks solitarily traveling close to the surface. They are often shy and hesitant to come in for some human interaction, however, when they do decide to join us they are unlike anything else in the water.
During this expedition we will be heading out early in the morning, into the open ocean for about 8 hours a day. we use chumming to attract the sharks to the surface for our interaction, and select different spots each day in order to increase our chances of finding different sharks and different behaviours. We will use environmentally friendly chumming techniques that have been developed for their efficiency and safety around the world. We will be using carcasses of fish caught by local fishermen to chum the water to attract the sharks. Chumming the water creates an oily slick line on the surface that will hopefully entice the sharks to our boat. Once the sharks arrive, our safety guide will analyze their behavior and let us know when it's safe to slide in.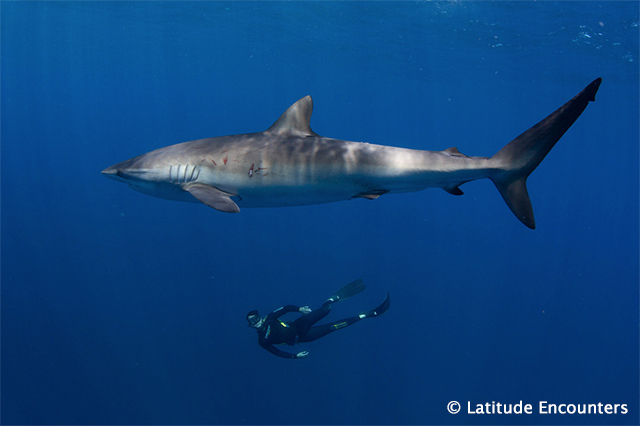 Each day will be different, and your shark interaction will undoubtedly be something you will remember forever. Chumming can take some time and it is never a guarantee to see the animals we are looking for. We will be sure to provide you with the best knowledge, techniques and opportunities to have a great encounter. This is a snorkeling activity and we will be spending all of our time on the surface, however, Free-divers may use their skills to dive down and meet the sharks below.
While out on the open ocean we are likely to encounter other pelagic animals such as Mako sharks, Blue sharks, Dolphins, Olive Ridley Turtles, Sea lions and whales. If we are very lucky; Orcas. Depending on the day, the animal and their behavior we may be able to jump in with them as well.
Itinerary
Day 1: Meet in Cabo for dinner for trip info
Day 2: Open ocean day: Shark chumming
Day 3: Open ocean day: Shark chumming
Day 4: Open ocean day: Shark chumming
Day 5: Open ocean day. End of Trip and Dinner Celebration
Day 6: Goodbye breakfast & photo sharing drive back to Cabo
For more information
Contact:
Dive Discovery
@
1 800 886-7321
(415) 444-5100
or
Request Info