Home > Diving Indonesia > Indonesia Dive Resorts
Misool
Raja Ampat
Misool is an exclusive dive resort and conservation centre located in remote southern Raja Ampat, Indonesia. Our private resort island is nestled deep in an archipelago of uninhabited islands, in the very epicentre of marine biodiversity.
Our resort island is fringed with powder-white beaches and pristine coral reefs. With a maximum capacity of just 40 guests and a staff-to-guest ratio of 3 to 1, Misool offers exclusive adventure holidays and transformative experiences in pristine nature.
Accommodation
Misool was built entirely of reclaimed tropical hardwoods, milled on site with our own portable sawmill. Our accommodations have been meticulously designed for comfort, privacy, and sustainability. All of our rooms feature Balinese-style open air bathrooms, air-conditioning, fresh hot and cold showers, mini-bars stocked with treats from around the archipelago, and handcrafted furniture and fittings.
Our eight rustically luxurious Water Cottages are built on stilts over the North Lagoon, just steps from the Dive Centre and restaurant. In the same area, we offer four slightly larger North Lagoon Villas.
On a powder-white beach, you'll find seven South Beach Villas overlooking a blue water swimming hole. This beach is reached by a short but steep walk over the hill. Alternatively, a Water Taxi is reachable by radio and available at all times except very low tide.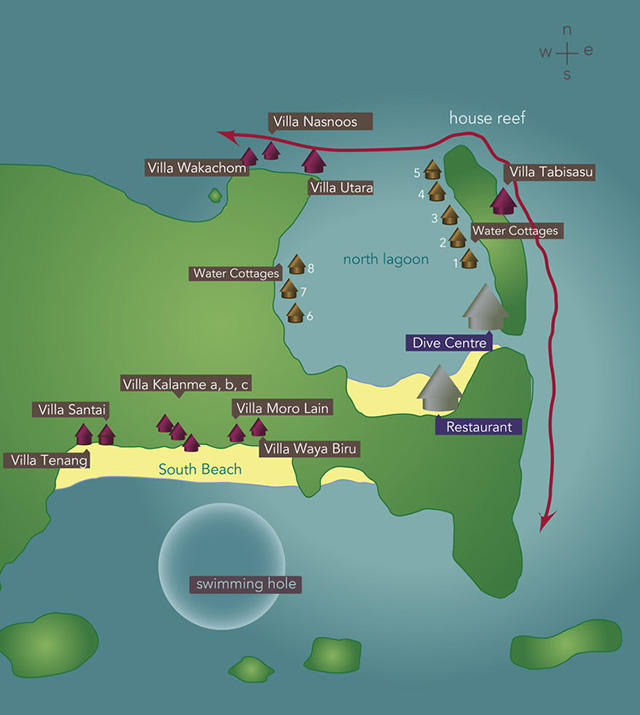 Water Cottages
The Water Cottages are built on stilts over the water. For lazy afternoons with a good book, there is a hammock built right into the veranda. The view from your veranda is framed by a traditional grass roof, offering a high degree of privacy as well as shade. Stairs lead down from your veranda to the North Lagoon, and the House Reef is just a few fin kicks away.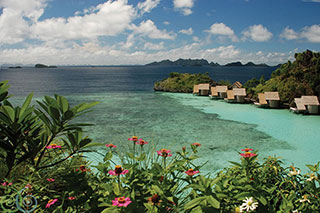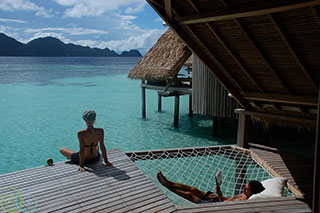 North Lagoon: Villa Utara
Villa Utara overlooks the House Reef and the spectacular dive sites of Fiabacet beyond. Steps down into the sea give easy access to the House Reef. This Villa features two en-suite bedrooms, a shared common area with a half bath, a loft, and a massive veranda. We especially recommend this Villa for families or groups of 4-6 friends. Private dinners can be arranged on your veranda.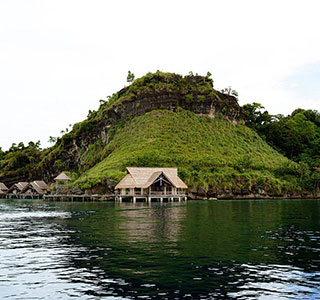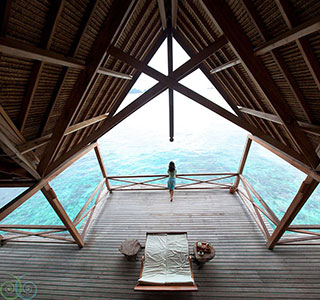 North Lagoon: Villa Nasnoos and Villa Wakachom
Villa Nasnoos and Villa Wakachom are built on stilts over the House Reef. These two neighbouring Villas feature a hammock built into the verandas. This is the ideal spot for early evening shark-gazing while the sun goes down. Villas Nasnoos and Wakachom each feature a master bedroom and an indoor living area with sofa. The sofa can be converted into another twin or double bed, and there is a partition to add privacy to the master bedroom. These Villas also have lounge seating sunken into the veranda as well as steps down into the sea. Perfect for 2-3 guests.
North Lagoon: Villa Tabisasu
Villa Tabisasu is located on the eastern edge of the North Lagoon. This Villa, named after the local word for 'orchid,' features an en-suite bedroom and conjoining living area. The outdoor living-area face east and enjoys glorious sunrise views, all your own. This Villa is perfect for couples who appreciate a bit more space.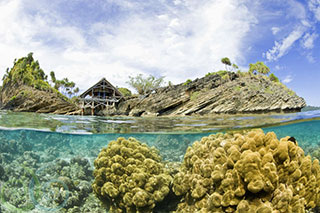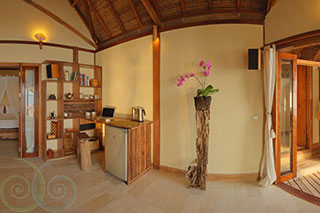 South Beach: Villa Kalanme
Named after one of our island's most important spirits, Villa Kalanme is a complex of three separate en suite bedroom units, with a shared octagonal-shaped lounge area and huge outdoor living space. This Villa is particularly well-suited to those who enjoy greater privacy and gorgeous white-sand beaches. Private dinners may be arranged in the shared lounge area. Recommended for groups of 4-6 guests and families with small children.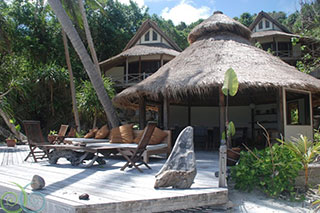 South Beach: Villa Santai and Villa Tenang
Villa Santai and Villa Tenang are located at the far end of the South Beach. These two stunning en suite bedroom villas are built under the shady coconut palms, with expansive views over the Southern horizon from their huge terraces. Outdoor showers are the perfect place to admire cockatoos and hornbills flying overhead.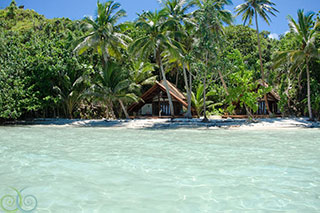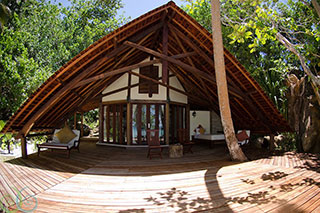 South Beach: Villa Moro Laiyn
Named after the Misool language word for 'South Breeze,' this Villa has a decidedly tree house feel to it. Like it's neighbor Waya Biru, this Villa is surrounded by trees and jungle sound. From the octagonal-shaped bedroom, you'll be able to see baby sharks cruising along in the shallows of the South Beach. This Villa also features an extra octagonal shaped 'pod.'
South Beach: Villa Waya Biru
Villa Waya Biru is tucked into the jungle under a wild almond tree, this Villa features unrivalled views over the far southern horizon, with the powder-white South Beach just a stone's through away. This octagonal shaped room has a separate 'pod,' which you may like to use for meditation, yoga, writing, spa treatments, or simply snoozing. The bathroom is built into the surrounding rocks, with a view from the shower that cannot be beat. Hence the name Waya Biru, which means 'Blue Water' in the Misool tribal language.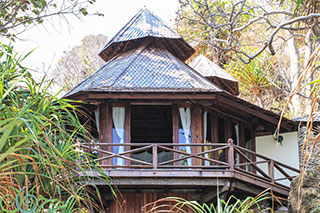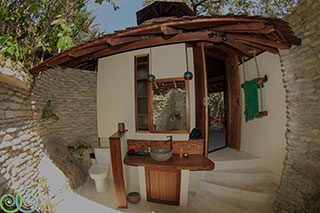 Dive Center
Introducing The Hive
We are extremely excited to finally unveil The Hive, which we've been diligently working on through the pandemic.
The Hive is our new dive centre with so much more. It's a gathering place, a chill hub, and a hot spot for buzz and community. The space is light and airy, with a series of deep gables framing the 270 degree view. The second floor is the spot to enjoy a quiet coffee on the terrace while watching the sun rise over the distant Daram Islands.
The view over the House Reef is spectacular, and you're sure to see sleek juvenile sharks, schools of parrotfish, lightning-fast bluefin trevally, and hunting octopus. There is a small library on the second floor stocked with marine life books to help you ID what you've seen on your last underwater adventure. Have a late afternoon snooze in one of the cozy reading nooks, or edit photos in the lounge. Browse the boutique, book a massage, or enjoy one of our evening lectures - it's all happening in The Hive.
The ground floor of The Hive is dedicated to diving and snorkeling. This is where we meet to don our wetsuits, collect our equipment, and head out to the jetty together. The space is equipped with rinse tanks, showers, changing rooms, and everything else you need to prepare for the day's activities.
Diving
Raja Ampat, Indonesia, is home to the world's richest reefs and dive sites. Located at the heart of the Coral Triangle, the region sprawls over 4.6 million hectares (17,000 sq miles) and boasts the majority of the world's reef-building corals. In an area the size of two football fields, scientists discovered more than six times as many coral species as live in the entire Caribbean Sea.
Raja Ampat's reefs are home to over 700 species of mollusks and over 1,400 species of fish. Counted among those is the newly discovered 'walking' epaulette shark, commonly seen on night dives on our House Reef.
You can expect to dive a wide variety of sites during your stay at Misool. Our corner of southern Raja Ampat is particularly famous for its untouched reefs festooned with wildly colourful soft corals, expansive hard coral gardens, massive gorgonian sea fans, and rich reef life.
Our resort island is surrounded by a 1,220 sq km (465 sq mi/300,000 acre) Marine Protected Area, which we established in 2005 and expanded in 2010. Our island and our dive sites are protected by a 828 skq km No-Take Zone (NTZ). Inside this NTZ, all fishing, cyanide fishing, bombing, shark finning, harvesting of turtle eggs and shellfish are prohibited. This means that our area's astounding marine biodiversity will only continue to grow, safeguarding it for generations to come. In 2010, Misool and Shark Savers successfully petitioned the Raja Ampat government to declare the Raja Ampat a Shark and Manta Sanctuary.
Our Mission
We seek to provide exceptional and enriching experiences in a sustainable environment, for our guests as well as our staff. We aim to protect and revitalise both our natural surroundings and the community in which we operate.
In partnership with Misool Foundation, our joint mission is to safeguard the the most biodiverse reefs on Earth through the empowerment of local communities, providing a structure by which they are able to reclaim their traditional tenureship of reefs.
At the core of our operation is the belief that sustainable tourism and community-based conservation are mutually beneficial. We seek to demonstrate to our local hosts, government, guests, and ourselves that sustainable tourism can provide a better life than logging, mining, or overfishing.
Learn more about our mission and how you can support it by visiting Misool Foundation's website.